Prime Minister Erna Solberg and Health Minister Bent Høie say it is time that we can hug, dance and live completely normal again for the next month, even if the corona infection increases. Y: Anyone who is not vaccinated will eventually become infected.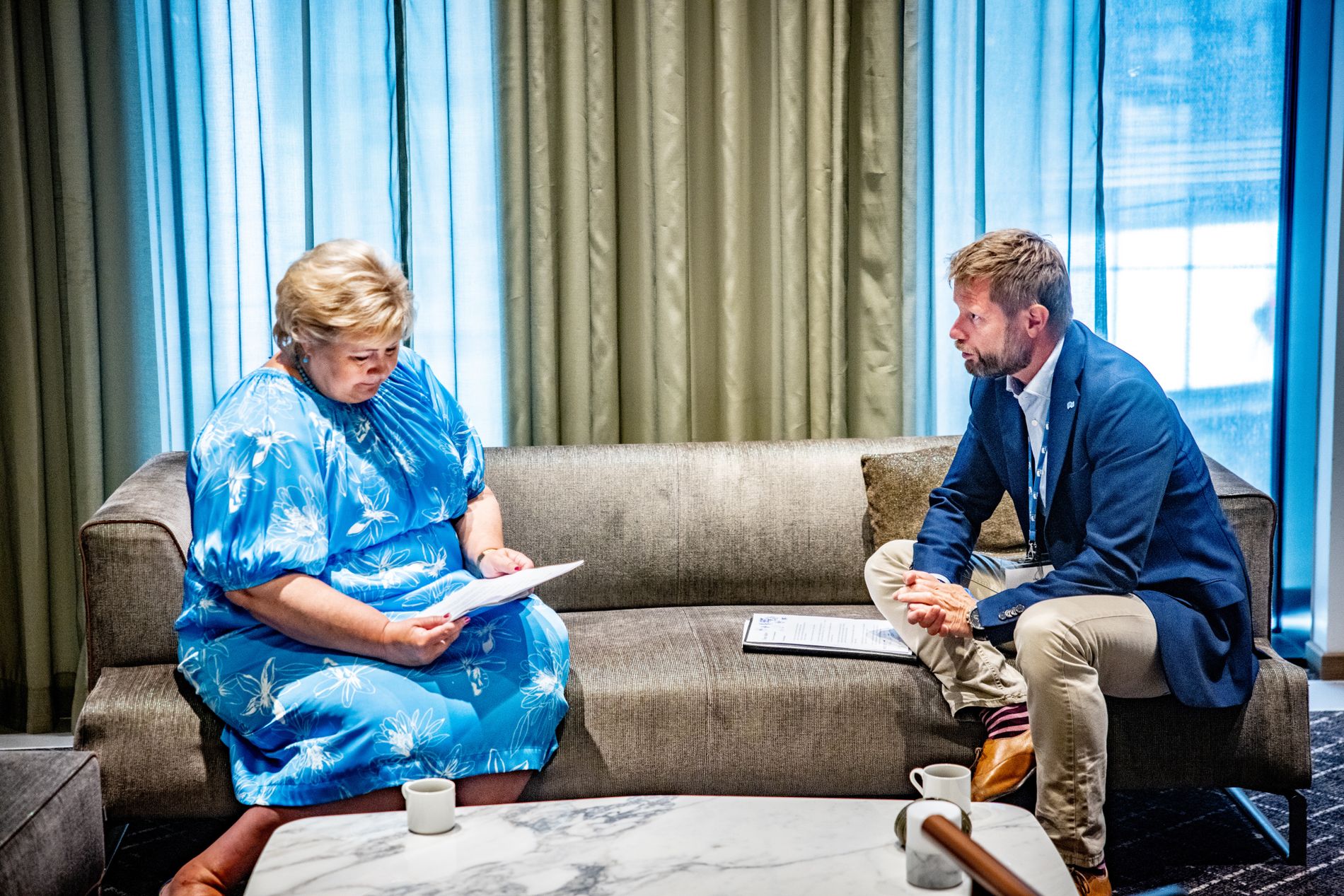 They say it may seem that the rule of the meter and other domestic corona measures that have limited our lives for the past year and a half may end in just over a month.
They note that by the end of this week, everyone over the age of 18 will have been offered a dose of vaccine.
Solberg says there are two milestones ahead.
– The first milestone is three weeks after a dose has been offered to everyone 18 years of age and older. Then they will be well protected against serious illness and death, he says.
So we are at the end of August.
– The second milestone is when people have received a second dose. So, the adult population is also well protected against infection and infection from others. By the end of September, a second dose will probably have been offered to the adult population. A week after this, we reached the second milestone, he says.
– Normally at the end of September
– When can we live normally?
– As it is now, this is when everyone has had two doses at the end of September. Then it will be possible to live normally, without the subway rule and other domestic restrictions, but where we must have greater preparation in our society for new variants of threatening viruses, and where we must be able to quickly introduce measures, track the infection. and stop the spread, says Høie.
– So during September we have a complete reopening without bandage and one meter ruler, where everyone can hug each other and live a normal life, even so normal that people can dance and go to nightclubs?
– Yes, it will arrive during this fall, probably at the end of September, maybe even a little faster if we get more vaccinations, says Høie.
The vaccine triumphs over the infection
It says that vaccination will triumph over infection, in the evaluation of the total reopening.
– Vaccination is the most important thing. Although the infection has increased considerably in recent weeks, we have not presented new national measures precisely because vaccination and the burden on the health system now mean more than the development of the infection.
also read
Oslo Police on Crown Fraud Cases – You'd Think We'd Get Significantly More
They emphasize that we do not want to get rid of covid-19, but when the population has been vaccinated, it is natural with a total reopening.
– Norwegian society will have to live with the fact that we have this virus, as we live with other infectious diseases. We cannot eliminate risk completely, as we cannot with other diseases. This means that some will also become seriously ill and die from COVID-19 after we have finished vaccination and society has reopened, Høie says.
The infection is likely to increase
He says that this does not mean that fighting infections is not important in the coming weeks.
– There is still a part of the population that has not been fully vaccinated.
It was thursday last week 560 cases of infection in Norway, 80 in Oslo. On the weekend there are usually lower numbers, but on Sunday the number reached 370.
– Is the infection situation out of control?
– No, but there is an infection on the rise and the infection will likely increase in the next few weeks. But now we find ourselves in a situation in Norway, where we can tolerate more infections without introducing the same restrictions that we introduced, for example, a year ago.
He says there is a good reason for that:
– That so many have been vaccinated now. The most vulnerable are now fully vaccinated, and most adults are. Now there are only a few weeks left, so the adult population is fully vaccinated. Then we no longer need to close the partnership.
– I had a press conference a long time ago.
He adds:
– If we had had these infection rates that we see now, a year ago, I would have had a press conference a long time ago and introduced strict restrictions.
The Health Minister says vaccination is now proceeding at a rapid pace.
– By the end of this week, everyone over the age of 18 will have been offered a dose of the vaccine. This means that in two to three weeks, the adult population of Norway, who have accepted the vaccine, will receive good protection against serious illness and death, says Health Minister Høie.
– But only when everyone has received dose two during September, we will also be largely protected against infection and infecting others.
– People are vaccinated or infected.
It warns those who have not yet agreed to be vaccinated.
– At some point they will be infected with covid-19. We are in a situation where people get vaccinated or at some point become infected.
– Also children?
– Yes, but they have been shown to tolerate infections well.
He says they have to do assessments of border restrictions.
also read
Steinar Holden: The crown's support for big business was largely pure help to homeowners after the summer of 2020
– We went on to a normal daily life, but still with great preparation. As long as the world population is not vaccinated, this virus will move and then new mutations may occur against which our vaccines do not provide good enough protection.
He says this is an uncertainty factor which means we may have to close again.
– Then we run the risk of having to reintroduce new measures and possibly carry out a new round of vaccination.
Children and youth
Solberg says that covid-19 will be with us, even if we go back to living a normal life, without a one-meter rule and other restrictions.
– Because not everyone wants to be vaccinated and because the vaccine in some cases does not work.
– What about children and young people, can they become infected?
– When everyone has had dose two, the youngsters will probably get it. So far we have said a conditional yes to 16 and 17 year olds. Then we also look at what is happening in Denmark, among other places, in evaluations of whether we should finally vaccinate them also for 12 years. They rarely get seriously ill, so the question is what is the benefit of vaccinating, Høie says.
– Is less than 12 years not relevant?
– Until now no one has been able to send the perfect solution, which is not strange. There are some side effects of vaccination and we will look at experiences from other countries. The more adults in Norway are vaccinated, the less difficult it will be for children to become infected.
Conservatives and ruling parties are fighting with the ballot box.
– Could you need a boost to be able to enjoy the glory of having led the country all the way through the crown crisis until we can live a normal life again?
– Yes, but we have been concerned that it is the data and not the dates that are important. The delta virus is so contagious that the most important thing is that we achieve the goal of vaccines, says Solberg.
also read
Revised National Budget: How Your Finances Are Affected
She says they insist they don't want to make a distinction (crown pass) between vaccinated and unvaccinated / unwilling to get vaccinated people.
– In other countries, the crown pass is used as a lure for people to get vaccinated. We don't need Norway, because most people are positive about vaccination, says Solberg.
– Vaccination is voluntary
– Not all; skepticism is greater in, among other things, some immigrant environment. What do you say to them?
– Vaccination in Norway is voluntary, but the support we have in Norway for the vaccination program will probably be among the best in the world. But I encourage everyone to get vaccinated, for the sake of themselves, but also in solidarity with others, Høie says.
He adds:
– The Municipality of Oslo works well to reach everyone.
– There are high rates of infection, but very few die; How far are you from being able to define the Norwegian people as herd immunity?
– It is not certain that we can get it through vaccination. But because so many in Norway say yes to vaccines, we will achieve some degree of protection for the population and health workers, which means that we, as a society, will tolerate more infections.
– Have you started hugging?
– Not to anyone but people who are fully protected and that I know. I gave a fully vaccinated friend a hug when her son got married, says the Prime Minister.
– I'm not fully vaccinated, so I can't squeeze like before. But I hug some who are fully vaccinated, like my mother. I have the last vaccination date on Election Day on September 13, so we'll see if I too can benefit from a possible acceleration, says Høie.
also read
Small tourism players feel forgotten: – We remain closed due to travel advice from the authorities

www.aftenposten.no