NHO chief Ole Erik Almlid calls on the parties in the Storting to ensure that taxes will not increase with a new government.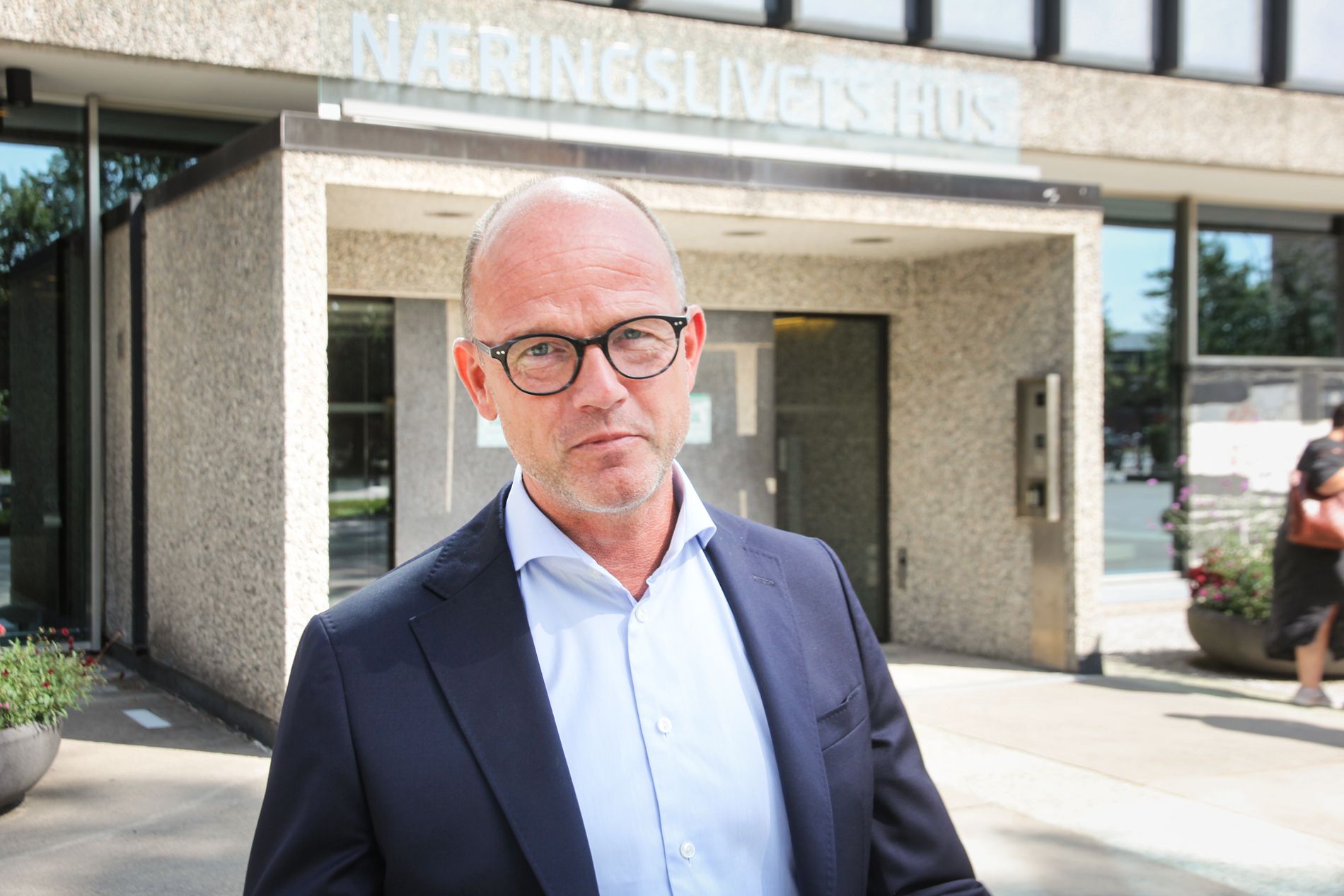 Taxes have been a hot political issue this summer, after Salmar owner and CEO Gustav Witzøe criticized the wealth tax to drain money from Norwegian-owned companies, something for which he garnered both support and criticism.
Now the head of the NHO, Ole Erik Almlid, is also signing up for the tax debate. You want a guarantee against tax increases.
Opinion polls suggest there may be a change of government in the fall, but there have been several signs about taxes from opposition parties.
Among other things, Rødt wants raise taxes with NOK 48 billion in the coming years, and the money will go, among other things, to finance free dental health.
also read
Salmon billionaire Gustav Witzøe is tough on wealth tax
– At least it should not be increased
– We have three requirements. And this is a message both for the red-green side and for the bourgeoisie, since we do not know which government we will get after the elections, Almlid tells E24.
One of the three requirements is that the overall tax level must be kept at the current level, or preferably lowered.
– We want a guarantee from both sides of the policy that at least there will be no increase in taxes, says Almlid.
– Actually, the tax level should go down overall, but at least it shouldn't go up. Now I register on the red-green page that some say one thing, others say the other and others say nothing, it says.
Furthermore, the NHO chief wants a clear plan from politicians to stimulate more Norwegian private property across the country, as well as predictable framework conditions, also when it comes to taxes.
– If we want to secure investments in climate change, we must have predictable framework conditions. The parties must tell us how they will work with the tax system if they come to government, and if there will be new taxes and fees here and there, as the debate may give the impression, says Almlid.
also read
The founder of Oda against the Witzøe agreement with the wealth tax: – ethically poorly thought out
– Must negotiate
Labor leader Jonas Gahr Støre has previously indicated that he they do not want to some tax increases in the next quarter.
– When Jonas Gahr Støre says what he says about taxes, I believe in him. But you must also negotiate with other parties. We do not know what majority we will get. Companies are concerned about predictability, Almlid says.
He points to Rødt's proposal to increase taxes and says that SV seems to be open to many of these proposals.
– I have the impression that the Center Party wants to reduce taxes, but what do they say? What we need now is clarity, says the NHO chief.
Since 2006, the wealth tax has been reduced from 1.3% to 0.85%. In addition, business owners receive a 45 percent tax break on stocks and fixed assets, the so-called working capital.
The Labor Party and SV want to raise the estate tax to 1.1 percent, and SV has He suggested to eliminate the tax refund.
also read
Witzøe receives wealth tax support: – Destructive and twisted
Point out climate change
Almlid says the grim report released by the UN climate panel on Monday made him feel sick to his stomach.
The NHO director believes that private companies and private equity are critical when Norway must shift in a more climate-friendly direction while ensuring funding for the welfare state. This requires a great common drive, he believes.
– It is impossible to imagine that you will be able to solve these challenges and develop technology, factories and value chains without a private business community made up of private owners, says the NHO manager.
– Now, hopefully, we are coming out of the crown crisis, at the same time that we will solve the climate challenges. So all parties should come up with a plan to work with private owners and not against them, Almlid says.
also read
Erna Solberg with wealth tax support for salmon billionaire
– Symbolic debate
The NHO chief says many business owners don't recognize themselves in this summer's wealth tax debate.
– There has been a symbolic debate about whether to "take" the rich or not. But in reality it is about tens of thousands of small and large private owners who have created jobs over a long period of time, says Almlid.
– If we want to create jobs and solve climate challenges, we need a predictable tax system that increases the competitiveness of the business community, he says.
also read
SV-top punishes salmon billionaire: – Incredibly rude
Would you rather increase your home taxes
The wealth tax collects around NOK 15 billion a year from the state. The NHO manager would prefer to send the business owner tax bill to the homeowners.
– Our position is that, in principle, the tax on working capital should be eliminated. This can be done in an income neutral way (that is, without the state losing anything from it, journal.anm.), Through a housing tax. It does not avoid the fact that it is a burden to have to pay estate taxes for a business owner that has losses, says Almlid.
Such a housing tax can also be designed to protect large groups, he believes.
– I think we can set the limit so high that you can find some groups that can pay more. There are many who speculate on investing in housing versus investing in businesses. This can be solved by increasing the tax refund on working capital and increasing the home tax, Almlid says.
The head of the NHO believes that he will get the fiscal guarantees that he now asks for. If not, fear the business will go away Missing opportunities to create new jobs and solve climate challenges.
– My experience is that in the end you come up with wise solutions. But now the debate has gone a bit in all directions. Many are concerned and I felt it was time to speak up. Norwegian companies need a clear message, says Almlid.

www.aftenposten.no