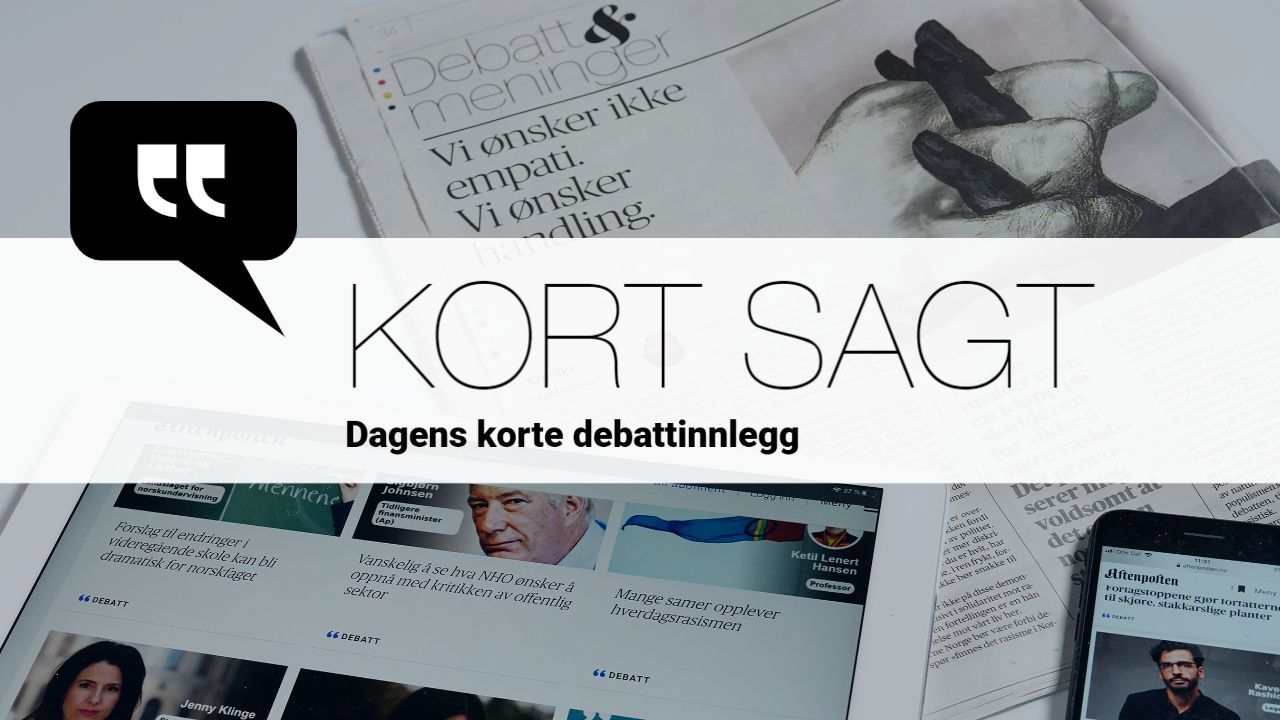 Climate changes. This is today's postcard.
Debate
This is a discussion post. Opinions in the text are the responsibility of the writer.
We should be more resistant to climate change
We almost have to assume that there will be a major climate change. How many of our resources should be used to make us resilient to climate change in relation to attempting to combat climate change? This is a question that is rarely debated.
There are a number of steps that can be taken to make us more resilient to climate change. More can be invested in irrigation systems, so that more farmers and others are less exposed to drought. Several farmers are struggling with the old drainage. There are some supplements for this, but it costs a lot to replace the old drain in the ground. Agriculture has been under pressure for many years. Many farmers are all on the edge. An effort to make the farmer more resilient to climate change should be considered.
It is also important to ensure farmers' access to cleaner and more affordable electricity. Solar panels can be installed on thousands of barn roofs. If there is little rain and little water in the reservoirs, or if he exports too much energy abroad, the farmer himself should have access to affordable production.
Otherwise, in society, various exposed buildings and villages can be protected from flooding. Additionally, more emphasis can be placed on the fact that regulated parcels should be located where they will not be exposed to things like wildfires, floods, living clay, or rising sea levels. You may have more funds ready to clean up natural disasters. For example, the military can be even better equipped to help even during natural disasters, training more in this and obtaining better equipment.
Climate change may at one point or another lead to grain shortages. The cereal shortage will not be announced years in advance, but it will likely come as a surprise. Norway has reduced its strategic grain reserves. Rather we should consider building many more warehouses of this type. Without strategic grain reserves, we are, among other things, helping to drive up the price of grain on the world market when the years are bad. This probably goes beyond poor countries in particular.
Food preparation seems very underrated in Norway. To put it mildly, one was ill-prepared for the pandemic. One is likely even less prepared for the fact that problems in food deliveries could arise due to bad years for farmers in the world's grain belts or some other unexpected event affecting the transport of goods. In the same way that before the pandemic you knew it was only a matter of time before you caught it, it is also likely that sooner or later you will have a food crisis.
These are just some of the measures that can be considered. The time has come to discuss how we can be more resilient to climate change, rather than trying to stop it unilaterally.
Espen Gaarder Haug, Professor of Finance, Norwegian School of Management, NMBU



www.aftenposten.no