We have met the volunteers who make the muddy and wet Marka trails accessible to everyone.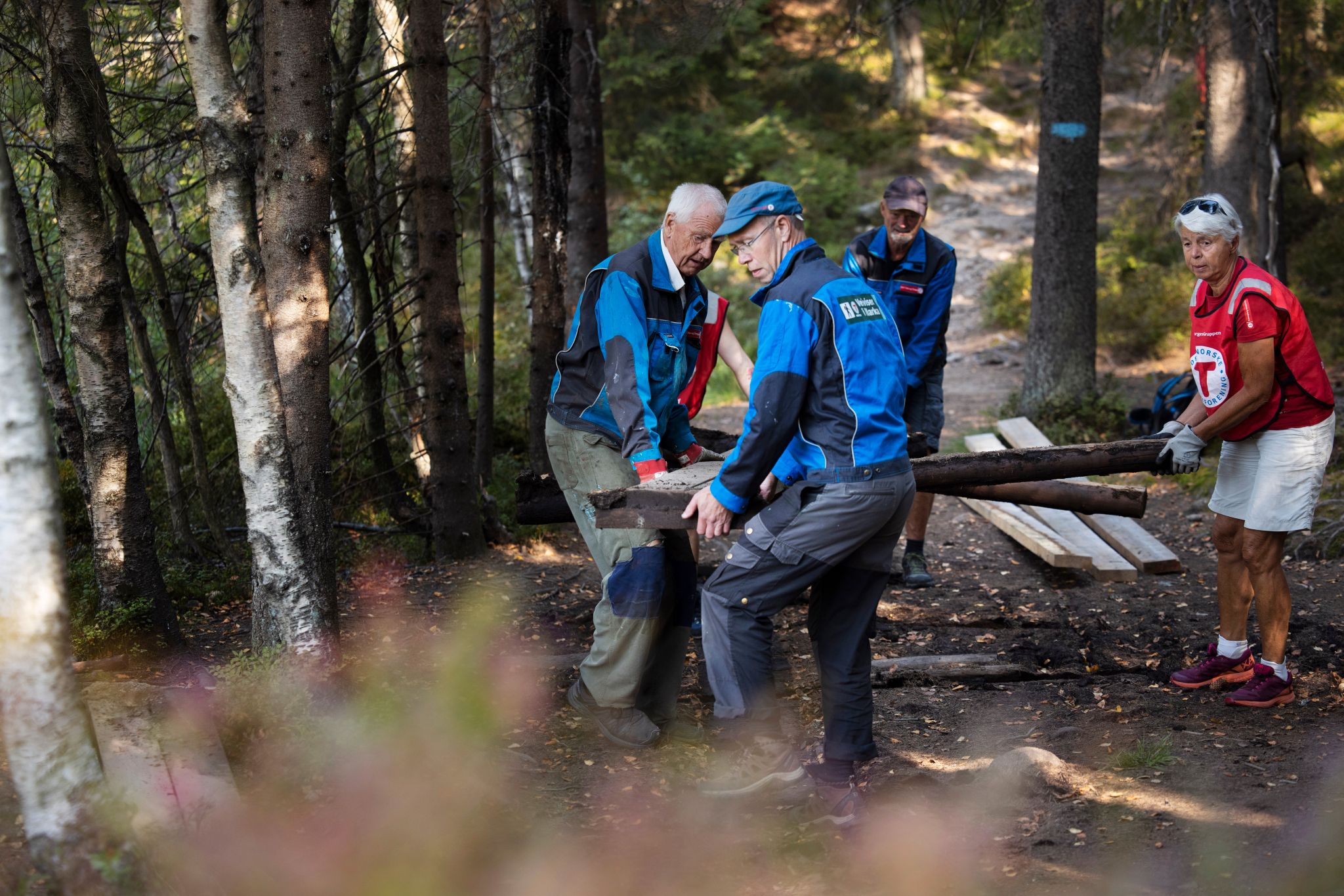 Photo: Stig B. Hansen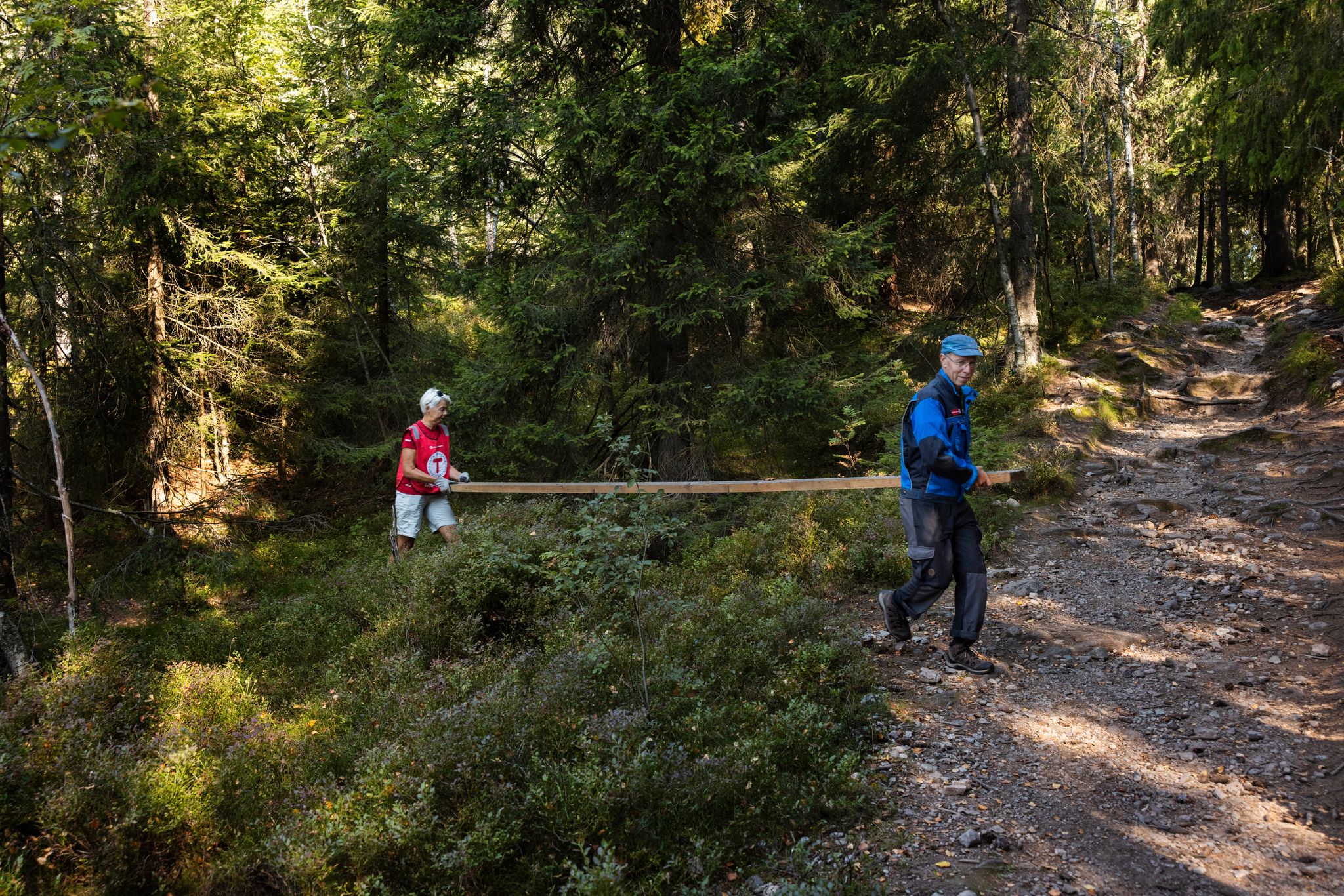 Photo: Stig B. Hansen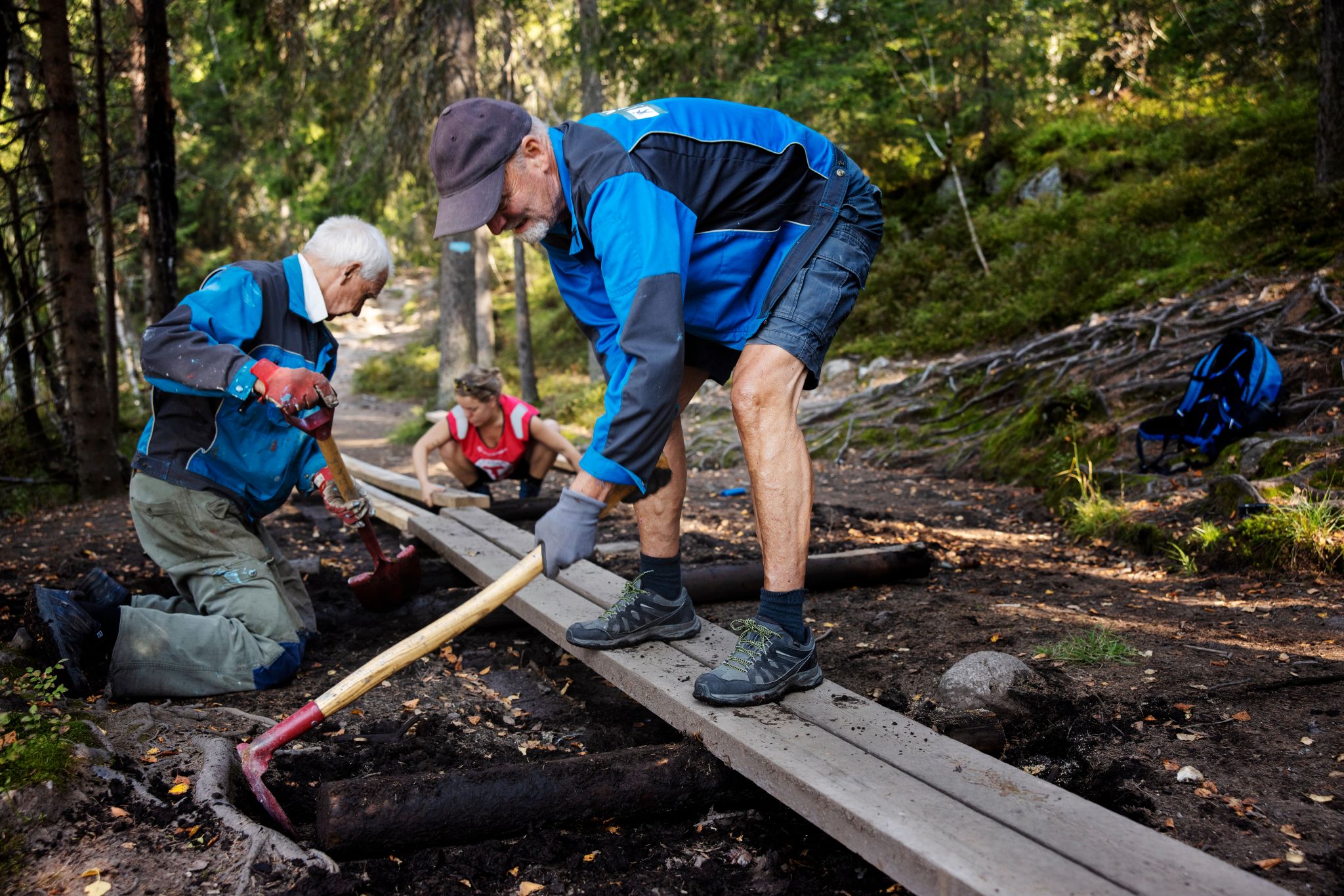 Photo: Stig B. Hansen
Smooth, wet trails have become a major problem in recent years. Volunteers from DNT Oslo and its surroundings make sure that people can walk the trail without getting their feet too wet.
Rigmor Rytter Axelsen and Dag Olav Brækkan leave the depot a short distance down the road.
Walkways should be stable so hikers can balance. Egil Svien, Thorleif Maurdal and Anja Hougaard Storaker are working on the case.
The tourist association operates a large part of the trail network in the large forest areas in and around Oslo. Now they see that the roads wear faster.
– The combination of more people on walks, cyclists and in some places on horseback, gives greater wear on the trails. This often results in the roads being traveled. It gets muddy and the trail runs out onto the shore, explains nature manager Dag Olav Brækkan in DNT Oslo and its surroundings.
According to Brækkan, wet areas on trails are a growing problem. To reduce the wear and tear of the paths and to keep people standing dry, they place so-called corridors or planks.
Catwalks are used in more places than ever before. Last year, 500 linear meters of mineral pine walkways were built in Nordmarka, Lillomarka and Haneborgåsen.
The trail network is operated on a voluntary basis.
Aftenposten met with the volunteers from the trail group in Nordmarka during a work session on the road between Frønsvollstråkka and Vettakollen in Nordmarka. Right now it is very dry, but several games need catwalks.
– This trail has been used a lot now under the crown. The trail has gotten wetter and muddy. That is why we put catwalks in various places. We are designing catwalks here for the third year in a row, says area manager at DNT Egil Svien.
Operating the trails is a continuous job.
– There is a constant need to work with the trails. Every year we go clean up after the ravages of winter, says Brækkan.
On large walkway projects, they use mineral pine, which Brækkan says has a long service life and is required in protected areas.
– Mineral pine is expensive to buy. Everything must be transported, often carried out and adapted to the terrain. It is demanding in terms of crew, says Brækkan.
He says they also choose to move on roads from wet areas to drier areas, which is subject to application. New roads are being prepared on the driest terrain possible.
The municipality chooses gravel
The climate in the Oslo area has become, and will continue to be, warmer and more humid. The average temperature has according to The climate profile of Oslo and Akershus increased by 1.7 degrees since measurements began in the early 20th century, and precipitation has increased by 15 percent in the same period.
The increase in rainfall is mainly due to an increase in extreme rainfall, not the number of rainy days.
The Urban Environment Agency has also increased its efforts on the trails due to more user groups and more humidity.
Reinforcement is needed on all roads due to wear. This is to prevent roads from getting wider and wider and blacker and blacker from mud, says Nordmarka section manager at the Urban Environment Agency, Knut Johansson.
The Urban Environment Agency uses gravel instead of walkways where it can be deployed. Rye cycling clubs and the Norwegian Mountain Biking Organization (NOTS) are preparing the gravel.
According to Johansson, nature recovers quickly after graveling. Both cyclists and hikers want better facilities for cyclists in the forest areas of Oslo.
Municipality of Oslo: – Gravel best for cyclists
Johansson emphasizes that hikers, cyclists, and other users have the same right to use the trails.
– There have been many cyclists on the trails. They are one of the new user groups on the Marka trails, Johansson notes.
– Gravel is better for cyclists than trails, both in terms of the opportunity to better follow the terrain and that the gravel does not become slippery as boards tend to be in the event of rain and frost. We also expect DNT to be reinforced with gravel instead of walkways where possible, says Johansson.
The gravel on the trail is a relatively new addition.
– We've built some gravel hiking trails in places over a couple of miles, especially in Maridalen, for the last three or four years, says Johansson.
DNT: – Great job placing gravel
Brækkan at DNT notes that it is more demanding to lay gravel than wooden walkways. That is why they choose sidewalks.
– Gravel glides well on terrain and is better suited to nature than walkways, but our paths are often far from the road, and materials often have to be transported a good distance with sheer muscular force. Usually the gravel will be too large to transport, says Brækkan.
According to Brækkan, it is also a more extensive process to obtain permits to lay gravel than walkways. He emphasizes that they want the trails to be easy to use for all types of users.
– On departuresperiod, we want the least degree of facilitation possible, while the path must be robust enough for the use that is on the site, Brækkan.

www.aftenposten.no