JORDAL AMFI (VG) (Vålerenga-Frisk Asker 3-2) Axel Sundberg received the winning goal just three minutes before the end, just 14 seconds after his teammate Mika Partanen tied at 2-2.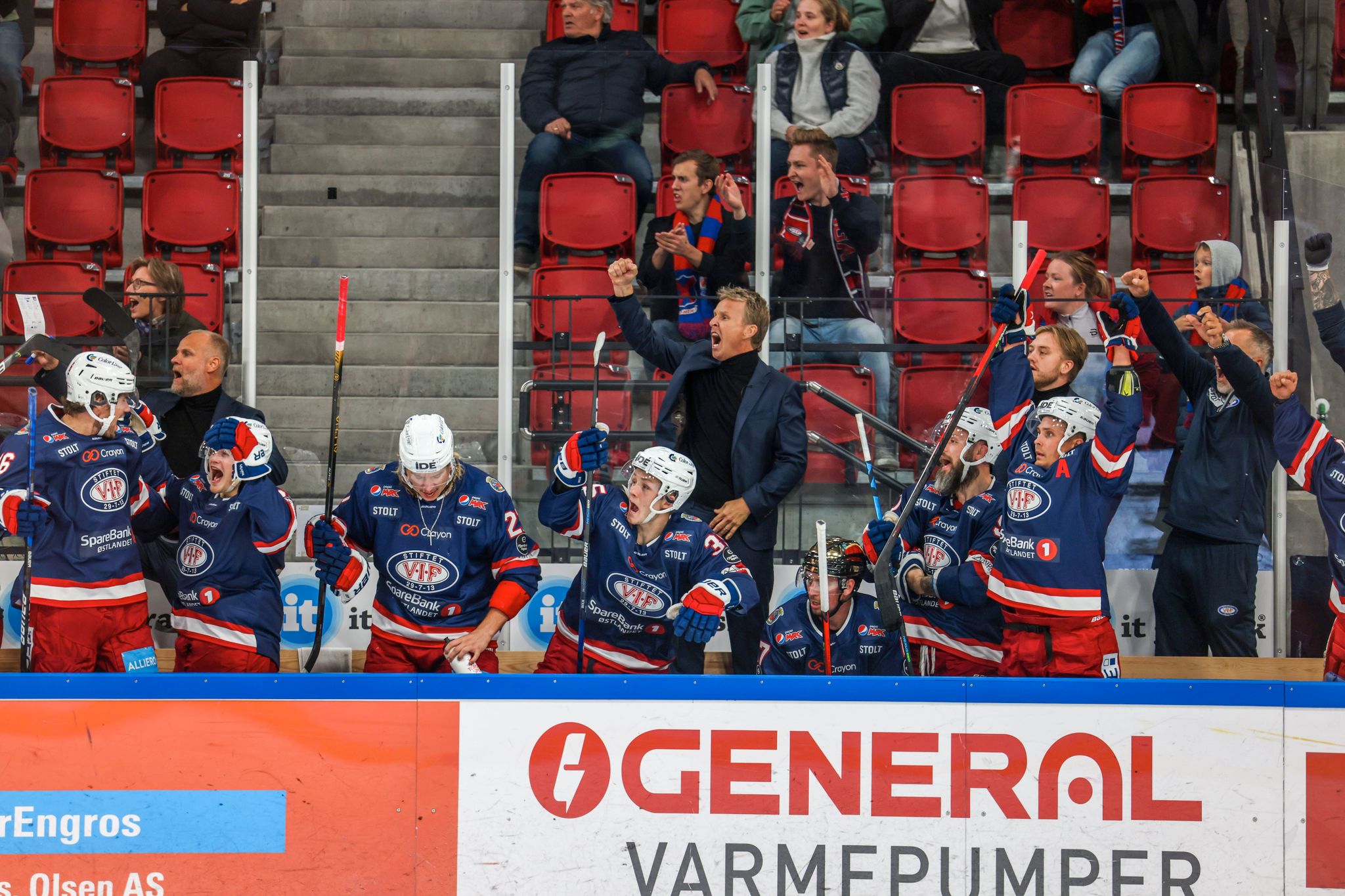 Aftenposten collaborates with VG-sporten. Therefore, as a reader of Aftenposten, you also get articles and services created by VG.
It was the series premiere for reigning league champion Frisk Asker, after four games: three losses and one victory (over Bolzano after a penalty shoot-out) in the Champions Hockey League. Vålerenga got revenge for Stjernen's 1-3 loss at Fredrikstad last Saturday.
And maybe 2-5 for Frisk in November of last year. The Asker club then became the first visiting team to inflict a defeat on Vålerenga at Nye Jordal Amfi. Guests' Viktor Granholm did a trick. Well noticed without spectators. Ten months later, nearly half of the seats in the flashy arena were "crowned."
Homemade got off to the worst possible start. Stefan Espeland dropped Frisk Fredrik Bjørndal after 30 seconds. From the penalty area, the Vålerenga national team defender witnessed Hampus Gustafsson scoring the first goal of the game.
Vålerenga goalkeeper Tobias "Tuben" Breivold (20) did not have a chance: 0-1 in 73 seconds. Five minutes later, however, Mathis Olimb (35) secured the balance on the accounts. In extra time (Jacob Lagace sent off) Tobias Lindström won a knockdown in the defensive zone of Frisk, Olimb picked up the puck – bang in the center left behind Nicklas Dahlberg (36).
It didn't get any hotter in Frisk's keeper's ears after that. Vålerenga lined up one great scoring opportunity after another. Among others, newcomers Mika Partanen and Calle Spaberg Olsen. But the efficiency was fair. It was equal to zero.
Colin Spaberg Olsen should have made it 2-1 at six minutes at halftime, following continued pressure from Vålerenga against the still solid Dahlberg. Then Vålerenga had two chances in overtime almost on rap. Both were important enough in the sink.
What in the last regular period could be the consequence of Vålerenga's astonishing scoring touch was a particularly open question. Magnus Brekke Henriksen came very close to making it 2-1, played by Mathis Olimb in extra time on play six on five (pending expulsion) and in five on four he saved – and saved – Dahlberg.
So what happens often happens. Frisk grabbed a little grip, out of nowhere Magnus Geheb (24) appeared right in front of the Vålerenga Breivold goalkeeper and gave Asker the lead for the second time in the match.
10 minutes before the end.
So good advice was expensive for Vålerenga. The payoff finally came when Mika Partanen tied his first goal for the Oslo team with 187 seconds to go, and then saw Frisk Endre player Medby be the last man on the puck to go 3-2, the goal of the victory of the match credited to Axel Sundberg.

www.aftenposten.no