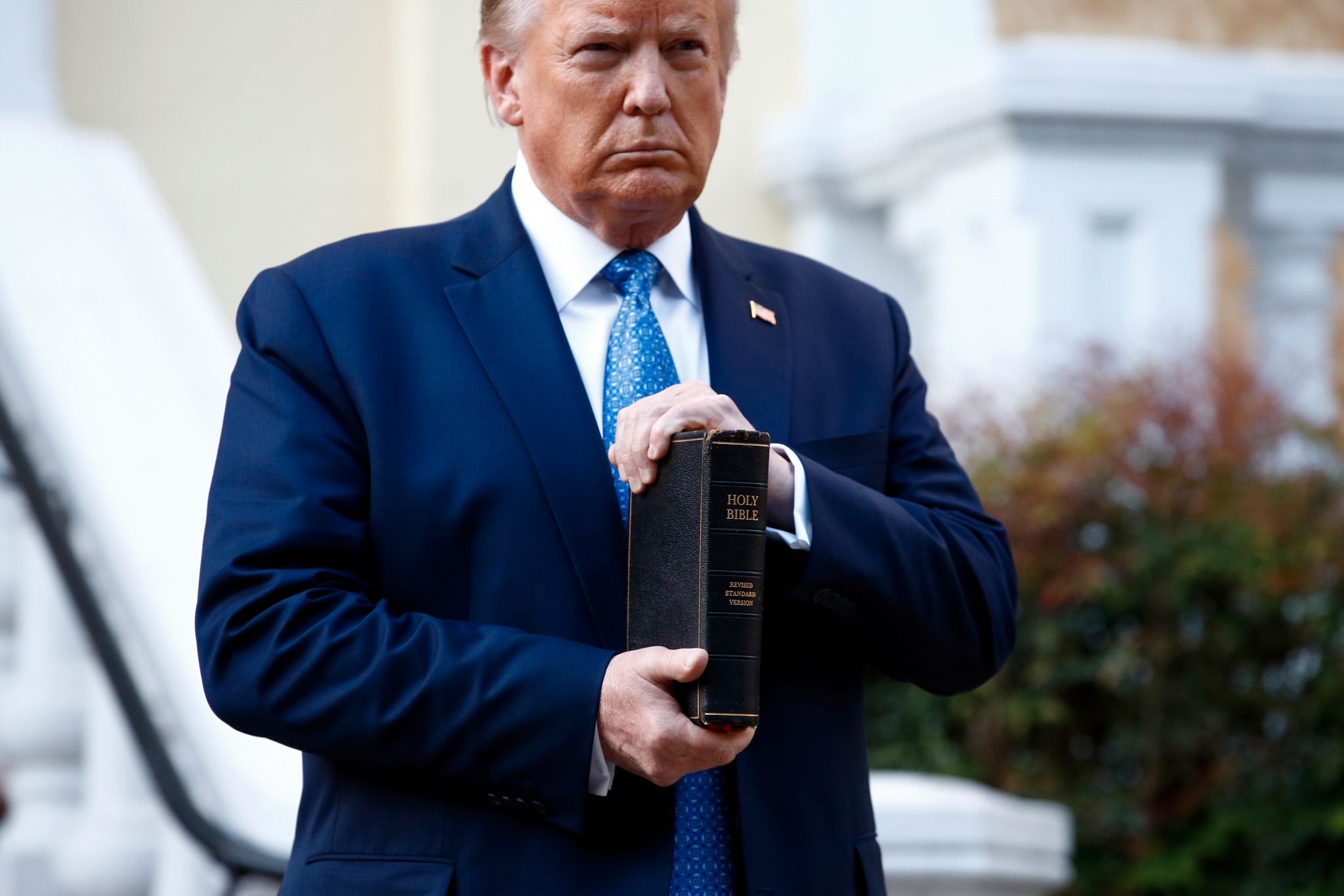 Norway has very few voters in this category, but they were enough to bring KrF below the threshold.
Chronicle
This is a chronicle. Opinions in the text are the responsibility of the writer.
In a "Christian" country like the United States, Donald Trump has a good playing field. In Norway, there was no longer a place for the Christian People's Party.
There is a connection in this. The key word is how Christians relate to de-Christianization trends in the Western world.
In the United States, the evangelical movement panicked and was tempted by Donald Trump and his promises to make both God and America great again. Now evangelicals are licking their wounds and church leaders acknowledge that the flirtation with Trump has pushed the movement into deep crisis.
For a long time it was in a majority position, but it has not been able to relate to the changes of opinion in society about religion.
In Norway, the fear of de-Christianization is not that strong. The thinking of the secular movement on the intellectual struggle and the image of the enemies no longer has such good conditions in this country. The lack of images of intimidation likely drove the Christian People's Party below the threshold.
"God's plan" with Trump
Readers of Aftenposten have enjoyed the newspaper's robust coverage of American politics for many years. Interest in this topic is great in Norway, and the country's largest paper newspaper has used considerable resources to provide information, especially in the years that Donald Trump has been on the road.
In 2016, Trump likely won the battle for the presidency because he received such overwhelming support from so-called white evangelicals, who have about 30 million voters.
Eighty percent of this major whiplash group supported Trump in the 2016 election, a small percentage less in 2020. In both elections, Aftenposten allowed us to meet with representatives of this category of voters. They discussed "God's plan" with Trump.
The newspaper also quoted prominent leader Albert Mohler after Trump's electoral defeat and assault on Congress: "Evangelical Christians who support Donald Trump find ourselves in a terribly embarrassing position after this."
"Folkekirkene" on the shrinking front
Like many international media, Aftenposten has provided readers with little information about the development that has taken place in the evangelical movement. It is almost taken for granted that this is how it was in the heyday of Billy Graham many decades ago.
In the recently published book Trump, God and the Church I try with a Norwegian look to explain how complex this important group of voters has become and why Donald Trump won so much support here.
Traditional Protestant denominations in the United States, such as Lutherans, Episcopalians, Baptists, and Methodists, have long been in decline.
These "popular churches" have had the same development as the Norwegian popular church. Old theological positions have been challenged, while many of the members believe that their church has gone in too liberal a direction.
As a result, many believing Americans have chosen to withdraw from established denominations and join more progressive evangelical congregations. Many of these new congregations belong to the Pentecostal charismatic part of the church landscape. Over the past 50 years, they have seen increasing membership growth.
Extreme congregations are strengthened
In a major article on The Conversation website, American sociology professor Brad Christerson describes this significant growth compared to other Protestant denominations.
From 1970 to 2010, traditional denominations had an annual failure in participants of about 0.5 percent a year. During the same period, independent charismatic congregations boasted an increase in support of 3.24 percent annually.
In my opinion, election researchers and media commentators have long underestimated the political effects of this shift on the religious landscape. The eyes were opened to a certain degree when it turned out that it was in this type of church that Donald Trump found his loyal followers.
Many of the charismatic congregations are theologically extreme. They affirm that God will bless those who believe strongly enough, with success, and emphasize spiritual warfare with special strength. The Christian life is a constant battle between good and evil, between internal and external enemies.
Trump appealed to evangelicals
When enemy imagery becomes so powerful, it's no wonder these settings set good ground for all manner of conspiracy theories and vaccine skepticism. Donald Trump was able to take advantage of this ecclesiastical and theological development to his advantage. The fact that he was successful in business himself became an important voice anchor.
On August 27, 2018, Donald Trump invited a couple of evangelical leaders to a dinner at the White House. Trump's purpose for the dinner was "to honor the evangelical leadership."
The meeting went unnoticed by the mainstream media, but the small newspaper The Christian Post had a full coverage. It emerged that pastors expressed concern about the de-Christianization of the United States. Christian leader Jack Graham said in an interview with the newspaper that it must be legitimate to speak of "love of power."
The Christian life is a constant battle between good and evil, between internal and external enemies.
He told the newspaper: "We must maintain our vigilance in the coming days. The concern is that this is a spiritual war, this is a battle, and in the end the battle is won on our knees. It is very clear, we express to the president that we have to pray, pray for him, pray for our country ".
"War of values" also in Europe
The reaction of Christians to general secularization is not something that only characterizes the United States. Across the western world, similar trends can be seen. French professor of religious studies Olivier Roy states in his book Is Europe Christian? (Danish publication) that in our part of the world, Catholics are at the forefront of this "war of values".
It is common to many Protestants and Catholics, whether they are in the United States or Europe, the belief that Christian values ​​are the cornerstone of society. It is incomprehensible to them that so many citizens no longer care about the Christian message. They are especially desperate because the nation's leaders don't seem to include God in the policy calculation.
When the country's values ​​must be defended at all costs, it can be a natural psychological reaction to look for people who are energetic enough and who can put this back in their proper order.
We also see this outside of the United States. With the declaration "Christianity is the last hope of Europe", the right-wing Prime Minister of Hungary, Viktor Orbán, is one of those who has managed to attract a large electorate. Some of the same development has taken place in Poland. This became even more noticeable in Brazil.
In the fifth largest country in the world, Jair Messias Bolsonaro was elected president in 2018. Bolsonaro's electoral campaign was very similar to that of Donald Trump, not without reason they have called him "Tropics Trump." Like Trump, Bolsonaro drew considerable support from the US-inspired charismatic megacongregations that have sprung up in the country over decades.
You think KrF is "too pale"
For the Popular Christian Party, in recent years it has been impossible to defend this intellectual thought in politics. Thus, the party in some Christian circles is seen as "too pale." This resulted in the Christian Party, which has found a small pocket of 0.4 percent of the voters. They would have previously voted in all probability for KrF. The flight of these voters was enough to throw the party off the cliff.
If Donald Trump intends to return in 2024, he can certainly count on the support of his warriors of Christian values. For KrF, it will be a death line to opt for the same tactics. In Norway, there are simply too few voters in this category, but in 2021 there were enough to bring KrF below the threshold.
---



www.aftenposten.no