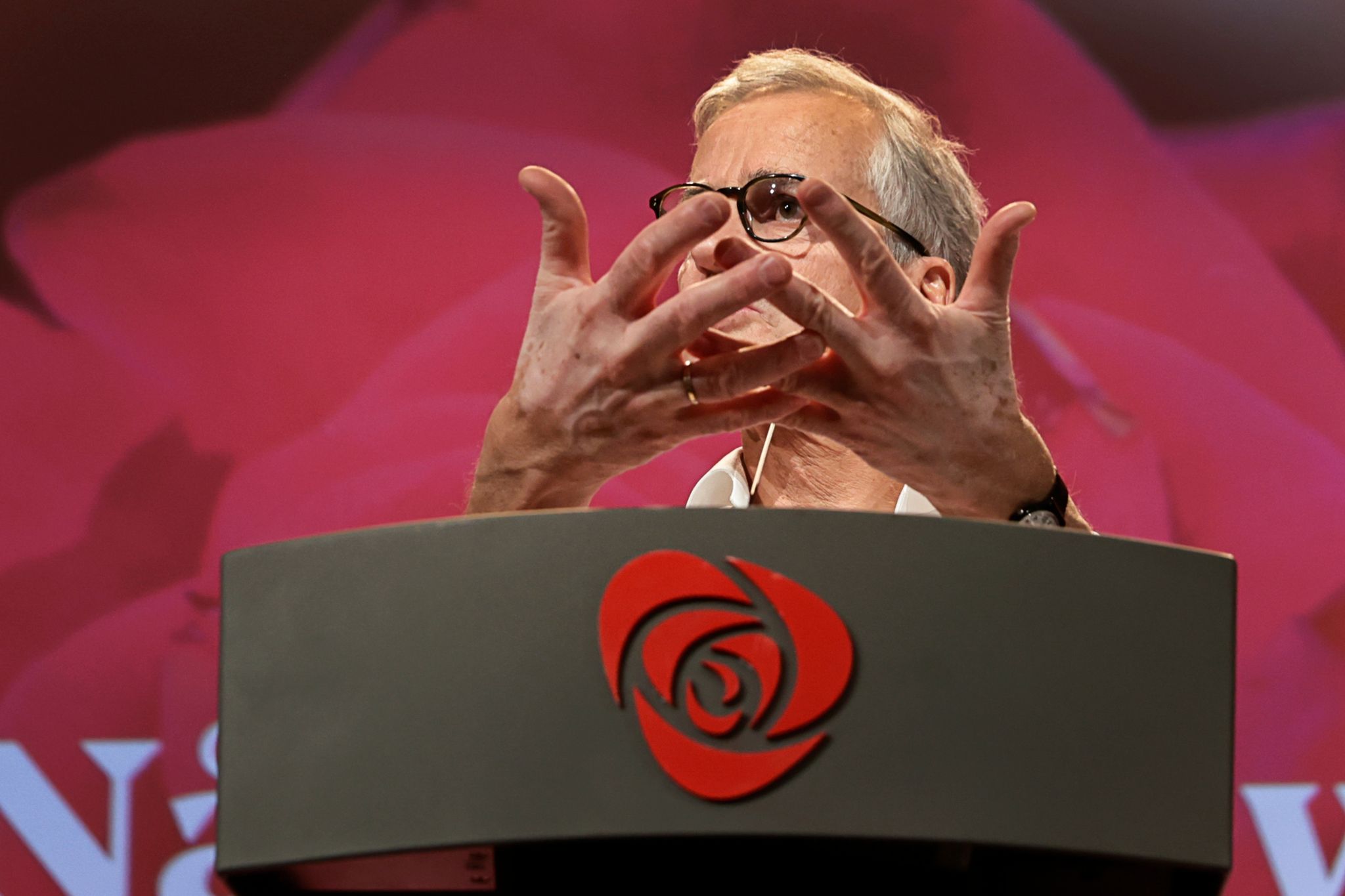 The SV national meeting decided that the governance platform must be accepted by SV members through a referendum. – We would never have chosen such a solution, says Mette Nord, leader of LO's largest union, Fagforbundet.
On Tuesday, the Labor Party national board celebrated the electoral victory in Folkets Hus. It was almost as if one thought that the government declaration was signed when the Labor Party clapped and danced to the song. Celebrate. After eight difficult years, Folkets Hus suddenly became Gledens Hus.
– I would like to welcome you on stage, the next Prime Minister of Norway, Jonas Gahr Støre, said a brilliantly satisfied MP, Hadia Tajik.
The incoming head of government reported the conversation with SP leader Trygve Slagsvold Vedum and SV leader Audun Lysbakken:
– We are in good talks with the Center Party and SV, said Støre.
Støre constantly focuses on everything that the Labor Party, the Socialist People's Party and the Socialist People's Party agree on. However, the path to a new red-green tripartite government advancing in Slottsplassen is fraught with challenges.
One of them is that the SV national meeting decided that SV members must accept a possible platform of government through a referendum for SV leaders to enter the Støre government.
Create uncertainty
It is a completely new model in Norwegian politics. And it will prolong the process and empower the SV members in the last round. It creates uncertainty in the Labor Party and the Socialist People's Party.
– We would never have chosen such a solution. But we must respect what the SV national meeting has chosen, says Mette Nord, leader of LO's largest union, Fagforbundet.
Nord acknowledges that SV also has "a great interest in joining a government that changes Norway with minor differences, a safe working life and a green change."
– Why would the Labor Party never choose such a solution?
– We are confident that those who have been elected to leadership positions can make those decisions. That is why you have a central government and a national government. It is a natural setting for that kind of decision making.
– Does it complicate the negotiations?
– It is a moment that can be a bit complicated. There's no question about that, says Mette Nord.
Desperate call to the SV model
Trøndelag Labor Party leader Ingvild Kjerkol says they cannot focus much on the SV election.
– It is a party that has chosen its loop of decisions and we cannot do much about it.
– Is the SV loop lucky or unlucky?
– We are concerned about gaining support for a government platform with the three parties. If I'm going to be a bit lazy, I don't perceive the SV members to be more radical than the SV national board. It's something we have to deal with, says Kjerkol.
Many share the frustration with SV's special decision-making process. A county leader says the SV model is "desperate."
But in the jubilation that the Labor Party has regained government power, the traditional unity has been revived: the party's shop stewards have become extremely reluctant to say anything negatively perceived about the Støre party leader. This also applies to what may be offensive to future government partners.
Such is the vow
Oslo City Councilor Raymond Johansen "does not want to say anything publicly." The county mayor, Tore O. Sandvik, in Trøndelag, lets Støre answer those questions now.
MP Bjørnar Skjæran smiles broadly, but says nothing when asked what he means.
SV has decided that everyone who has registered on Monday 06.09.2021 before 23.59.59 Norwegian time, can participate in a possible referendum.
Only paying members can participate. The deadline for payment is set on the same day that the SV national board adopts the negotiating committee and the mandate. According to the plan, it will take place at the national board meeting on Saturday.
Støre: – It's unusual
Støre says that the SV model is unusual, but believes that, first and foremost, it shows that the parts have different traditions.
– This is the national meeting of the SV you have chosen. This is a slightly unusual method. When they think that's the way to do it, I don't care, he says.
However, there is a side to the scheme that can present problems.
– It is a time challenge here at the end, which we must get to climb. That worries me more, says the Labor leader.
– Mette Nord says that it complicates the picture, do you agree with that assessment?
– The Center Party and the Labor Party are a little more similar in the way things are anchored, but we also have it a little different. I intend to be generous with that and say that if that is what the national assembly in SV decides, then we must respect it.
– But do they have to implement it quickly?
– Yes, there is a time dimension here that we have to talk about.
Støre takes Tajik to Hurdal on Thursday. Then the scans start with SV and Sp. The Labor leader doesn't think that phase should take that long.

www.aftenposten.no