Somewhere between 12 and 18 million crowns, it will cost Norwegian football annually to have a video refereeing in the Elite Series. Now it is up to the clubs if they will accept their part of the bill to introduce the VAR. The fans watch.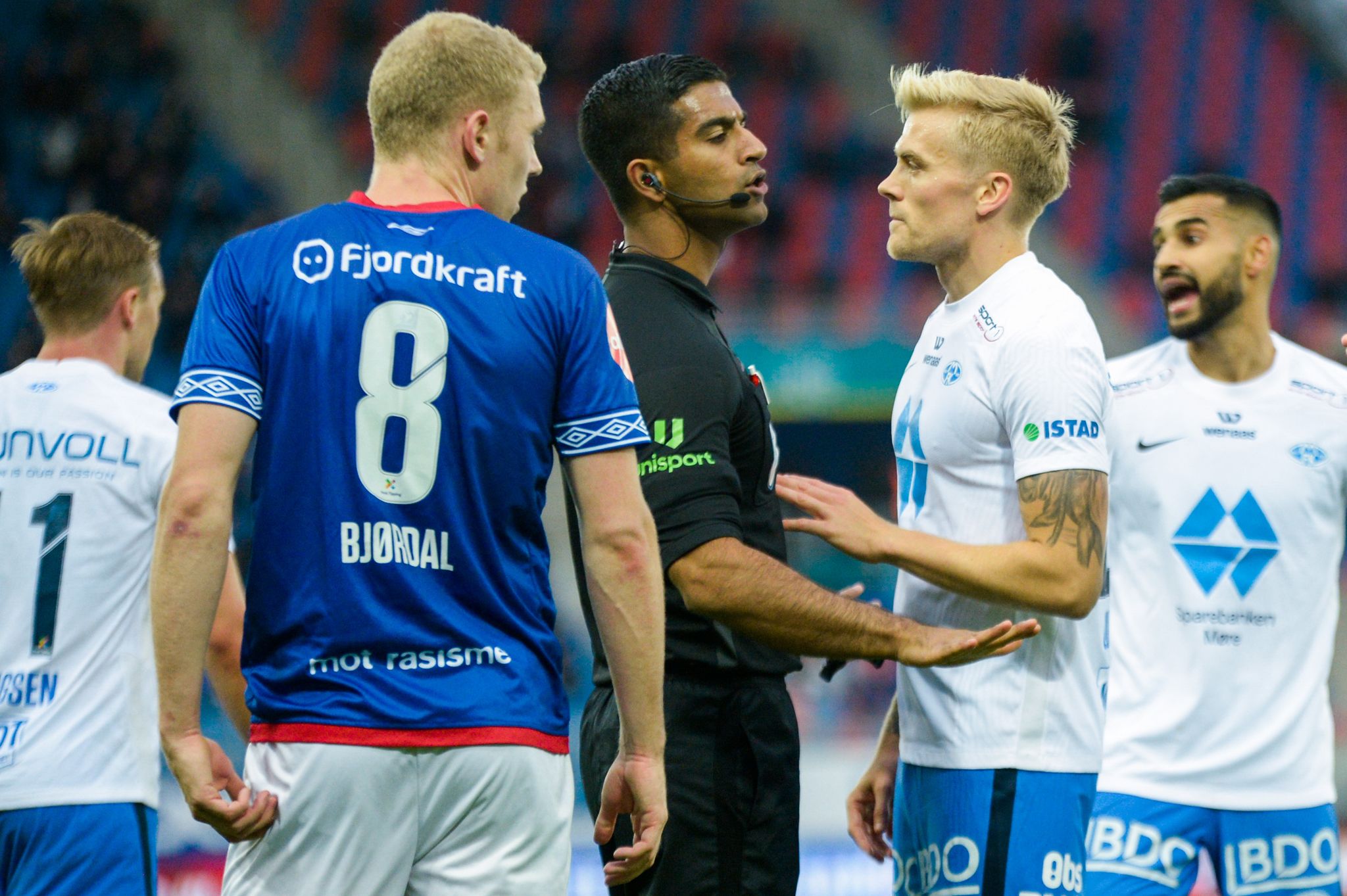 Aftenposten collaborates with VG-sporten. Therefore, as a reader of Aftenposten, you also get articles and services created by VG.
Next Thursday, the video assistant referee is on the agenda at a meeting with all the Elite Series and Obosliga clubs. But you just have to discussed, no decided, highlights Leif Øverland, CEO of the interest organization Norsk Toppfotball.
– We want a broad discussion. We have already spoken with the players' association and the clubs will have good conversations with their own fans. There are different points of view here, and it is not a given that you should spend 12 to 18 million of the club's money a year on this, Øverland tells VG.
Before the summer, VG announced that TV 2, the licensee for the 2023 season, had offered Norwegian football a VAR solution. So far this is only relevant for the Elite Series.
Now a model has been developed to be decided by the clubs, the Norwegian Football Association and the licensee, and the question they simply have to ask themselves is whether they want to participate in paying for their third of the feast.
– Immediately I want to say that it sounds like a lot of money. We have been waiting for a basis to discuss this internally and we will do so before the meeting. My personal opinion is that I am involved in everything that can improve football and the football product. The question is whether we have a VAR that does it, says general manager Robert Lauritsen in Lillestrøm to VG.
The LSK coach is also aware that the club's own fans have marked opposition to the VAR. Øverland in Norwegian Nils Fisketjønn, director of competition and senior football at the Norwegian Football Association, is very concerned that fans will have a voice in the debate on whether the Elite Series should feature chamber referees.
– We are against the introduction of the VAR. We have taken another round now. It will destroy spontaneity in the stands, says Norwegian Supporter Alliance (NSA) spokesperson Ole Kristian Sandvik.
Club leaders are not so clear on communication yet. VG has asked Brann, Vålerenga and Odd, among others, if they want to spend money on VAR, but they will first discuss it internally.
Molde will do the same before Thursday's management meeting in Norwegian football.
– My opinion, that is, not the official one from Molde, is that we should definitely consider VAR in Norway. But not in such a way that the game stops every three minutes. That bothers me. That we have a discussion about VAR is great, but money will be a big factor here, says CEO Ole Erik Stavrum in the league runner-up.
Referee Terje Hauge from the Norwegian Football Association claims that Norwegian football watches how the European Football Association (UEFA) handles VAR. This means that the ambition of the Elite Series will be to practice in the same way as in the European Football Championship this summer. There, the video evaluation was described as a success.
also read
The use of VAR in MS is called "exemplary"
– We always have UEFA as a reference. Both in the rules of the game, the theory and how it should be managed, we follow UEFA. I think the European Championship was fantastic. High list of free throws, good football games and that VAR got into obvious situations, says Terje Hauge.
Before one can introduce VAR in Eliteserien, which will be the first in 2023, Norwegian judges must go through an educational career in order to use video assistance. According to Hauge, this requires around 40 referees to go through a FIFA-approved "VAR school" and that it takes a year.
The course bill avoids annual operating costs of about NOK 12-18 million, but NFF will probably be able to afford it.
– We have a budget, in which money has been set aside for education starting in 2021. So if a decision is made before October 1, we will start before Christmas, says Hauge.
also read
The president of the Supreme Court on the sentence of Molde: – Correct solution
Ultimately, it is the board of the Norwegian Football Association that decides whether the VAR will enter the Elite Series.
– Now it will be discussed in the clubs, then there will be an anchor there. We partner with Norwegian Top Football. If, for example, they get a decision from the board that no wants VAR, so it's important that we play in teams, says competition director Nils Fisketjønn at NFF.
One discussion on the side of the VAR, which among other things has reached Danish high-level football after they introduced video refereeing, is goal-line technology (GLT). The Norwegian Football Association is also testing the possibilities there.
But this requires more technological aids and will mean a higher cost for Norwegian football, which is added to the sum of VAR operations.
– It has been debated, but now the judges say that if it had VAR, there are one or two cases a year where GLT would have been a valuable complement, Fisketjønn notes.

www.aftenposten.no