A Brann signing that needs time to find a way to fight. Did you hear it before?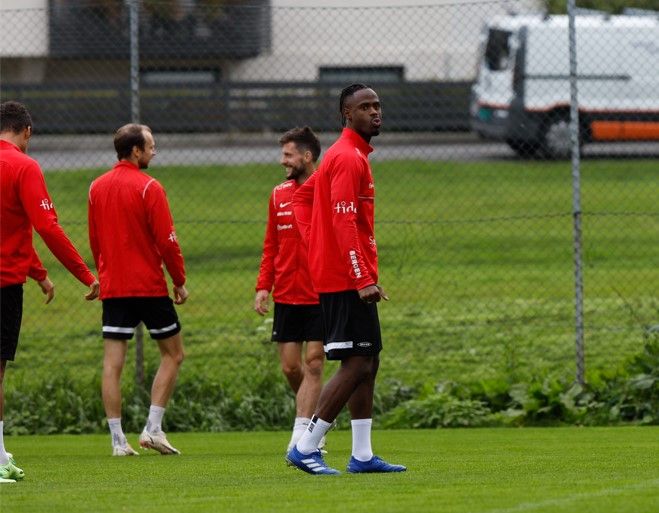 Brann Stadium: Vajebah Sakor came to Brann without a contract and signed a contract for the remainder of the year with the relegation-threatened sports club.
Wednesday may It will be relevant to the cup playing time against Harstad.
This will be Sakor's first soccer game in 131 days.
"We'll probably have to spend three weeks, I guess, to get him in fighting shape." Certainly, says Horneland.
These are precious weeks in an important Brann fall.
Men:
– It is not a product ready for slaughter. Sakor is in his prime (25) and has trained a lot over time, says Horneland.
Just over four months ago, he played 90 minutes at the end of the season for the OFI club in Crete. The date was May 13.
– What do you think about it, Sakor?
-I have continued, but I cannot say that I am ready to play the 90 minutes, says Sakor.
– How long do you think it will take before you are where you want to be?
– The most important thing is to start with the training. It might take you a week, one and a half.
Trained with Vålerenga
BT commentator Anders Pamer was surprised by Brann's transition.
– Both because he lacks combat training and because Brann is well pre-stressed in midfield, says Pamer.
– Then I realize that the sporting director (Jimmi Nagel Jacobsen) says that he has gone through tough physical tests before the transition, so it is not a case of Søderlund, adds Pamer.
This summer, Alexander Søderlund reached an agreement with Brann, but the veteran leader did not comply enough with the physical measures taken by the club.
Sakor says he has trained with Vålerenga in addition to running his own training during the club-free period.
Estimate three weeks
But it's impossible to avoid the fact that Brann once again picks a player who needs time to find his best form of fighting. Earlier this year, midfielders Lars Krogh Gerson and Vieux Yaya Sané stood out in particular.
Sané hadn't played in over a year. Gerson was discharged from his Spanish club and turned out to be injured for a long time. Only now is Gerson coming and ready to play, many months later. For a long time Sané could only play game periods and now he is injured.
The examples could have been various, if not so special.
With Sakor it will be different, thinks Eirik Horneland. The Brann manager had already had the new midfielder in Norway's U19 team.
– I think we can reboot it sensibly in three weeks, says Horneland.
Sakor started the year with smoky ligaments in one knee. He has also had bad luck with a broken cheekbone.
There have been troubled moments at all.
– The cheekbone smoked in duel, so I took the ligament in September. I returned to the field in March, says Sakor.
You now have simple thoughts in your head.
– The most important thing for me now is to get fit and play games, says Sakor.
– A different little project
Horneland says Brann's position at the table makes it more difficult to get players. Including players in top form.
– At the same time, I feel that Sakor is a slightly different project than some of the other projects. He is someone who has trained a lot over time, Horneland repeats.
Vajebah Sakor has signed a contract for the rest of the year, but Brann wants to take it beyond this period.
– The transfer contributes to the fact that you now have many midfielders. Are there too many?
– It is a tough competition at least. We get a good training routine. I believe that competition can help ensure that we get the results we need, says Horneland.
On Wednesday, Brann travels to northern Norway for the second time in four days. Harstad fourth division team awaits away from home in the cup. Ballspark has cup delivery before, during and after the game.
Listen to the Ballspark podcast:

www.aftenposten.no