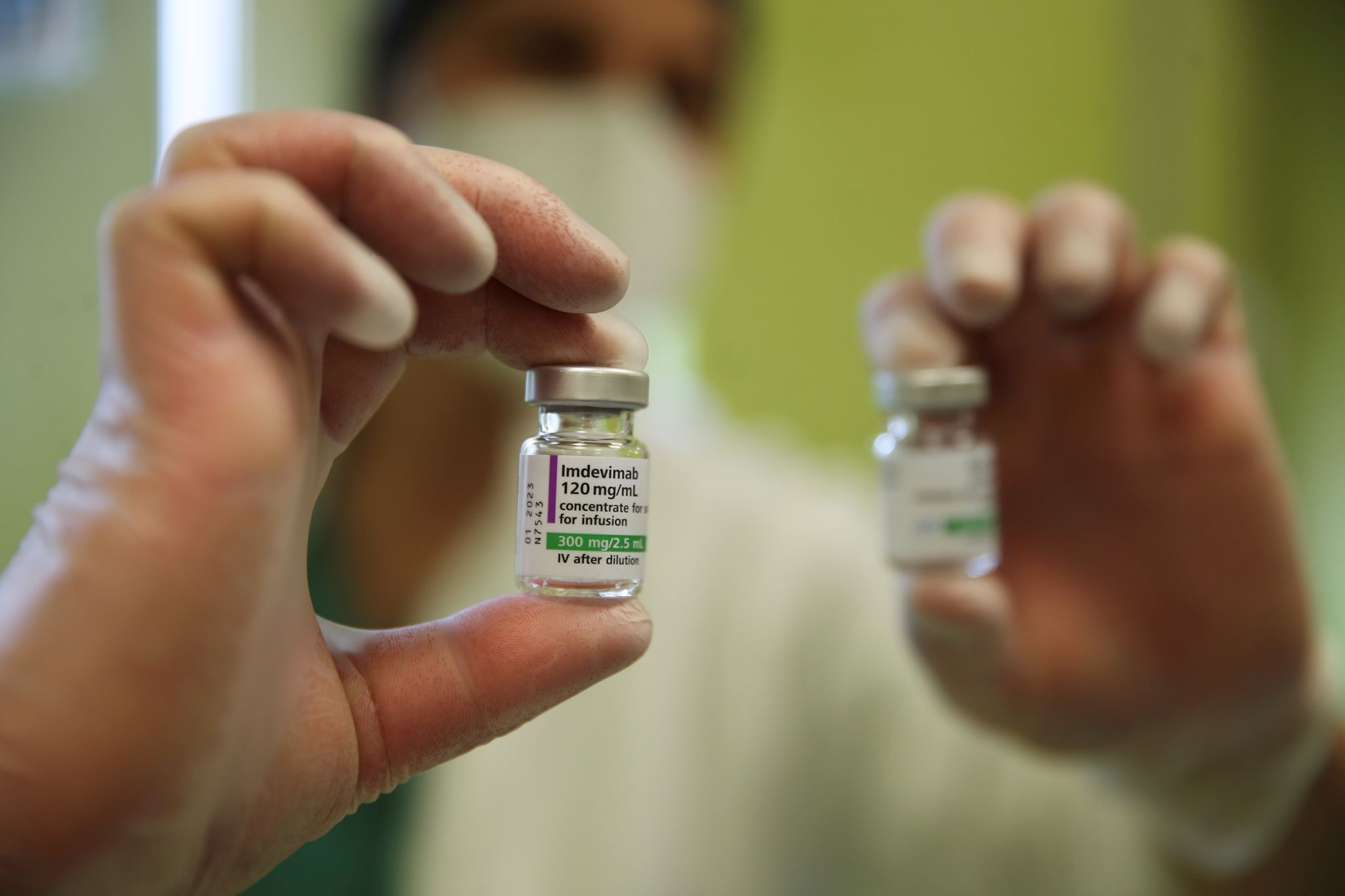 The World Health Organization (WHO) now recommends an antibody cocktail for those at high risk of hospitalization.
– Antibody treatment can reduce hospitalizations and save lives, says Dr. Per Olav Vandvik.
He has participated in the writing of the new WHO guidelines, which are also published in the renowned journal BMJ.
Who anbefaler for the time being a cocktail of two monoclonal antibodies, casirivimab and imdevimab, for these groups of patients:
For those with a mild illness, but at a higher risk of hospitalization.

Patients who are hospitalized with severe or critical COVID-19 and who do not produce their own antibodies against the virus.
Add artificial antibodies to the body
Other selected patients with severe COVID-19 also benefit greatly from treatment.
So-called monoclonal antibodies are drugs that supply the body with artificial antibodies against the coronavirus.
Available in Norwegian hospitals
Vandvik claims that a limited number of doses of Regen-Cov have been purchased for use in hospitals in Norway.
– They are available in university hospitals. This means that hospitals will likely be able to offer the treatment in a short time, he says.
But most patients with coronary heart disease are not hospitalized. In the future, also in Norway, COVID-19 drugs will be offered to patients for use outside of hospitals.
Fewer can die of crown
– Treatment can reduce mortality by up to 7 percent in those with critical and severe COVID-19, says Per Olav Vandvik.
Vandvik is a physician at Lovisenberg Diakonale Hospital, a principal investigator at the National Institute of Public Health, and a professor of medicine at the University of Oslo.
He directs the Magic Foundation (see data box). It works to provide advice to health authorities and health personnel internationally.
In addition, he says that this antibody cocktail is an expensive treatment with limited availability in the health service. Therefore, special groups of patients may first receive the treatment.
The greatest benefit for those at higher risk
The benefit is greatest among those at higher risk. They can be the unvaccinated, the elderly, and people with immunodeficiency.
Of these, about 10 percent fewer with mild coronary artery disease will be admitted to the hospital after treatment.
Aftenposten wrote a few days ago that 200,000 Norwegians are vulnerable due to immunodeficiency. These are patients who have probably also reduced the benefit of the vaccine. Therefore, they will be good candidates for antibody treatment if they receive COVID-19.
– How important is this now, when so many people in Norway have been vaccinated?
– Antibody treatment saves patients with serious illnesses and reduces hospital admissions. Norway has managed the pandemic well, especially through the population that has been vaccinated to a greater extent than in other countries, Vandvik responds.
He says that the principle of treatment is new.
– The monoclonal antibodies that are now recommended are also effective in the delta variant, based on current documentation.
Vandvik believes that such treatment will also have an effect on new variants of the virus.
– With new virus variants, as is well known, current vaccines may be less effective. So the new custom monoclonal antibodies may be an even more important treatment, also in a country like Norway, before vaccines against the new variants are developed and available.
– Will the treatment reduce late injuries after covid-19?
– Unfortunately, there is still not a good research-based knowledge about the effect of drug treatment for COVID-19 and late injuries and the development of what is called post-COVID.
However, Vanvik believes it is natural to imagine that reducing serious illness with COVID-19 will also reduce the risk of late injuries.
– But good studies with a longer follow-up are needed.

www.aftenposten.no