Of course. Demanding. And wanting to attack. Add good results to all the clubs you have coached, and you have music in the ears of an RBK leader.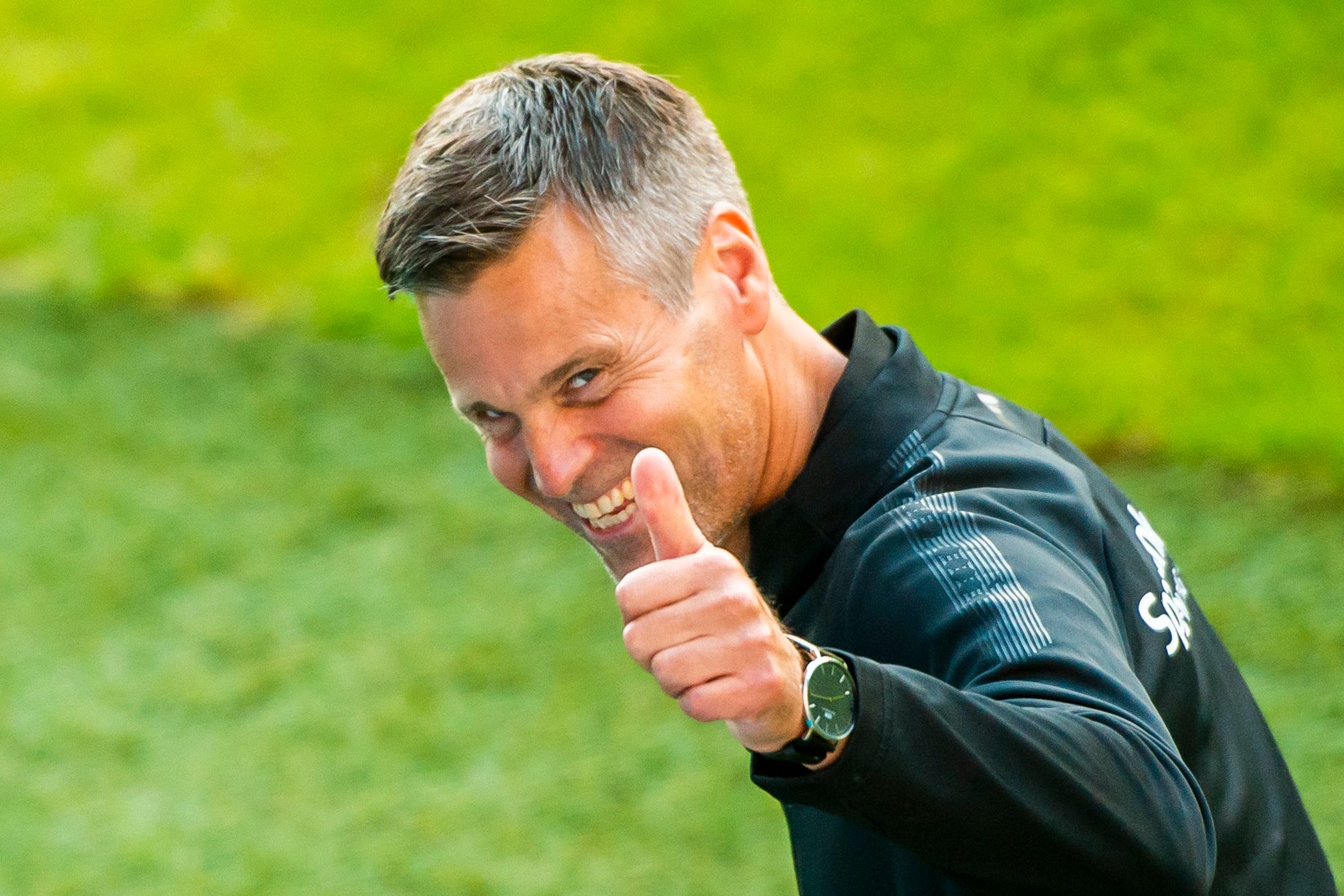 So the question is: How easy will it be to convince a man that he is attractive to clubs both inside and outside the Nordic countries?
July 1, 2021. Lerkendal. Press conference. RBK coach Åge Hareide stands in the middle of the flash and lets the cat out of the bag – he gives up after the season.
When Hareide has finished answering, the reporters quickly turn to Ivar Koteng. The chairman of the board can report on a raw list of candidates, but will not mention names. With one exception.
Because when Adresseavisen asks about the successful Bodø / Glimt coach Kjetil Knutsen, Koteng responds:
– Of course it's on the list. A skillful and interesting coach.
"Very nice"
Since Koteng opened that day in July, Knutsen's interest has been repeated several times. RBK must also, as Adresseavisen understands, have now spoken to the 52-year-old.
As the club has done with at least one other candidate.
Knutsen himself hasn't said much about the RBK link, other than "it's very pretty."
Otherwise, the Bergen native has spent his time leading Glimt to the top of the table, and began the European fall by beating Zorya Luhansk in group play in the Conference League.
Three questions
Beyond what Koteng has already said, no one in RBK's management wants to discuss Knutsen in detail while the search for coaches is ongoing.
So Adresseavisen has given us a 180 degree turn and spoken to several who know the 52-year-old well.
Why is it so sought after in Lerkendal?
What will RBK get if Knutsen arrives?
And is it a fact that it will come?
– Extremely clear
– It's a bit demanding. But you have to be, begins the backing of RBK Erlend Dahl Reitan, who had Knutsen as a coach for 18 months in Bodø.
– A leader who knows exactly how he wants him, says Eurosport's Joacim Jonsson, who has followed Knutsen closely since he coached Åsane seven years ago.
Or as the Glimt Brede Moe plug said, when he visited the Rasmus & Saga podcast in November of last year:
– Extremely clear. "By far" the best coach I have ever had!
Went up and got fired
Kjetil Knutsen is the 52-year-old who never took the last step as a player.
He graduated from Brann and won the men's national games for Norway and the youth games for the Reds. But when he couldn't join the first team, Knutsen gave up Fri, Åsane and Varegg.
And trained to be a teacher.
In 1996, however, he was offered to become a junior coach at Hovding. Two years later, at 30, he took over the first team. Under Knutsen's leadership, the Bergen club went from the 4th division to the 2nd division in just a few years.
This made it relevant to Brann. In 2005, he became a development coach. But Knutsen, along with several others on the technical team, had to leave in 2009. In a case that ended with attorneys.
Knutsen passed to Fyllingen and in 2010 he eliminated Brann from the cup. Fyllingen eventually became Fyllingsdalen, and Knutsen was there until 2013, when the club finished fourth in the 2nd division.
According to the board, the lack of results was the reason he had to leave. But Knutsen was quickly picked up by Åsane.
It ended with a promotion to the 1st division on the first try, and then two years where the club established itself at the second highest level. Åsane was number eight on the table in 2016, when a new special case appeared. Knutsen had the group of players behind him, but had to leave Åsane. The club spoke about the lack of use of younger players, while Knutsen thought the firing was for a short playing time for Roald Bruun-Hanssen's son. Bruun-Hansen was the CEO of Åsane at the time.
In any case, the journey continued to Bodø, where Knutsen in 2017 became Aasmund Bjørkan's assistant. He finished on the rise on the first attempt, with a 19-point margin.
Starting in January 2018, Knutsen took over as head coach, with Bjørkan as the sports leader. Glimt took his place, before the adventure began: Silver and "Coach of the Year" in 2019. Gold and "Coach of the Year" in 2020.
And in 2021: Management of series and group games in Europe.
– 4-3-3 modern
Erlend Dahl Reitan played with Knutsen both in the fall of 2017 and throughout 2019. The 23-year-old is clear that he has nothing to do with RBK's search for a coach, and that there are certainly several good candidates.
But on direct questions about Knutsen, Reitan is clear:
– It represents what I mean is a very modern 4-3-3, with a mixture of a lot of ball possession and the ability to go fast longitudinally. He's also very detail-oriented. There is a lot of terpeo, almost to the point of boredom. But you get paid, says the RBK defender.
– Detail oriented?
– This applies to everything from passing to press games, from goal finals to overall style of play. In addition, there are hard but relevant workouts.
Sagittarius and Botheim
Eurosports Jonsson wrote this week a blog about Knutsen. The football expert has no doubt that the Bergen native and RBK will be a good match.
– A very tough and uncompromising leader, Jonsson writes and explains to Adresseavisen:
– You know exactly how you want it. And if a player doesn't fit in, Knutsen isn't afraid to make tough decisions. Glimt picked up, for example, Samuel Skytte, who had to move on. Erik Botheim was also called to the office this spring, where he received a clear message.
Jonsson thinks players have to put up with Knutsen a lot, but that pays off:
– Knutsen leads his team very hard on the field. It depends on players who can endure a lot and a hard training. Players must also be strong mentally. More or less it only focuses on the liver eleven, and those that are closest to it.
Jonsson also points out one more thing: Last year, Glimt lost 100 goal points to the trio of Phillip Zinckernagel, Kasper Junker and Jens Petter Hauge.
– Nine months later, Glimt continues to lead the league.
Something happened before 2019
On November 30 of last year, Glimt's cap Brede Moe was a guest on the "Rasmus & Saga" podcast.
At the time, Knutsen and RBK weren't the topic, the whole time Hareide had just joined.
But Moe removed the veil on Knutsen's qualities as a coach:
– Before 2019, something happened. We gave up on goals and moved on to thinking only of performance, Moe said, illustrating that with how Glimt keeps dropping in attack and chasing goals, even if you lead matches.
– Previously, we were concerned about having "so many points" after ten and 20 games. Then quickly, you will also be more affected in battle.
– He is very clear about what he requires, regardless of the position in the field. He is not extreme with the ball "going yours or yours". But that's a common thread, Moe added, about the style of play that shocked the elite series in 2020.
– How is Knutsen training?
– Very clear what he wants from us in each individual training. Either "endurance day", with games on large surfaces, or "speed day", where there are smaller surfaces. In addition, there is tactical training in full swing. 11 versus 11, or 11 versus 7 if there are things you want to beef up with, Moe responded at the time.
And added:
-In addition, intensity is a word that is used a lot. And he has built stone by stone. Whereas at the beginning of the Knutsen era we managed to maintain the tension for 40-50 minutes of play sessions, now the intensity is high for much longer. Because we can take it.
I think he wants
September 21, 2021. Lerkendal. RBK training. While Hareide and the players are making final preparations for NM's game against Viking, they have long worked behind the scenes in the search for the coach.
With Knutsen.
With at least one more.
One of the issues that will likely be discussed with athletic director Mikael Dorsin and the board members is accessibility.
Knutsen is only under contract through the summer of 2022, so Glimt is financially limited in what he can demand. Knutsen's personal conditions will likely be possible for RBK as well.
But do you want Knutsen himself?
He has already been linked to clubs in the Nordic countries, such as FC Copenhagen and Aalborg. Clubs from nations outside of our neighboring countries are also said to have had the 52-year-old on the radar.
At the same time, Brann is looking for a coach and Knutsen's family still lives in Bergen.
However, Jonsson at Eurosport believes that Knutsen is triggered by Lerkendal's thinking.
– RBK has also taken some titles in recent years, but in my opinion it is a "sleeping bear". The largest club in Norway, with the greatest potential. You can trigger Knutsen. Trying to reach that potential, he says, and continues:
– The family is not more than a short flight away either. I think it can also come into play, unlike, for example, a club abroad.
RBK defender Dahl Reitan agrees.
– Now this becomes very hypothetical. I have not spoken to him either. I also have full confidence in the club and in the work they do to find a coach. Whoever it is. But I think work motivates him. At least I would have shot myself if I had come, smile.

www.aftenposten.no