(USA 6-2 Europe) Viktor Hovland (24) and Tommy Fleetwood (30) ruined their match win, and Europe is off to a strong start to the Ryder Cup against the USA.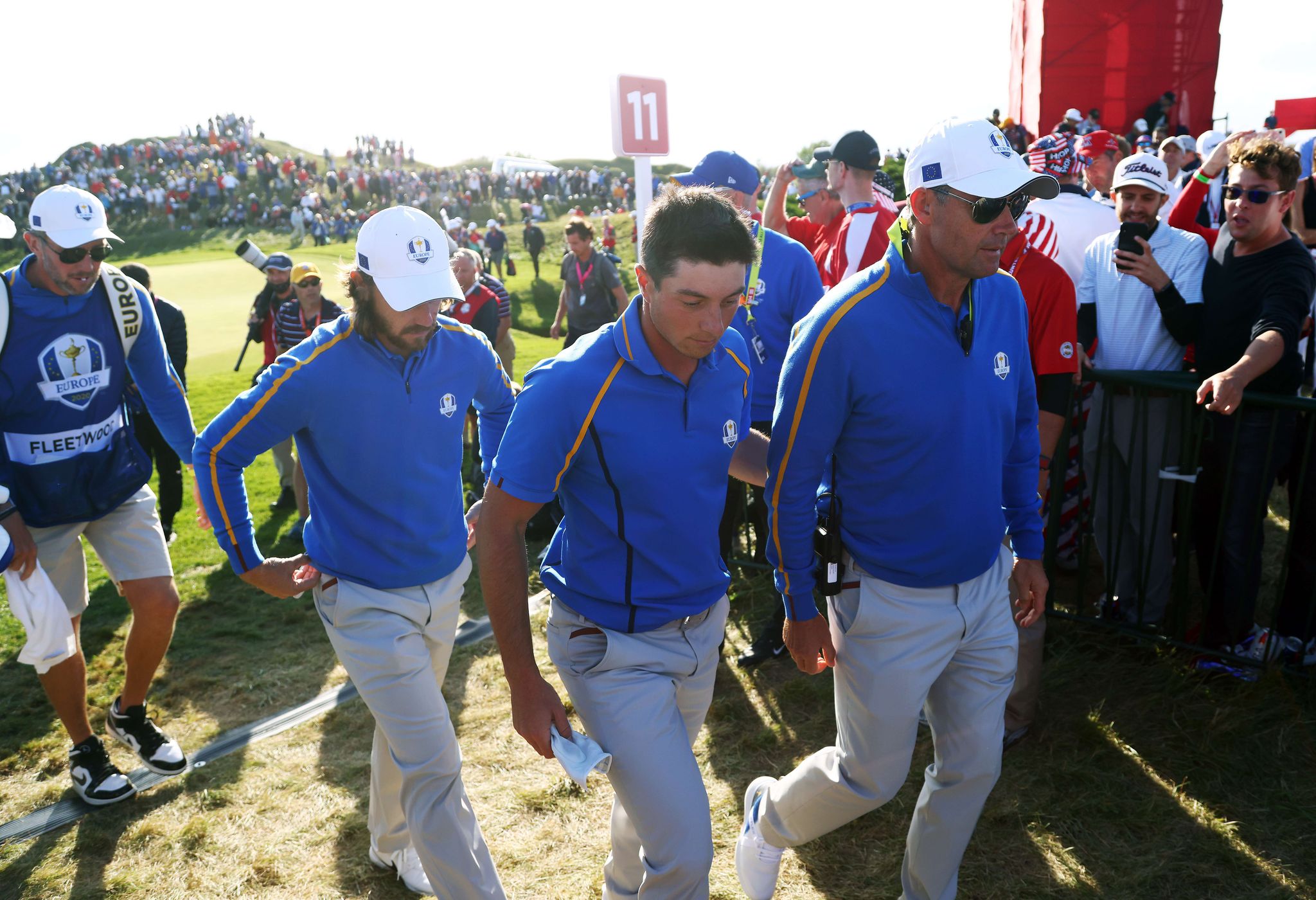 Aftenposten collaborates with VG-sporten. Therefore, as a reader of Aftenposten, you also get articles and services created by VG.
– I would have liked to have contributed a little more points, but I do not think it is possible to have more fun than what I had today with Tommy. I hope that tomorrow we will have a chance to correct the result, Hovland tells Sky Sports.
The United States is in the lead at 6-2 after the first day of three. The first team in 14.5 points wins. Europe's opening day is the worst since 2004, when Europe took the lead with 6.5 points to 1.5 for the United States.
– We can go back from 6-2, says European Rory McIlroy.
It's America's best opening day since 1975, when they led 6.5-1.5 against Great Britain / Ireland (before all of Europe became part of the Ryder Cup in 1979).
– I am super proud of the team, but the work is not over and there is a lot of golf left. We must not lose focus, says Bryson DeChambeau from the US.
He looked brilliant for Hovland / Fleetwood in the foursome matches, where everyone plays with their ball, but only the best result in the team counts: Norway's late time. The duo made two early birdies each and it was three against American Thomas / Cantlay. The highlight was a beautiful chip in the Hovland cup at hole four.
But Hovland / Fleetwood lost a breath.
– We had some bad holes midway, says Hovland at a lightning-fast press conference.
This happened as the American couples Johnson / Schauffele and Finau / English were increasingly superior to Casey / Wiesberger and McIlroy / Lowry, respectively.
Cantlay / Thomas won holes 9 and 12, and were only one down before the last six holes. With an impressive eagle on the 16th hole, Thomas matched the United States lead. It ended the same and they shared the points.
– It was a very good game to play. We would have loved to win, but … I had a lovely match with Viktor. He played very well, says Fleetwood.
also read
Hovland's strength in the Ryder Cup: one of the best
World number one Jon Rahm and his teammate Tyrrell Hatton saved a draw against Dechambeau / Scheffeler on the 18th hole in gusting Wisconsin winds, thanks to Hatton.
– It was very windy. Neither of us played our best golf, says Rahm.
– I had a good partner and I enjoyed every minute. We are a good team and we will dominate, he says Bryson DeChambeau from the United States.
This is how Friday's fourball games ended:
Casey / Wiesberger (Europe) mot Johnson / Schauffele (United States): USA won – 1 point
Rahm / Hatton (Europe) vs. DeChambeau / Scheffler (United States): Equal – 0.5 points each
McIlroy / Lowry (Europe) vs. Finau / English (US): United States Wind
Fleetwood / Hovland (Europe) vs. Thomas / Cantlay (United States): Equal – 0.5 points each
– The boost is great. Also with the fans. We never look back. It's amazing how much momentum he has to say, says Tony Finau from the US.
DUO: Tommy Fleetwood and Viktor Hovland en route on Friday.
February 1Photo: Charlie Neibergall / AP
The Friday before he took USA leads 3-1 after all four games, where players hit every other hit:
Camp 1: Garcia / Rahm (Europe) vs. Spieth / Thomas (United States): Europe won
Camp 2: Casey / Hovland (Europe) vs. Johnson / Morikawa (United States): United States Wind
Camp 3: Westwood / Fitzpatrick (Europe) vs. Berger / Koepka (USA): United States Wind
Camp 4: McIlroy / Poulter (Europe) vs. Cantlay / Schauffele (United States): US Ventilation
– Viktor has every reason to be proud of his debut, Discovery expert Henrik Bjørnstad then said of Hovland.
also read
Hovland is praised after the opening of the Ryder Cup: – Every reason to be proud
Starting at 2:00 p.m. on Saturday, a new round of foursome and fourball matches awaits. Team selections are not yet known. Europe's captain, Pádraig Harrington, said at the beginning of the week that was obvious that Hovland could play all five games.
Sunday is the singles game. In match play, which is used in the Ryder Cup, points are counted by the number of wins on a single hole in the round, not the number of strokes used in total in the round, as in golf. " regular".

www.aftenposten.no