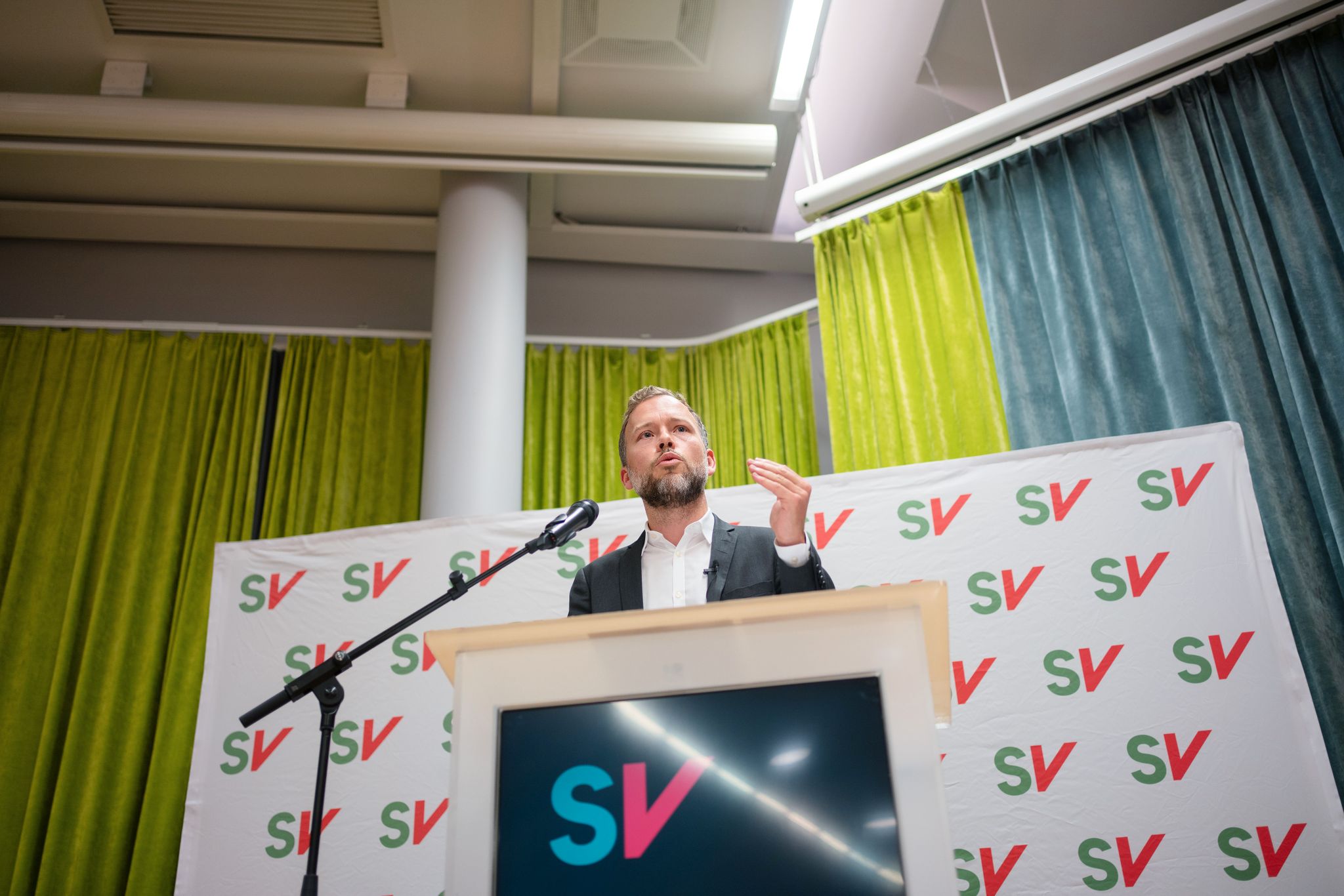 Photo: Ketil Blom Haugstulen
Satisfied Audun Lysbakken arrived with coffee cup in hand on his way to the SV national board meeting in Oslo on Saturday morning.
– A new majority depends on SV, Audun Lysbakken told the national board of his own party. He announced that SV would use that power "day after day for years to come."
SV leader Audun Lysbakken spoke with his people on Saturday morning at the Thon Opera hotel in Oslo. It is the first meeting of the national board after the elections, an election in which SV moved forward and ended with 7.6 percent support. SV contributed to the left-wing parties, from Rødt to Sp, getting a total of 100 representatives in the Storting.
– We have reached the goal, said Lysbakken and pointed to three things:
The party made solid progress.

The party contributed to a new majority.

A new majority depend on SV.
Lysbakken was happy that SV was rebuilt from a party near the border in 2013 to what he called a "powerful factor of power in Norwegian politics."
– We will be a factor of power in the coming years, he said.
Lysbakken believes that a great responsibility lies with the vast red-green majority. He believes it should provide "a turning point that is felt and remembered."
Thank you billionaire salmon
Lysbakken said he would like to thank salmon billionaire Gustav Witzøe and Jan Peter Sissener and thought they had contributed to SV's progress.
Witzøe was very hard against the wealth tax in the electoral campaign, while Jan Petter Sissener feared leaving Norwegian companies and tax evasion if SV obtained approval of its tax proposals.
– They thought that a Norway out of the crown crisis was an appropriate time to complain about the conditions of the rich in the country. They saw that we really wanted to do something about the differences in Norway, he said.
The polls continue on Monday
The national board meeting is being organized while it is not yet clear whether SV and Sp will form a government together. After two days of voting, the party leaders have taken the weekend off and continue on Monday.
Lysbakken declined to reveal specifics of the conversations, but described them as "confident" and said they had had a good working session thus far.
– It's too early to know where it leads. Things decide, he said.
However, he was unable to answer whether SV is closer to Sp now than before he started.
– Now we talk together, then we will see what is possible.
No time pressure
Lysbakken repeatedly told both the press and the national assembly that "we had a good time."
– But isn't it a defeat if there is no new government on October 20?
– He's way ahead of the schedule. When I say that we have low shoulders, it is because we are in the process of clarifying how to use the majority that we have now. We will get a new government for the country. We will eventually. But what that government will look like remains to be seen. It is politics that decides.
Lysbakken said in his speech that people expect action on climate policy. He thought this year's election was a climate election and reiterated SV's desire for a "just green change."
SP and SV oppose each other both in their views on oil and climate policy and in their views on predator policy.
Weather against predators
– Is it more important to you to achieve major changes in climate policy than to preserve a large population of predators?
– I do not intend to confront the weather and nature with each other now. It will be to enter into negotiations in public. And I don't intend to do that, he tells Aftenposten. He added that there are many important natural issues that SV brings to the negotiations, if there are negotiations at all.
High taxes on electricity and fuel affect people with bad advice, at the same time that there are climate measures. When asked if this is a dilemma for the SV leader, he answers the following:
– It is a challenge that can be solved. That is why you cannot have just green politics or just red politics. I think that's the strength of SV. For years we have been a meeting point for the trade union movement and the environmental movement, he said. He emphasizes that SV wants to introduce rapid climate measures fairly.
– We want a green change just where the community is the engine, where we have a much greater degree of political control. While the right-wing parties want a greener change in terms of the market, which I think will create bigger differences, he says.
Tribute to the Storting veteran
During the speech, Lysbakken also took the opportunity to pay tribute to Karin Andersen for her efforts at the Storting for 24 years. Although SV also advanced in Hedmark, he lost his seat after six terms in Parliament. Lysbakken characterized this as a bitter element in the joy of a good choice.
No less has been the most important social policy of SV. He described his efforts as incomparable political work.
– Karin is the most tireless and tireless voice in Norwegian politics for those with less power in this society, Lysbakken said.
According to him, Andersen has been a voice for groups that are often not heard in society: people with little money, people on the run and people with disabilities.
– Karin has made her political life the task of being on her side, she said.
He added that his involvement came from growing up in a family of forestry workers in what was a highly divided community in Hedmark.

www.aftenposten.no