A week has passed since the volcanic eruption of La Palma in the Canary Islands. Lava continues to flow into the sea.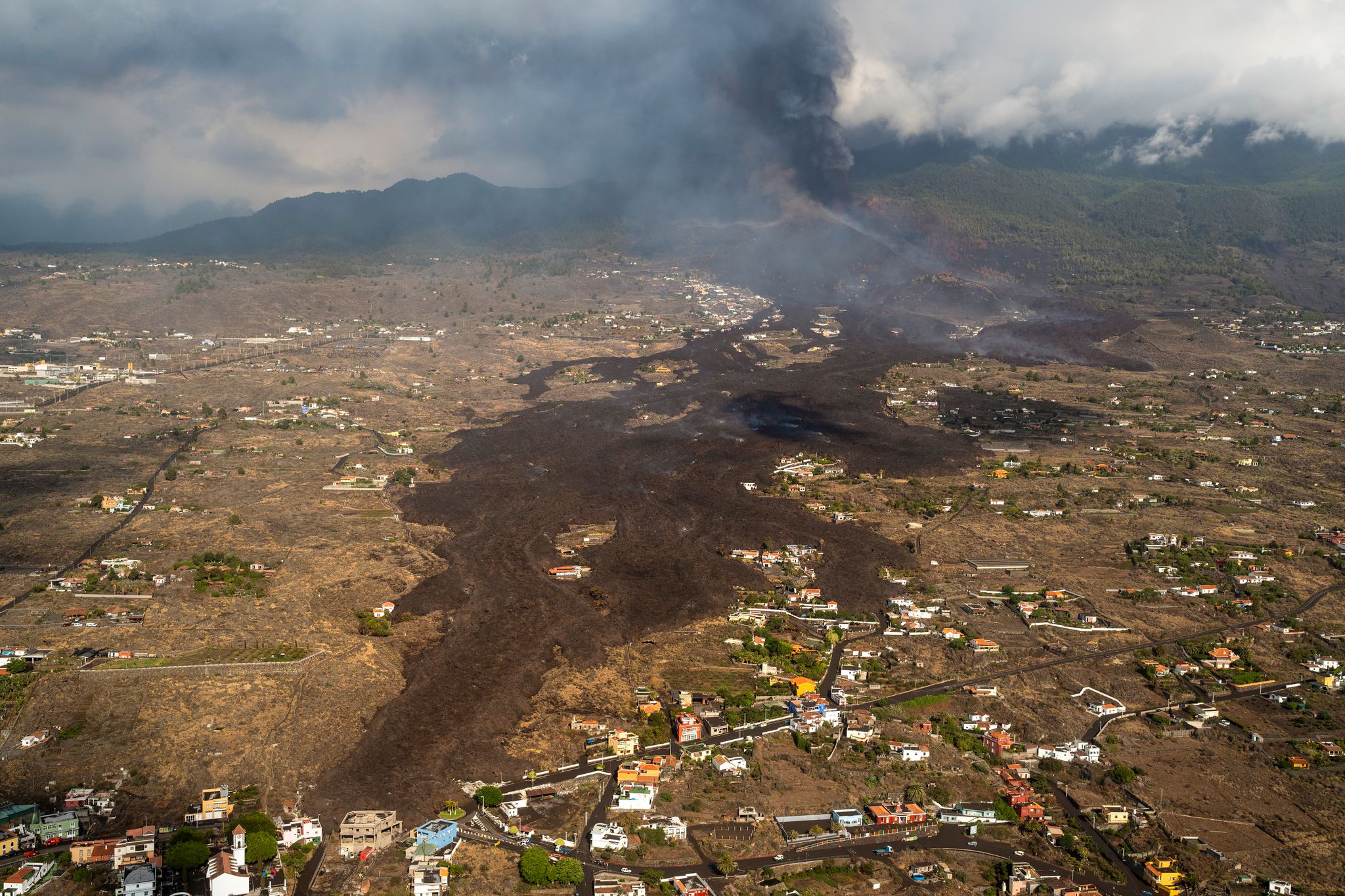 La Palma's volcanic eruption can last 84 days. This is the opinion of the Canary Islands Institute of Volcanology (INVOLCAN).
So far, 4,000 buildings have been destroyed and 7,000 residents evacuated. Writes Sky News. No one was injured or killed as a result of the outbreak.
The lava flow is directed towards the coastal areas and has had a speed of up to 700 meters per hour. Now the speed is significantly reduced.
On Saturday, the eruption became more intense. Three other villages were evacuated. Small explosions and new eruptions create larger ash clouds. The lava blocks 14 kilometers of roads and covers 440 acres, according to Sky.
Lava splashes high in the air over the forest areas where the volcano is located.
1 of 12Photo: Jonathan Rodríguez / AP
– Large amounts of lava can reach the surface
– The outbreak is dynamic. But now it is quite slow. So that people have time to evacuate.
That's what Olivier Galland says. He is a researcher at the Department of Geosciences at the University of Oslo.
Galland is closely following the volcanic eruption.
– How dangerous is it there now?
– He's pretty quiet now. People watch and no one is hurt, Galland says.
– It could be dangerous?
– Yes. Large amounts of lava can, for example, reach the surface. Small landslides can also be dangerous.
Additionally, the combination of a large amount of sulfur gas and wind can create problems for residents, according to Galland.
It can last three months.
Cumbre Vieja is the name of the volcanic ridge of La Palma.
No expert is surprised that the outbreak is happening right here. Experts are well known to experts as active volcanoes.
Both in 1946 and 1971 it exploded on La Palma.
The last time lasted 84 days. The latest outbreak could last as long, INVOLCAN believes.
The eruption is a thrombolytic eruption, according to Galland. The name comes from the Stromboli volcano in northern Sicily in Italy.
It can be dangerous to meet the sea
– How long it will last is the big question, says Galland.
– Will lava reach the sea at this rate, if it lasts 84 days?
– Yes.
So it can be dangerous. Lava has a temperature of around 1000 degrees Celsius. This in front of the water can generate violent explosions.
The reaction also forms something called "laziness." This vapor can change in the wind at any time and can cause lung damage and irritation to the skin and eyes.
– Often there are many in small boats and watching. It can be dangerous, because strong currents can occur in the ocean when lava hits, Galland says.
Here's how lava from Hawaii's Kilauea volcano hit the sea in 2017:
Toxic gases
Earlier this weekend, there has been a lot of activity along the rift area. Galland describes it as a "very impressive eruption".
New eruptions led to the evacuation of the towns of Tajuya, Tacande de Abajo and those parts of Tacande de Arriba that had not yet been evacuated. Firefighters had to give up as a result of the explosions and ash.
On Saturday, all air traffic on La Palma was stopped due to ash. Traffic now works normally.
– Now sulfur gases are moving north towards Spain and France. But there is a lot of noise in the atmosphere. So there is no risk to people, says Galland.
Describe the gas as asbestos.
– It penetrates deep into the lungs and is very dangerous. More explosions can produce more ash. With bad wind direction, it can be dangerous.
– But only for the people there. Not for the rest of Europe, he adds.
– Is it dangerous to visit neighboring islands, like Tenerife?
– Now it's going well. But the wind direction can change, and suddenly there is ash on the other islands as well.
Around 550 active volcanoes on Earth
Volcanic eruptions begin when the pressure of magma becomes so high that it is pressed against the surface. Magma is molten rock beneath the earth's crust. There are about 550 active volcanoes on Earth, according to University of oslo.
The eruption on La Palma did not come as a flash of clear skies. For just over a week, there was seismic activity on the island. It continued until the eruption last Sunday.
The island of La Palma should not be confused with the largest city in Gran Canaria, Las Palmas.
La Palma is not a major tourist destination, like other islands in the region. Around 83,000 people live there. 35,000 of them live in areas near the volcano.

www.aftenposten.no