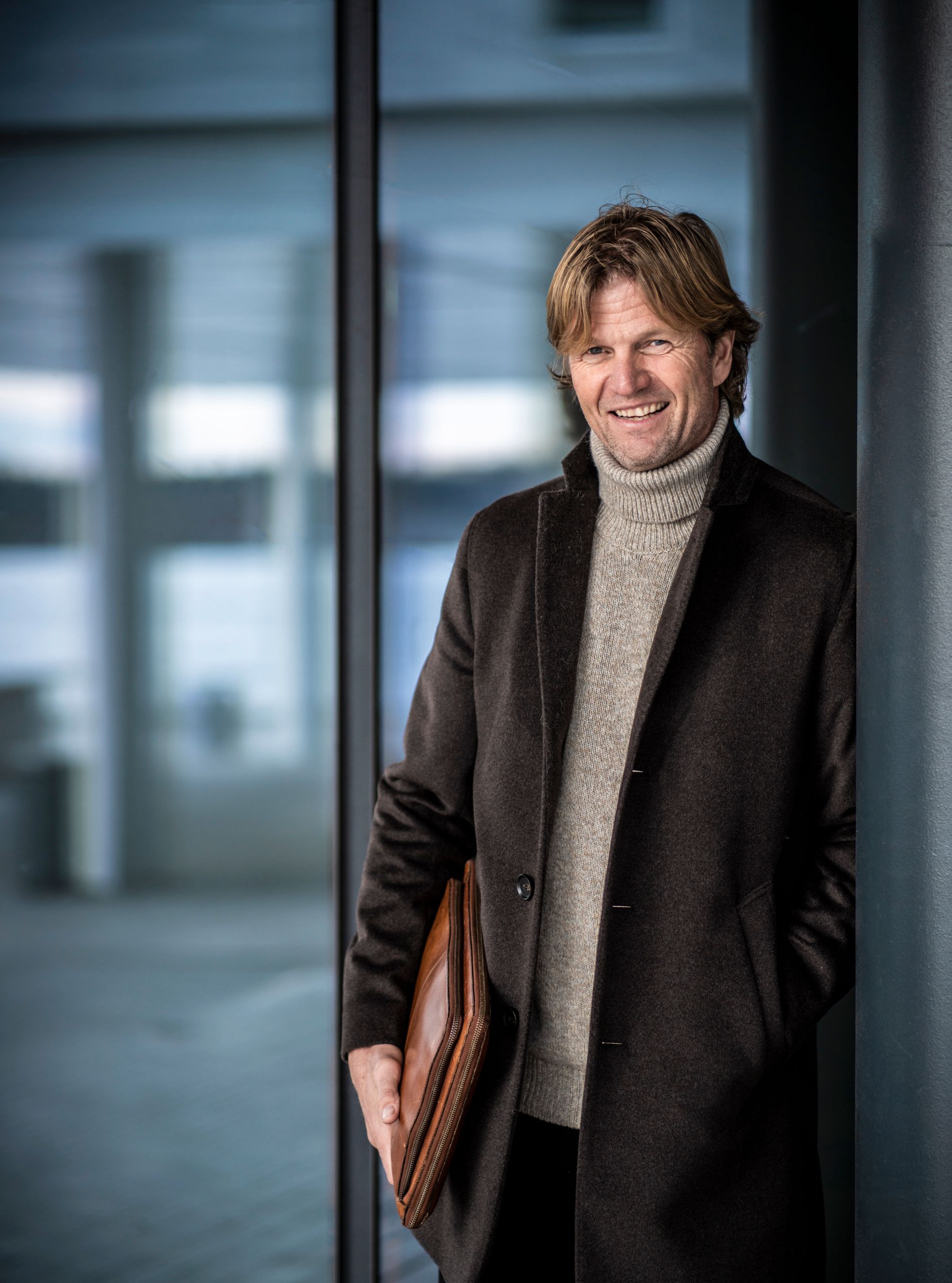 Ole Berg-Rest / NTB
When Bjørn Maaseide actually started working out in the gym, the "cannon arm" appeared that made him a volleyball star. Later, gyms made him a billionaire.
– I was like that, as it's called, not "slow learner" but … It took a long time before it "peaked".
– "Late flower"?
– Yes, that is correct. And I think it is important that those who grow up today … have patience. Just because you're not a child star … Suddenly, you're past 20 before it starts to get longer.
Bjørn Maaseide talks about his career in volleyball, but he could also talk about success in the business world. He's the volleyball star who didn't get really good before he turned 21, and the investor who became a billionaire only after his sports career was parked.
For Maaseide, no one had plan B when he was young. Only the best athletes were relevant. Preferably, he should also be a star, on the football field.
– When we were 6-7 years old and we watched the tipping game, we were out during the break and we played soccer. So Kevin Keegan was as big a star as Håkon Hauge, who was a cop and Hana forward in the seventh division, Maaseide says on this week's episode of E24's Voksenpoeng podcast.
Listen to the full interview where you usually find his podcasts or in the player below.
When at age 15 he began to approach 190 centimeters, he realized that he had to look for another sport. In the 1980s, the 165-centimeter-tall Argentine soccer icon Diego Maradona was the ideal.
– This was long before the Flo pass came along, so it was volleyball.
Kanonarm
Despite the fact that soccer was left on the shelf, the plan to become a sports star did not go away. With enormous training efforts, he became good enough to become a professional in France. Eventually, he was told that he was too young to play with the pros, that he should get an education and come back later.
He took advice and traveled to study economics at the University of California, Los Angeles (UCLA) on an athletic scholarship.
– It was a shock for me to come to UCLA. We were 43 men on the team and there are six on the field, so it was extreme competition. Every Monday, the coach stood up and read a list. Like "After practice, I want to see the next guys." You didn't want to be on that list. So you were just …
Maaseide snaps.
– Finished.
He managed to stay off the list and was introduced to the gym. The strength training the Americans did gave him an "arm like a cannon."
– When I got to UCLA I remember that I put on 75 kilos on the bench press. When I got out of there two years later, I took 125. I responded well to explosive strength training.
Steal Sats customers
Halfway through his master's in economics, Maaseide packed up his things. With her first child on the way, she switched from normal volleyball to beach volleyball and started playing in the world series with her partner Jan Kvalheim.
After several years of success, medals in European championships and Olympic participation, little by little he enters the business world. The company Maaseide Promotions, which promoted the sport and volleyball matches in which Maaseide himself participated, gradually began to earn so much money that it had to create a joint-stock company.
From there also came the money for the first investment in the fitness industry: Club David in Sandnes. For 100,000 became 25 percent of his tiny gym in 1997. From there, the ball rolled, from bigger bets at Club David to bets also at the central chain's Elixia predecessor Sports Club. Maaseide saw long-term potential in the industry.
– And then I thought it was rewarding and useful to work with something that actually had a social benefit in addition to generating money, says Maaseide.
Browse the gallery or follow Voksenpoeng_med_Nora on Instagram to read Bjørn Maaseide's school journal.
Just before his last Olympic participation, in Sydney, he borrowed 40 million and secured all the shares of the Sports Club. The giant sats were "boosted". The Maaseide center robbed them of clients in large numbers in Stavanger.
– We were on our feet day and night, creating good experiences for customers. That I would become director of Sats Norway ten years later, that Sats and Elixia would merge and that I would sit on the board and then take over, something like that … I had never imagined it.
Chaos fusion on sat
In 2007, the Norvestor acquisition fund acquired both Sports Club and Elixia, for which Maaseides himself received a considerable sum, a real estate portfolio and 25 percent ownership of the merged company.
When the new Elixia went on sale again, Maaseide himself tried to buy it back together with Ferd, Johan Andresen's company. They were downgraded by the acquisition fund Altor, which already owned Sats. They bought Maaseide, but offered to reinvest when the two training giants were to merge. So it turned out.
– The challenge was that there were two companies that generally hated each other. There were many staunch members in Elixia who would never set foot in a sat center and vice versa. And many employees … It was a very bumpy road.
He describes the period of 2015 as "considerable", and that what was to be gained was a loss. Maaseide really felt like he had enough to dangle his fingers when asked to take on the role of Norwegian manager on the chain.
– But it was like "Bjørn, you become the boss in Norway". It's okay.
– Because no one else would?
– I was probably diplomatic in my approach, says Maaseide.
At the same time, he had experience converting near-bankruptcy to profitable centers at Club Deportivo. It was the competition Sats desperately needed. The IT challenges at the new company led to 20,000 deeply dissatisfied customers.
– There was a three-month queue for customer service and total chaos.
Eight months later, they also discovered that more than 30,000 customers had not been charged for membership.
– So can you imagine, when you collect nine months of membership and send them a new invoice … It won't be Christmas Eve, exactly.
New and new problems appeared. The number of members was reduced from 205,000 to 180,000 before they managed to turn the ship.
– When I left, we probably had 206,000 members left, so I joined that V, says Maaseide.
– Fantastic that we made it happen
Sats' listing in 2019 marked the end of Maaseide's active involvement in the company. The board had too many men and the volleyball lesson was sacrificed. During the adventure of the gym, he had managed to become, in his own words, "very well off."
– Could you just withdraw the money and retire earlier?
– No. I think that, for me and for all the people of Norway, it is gratifying to have a job. Something to do. It is so incredibly important that it has never been an option for me.
Maaseide does not rule out that he may take on new positions at Sats later on. And then it wasn't like he had to search much for a new job in 2019. He made the investment in the banking industry as early as 2008, just before the financial crisis. The idea was that it was easier to make money with money than with people at the time.
– I got there at the top and then it slipped, says Maaseide.
In 2013, a restructuring of the company began, which became Kraft Finans. In 2015 the idea of ​​creating a bank came up.
– I must say that if I had known how demanding it was to start a bank, I would never have dared.
– More difficult than merging gyms?
– Yes, because it is such a crazy procedure both before and after obtaining a license.
Maaseide lists all the millions that are burned while waiting for a license. 3–4–5. The millions to the lawyers. 7-8. The millions that must be raised in equity when you first get a license. 300. Knowing that the vast majority of entrepreneurial projects die long before reaching the age of five.
– It's great that we made it happen. Kraft Bank is likely to become Sandnes' seventh-largest contributor by 2021. A fantastic story, actually, Maaseide tells of the bank, which is currently publicly traded and employs 40 people.
With a successful sports career and two publicly traded companies on its conscience, E24 points out that it still lacks one merit: a sports equipment brand with its own name.
Maaseide points out that there will be a clothing brand in connection with its new initiative: Center for the sport of paddle tennis.
– There will be a fire, and I don't think it's Bjørn Maaseide.
Want to read more adult scoring cases? Here you will find them all.

www.aftenposten.no