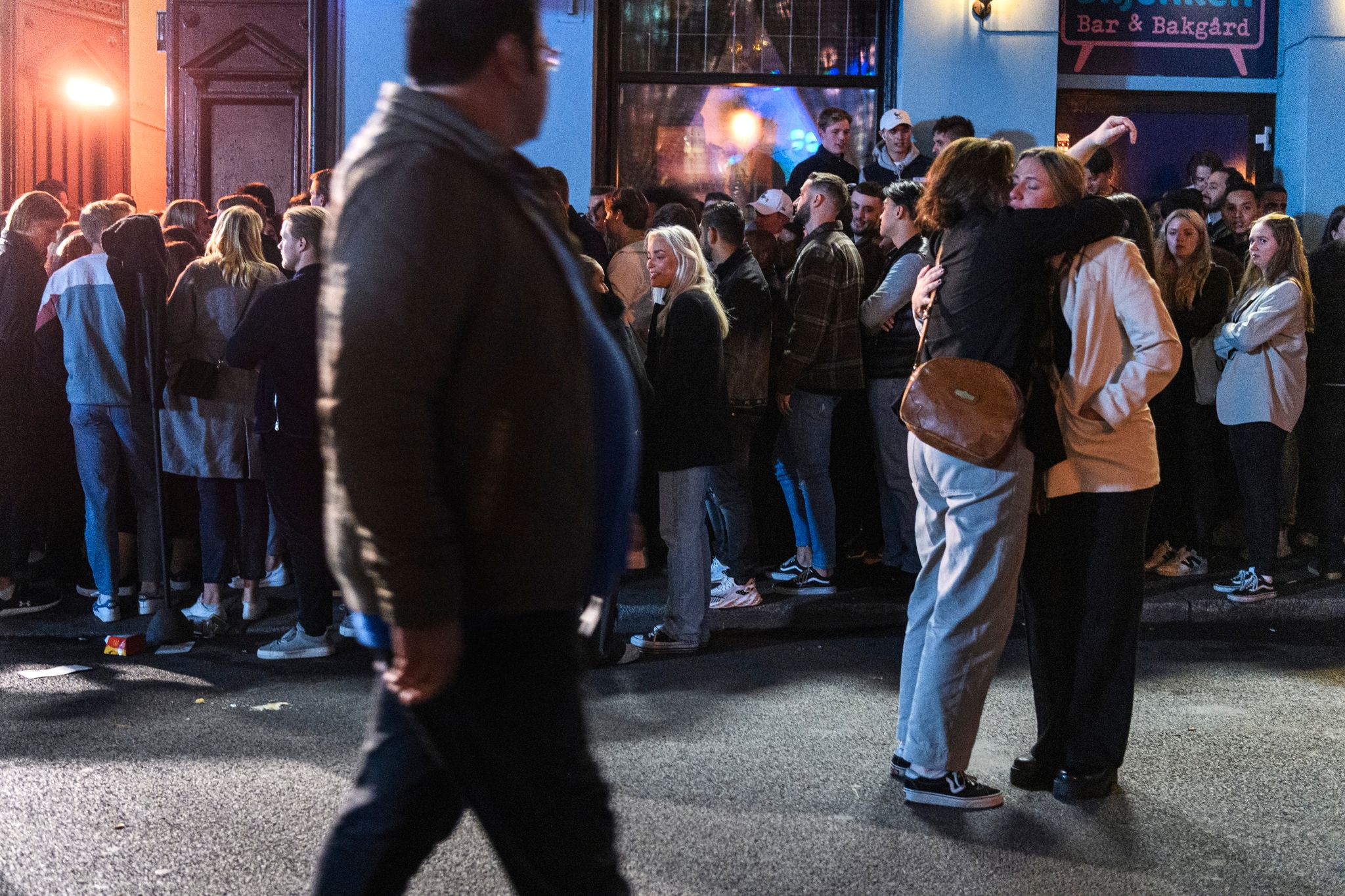 Outside of Justisen in Oslo, the queue was up to 65 meters long, according to the NTB photographer on site. In several nightclubs in central Oslo, there were more people queuing outside than there was room inside the venues.
There has been a lot of noise, many police episodes, and an incredible number of people on the streets across the country. In Trondheim, people were reported to have passed out in the crowd to enter the first night of the issuer's reopening.
At the Storgata 26 nightclub in Oslo it was according to VG complete chaos. CEO Johan Høeg Haanes believes the government started the reopening too quickly.
– That's exactly what I predicted beforehand. It became a threat to life in the city because they have not given us a period of at least a few days, he says.
The government announced just 24 hours in advance that coronary restrictions had been lifted.
50 events in four hours
In Oslo, the police have been busy. A man is being treated for head injuries after being subjected to violence in Stortorget. The Oslo police reported the case just before 03 night to Sunday.
– There are serious injuries, the man is unconscious and unconscious, says operations manager Gjermund Stokkli to VG.
Police have also seized a man carrying a larger knife inside the Strøget passage. There is no information that anyone was injured.
According to the police, there were reports of fights and riots in central Oslo after 0230. In four hours, up to 50 such incidents were recorded.
Electric park cyclist in a tunnel in Oslo
At the Oslo Universitetsgata, a man was arrested for firing a police officer. Before this, the detained person had snuck into a nightclub where he was not wanted.
Police also began searching for a woman on an electric scooter that set off in the opposite direction on the run to the east of the fortress tunnel.
– The kicking rider got away from us. Fortunately, she was not beaten as she was driving in the opposite direction in the fortress tunnel, but she appeared on camera as more luck than skill, police say.
Overcrowding in Trondheim
In Trondheim, a lot of people are also reported.
"Reopening brand" status: Lots of people in the center. Congestion in the queues of the discos », the Trøndelag police district reported.
Congestion is so great in some places that people have passed out, it was reported TV 2.
– We have received messages from both the public and the patrols about large crowds. There are long and dense lines outside the clubs. People are pushing, and this has meant that more people have gasped, says operations manager Solfrid Lægdheim.
Folkehav in Stavanger
Sørvest police have posted photos on Twitter of the streets of Stavanger, where it was full of people.
"Good mood regarding the reopening!", wrote the police.
A similar message came from the Troms police.
"The leader of the task in Tromsø reports that there is a very good atmosphere in the city center and a lot of people outside. There are solid lines starting at all the clubs. You will think it applies to our other cities »they wrote on Twitter.
Massive fights
In both Tønsberg and Skien, teams from the southeastern police district had to deal with massive fights. In Tønsberg, it happened on the pier strip and a dozen people participated. No one was seriously injured, but a man in his 20s was brought in after he was said to have been aggressive towards police.
In Bergen, a man was reported for kicking and partially destroying the door of a police car. He is also denounced for threats and violence against a public official. In various places in the city there were several fights with at least five involved. In addition, a 19-year-old man was taken to hospital after hitting and kicking, and a 25-year-old had to go to the emergency room after being hit in the face with a bottle.
– Do not cook hot food
In light of the party atmosphere, the Oslo fire department came up with a reminder for those who are hungry after a wet night in the city:
"We have a recommendation: do not cook hot food while intoxicated. Rather, buy food at fast food or bring a slice of bread, so that we avoid dry cooking and fire ».

www.aftenposten.no