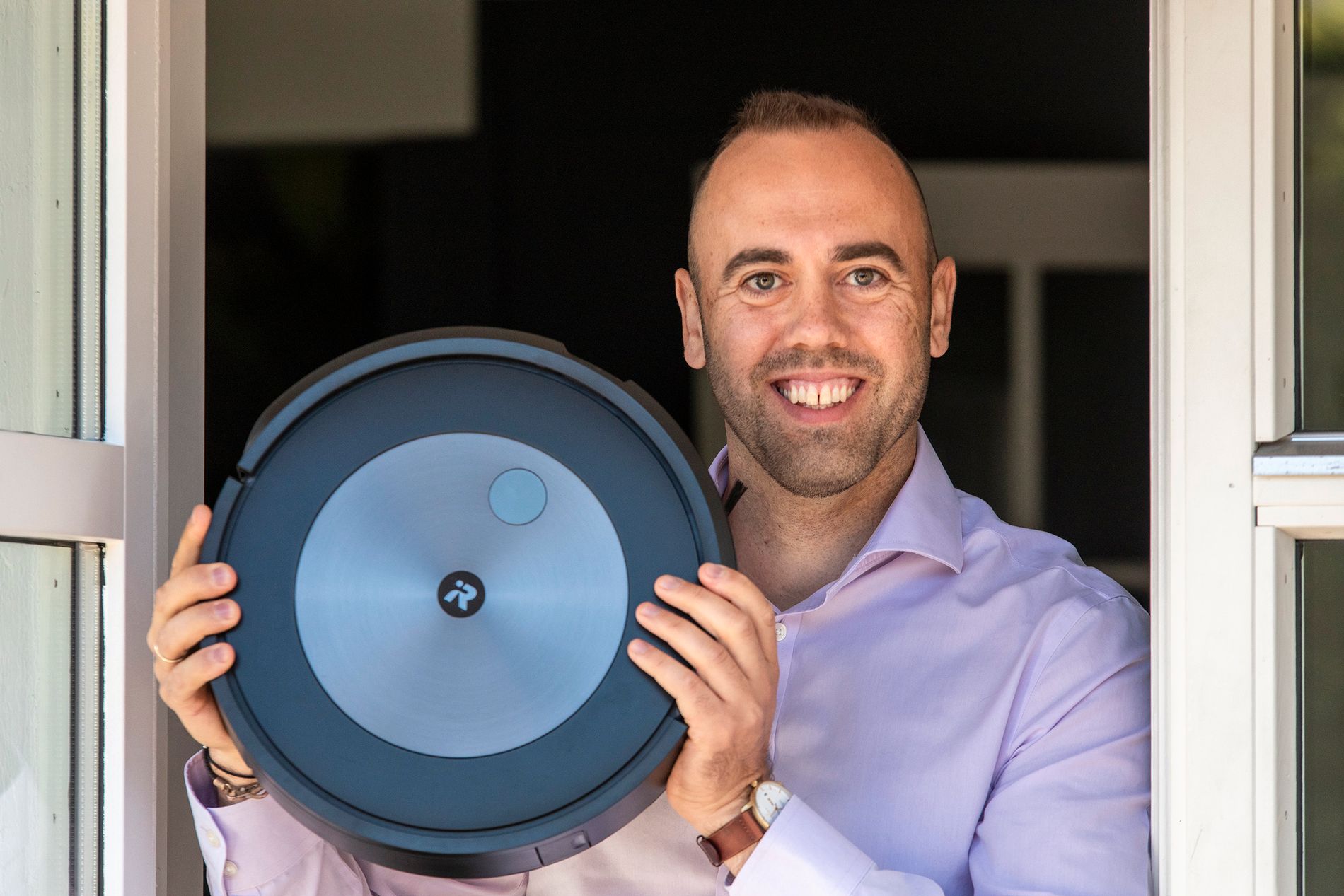 Dust on the brain? Forget it! The new Roomba j7 + does the work for you while you spend time on other things. The robot vacuum is packed with smart features and cleans your home the way you want it to.
Advertiser content produced by Schibsted Partnerstudio
Who has the time, energy, or thinks vacuuming is fun? The parents of three children, Christian and Anette Nævdal, have more than enough to hang their fingers, so they have left the daily cleaning to Roomba j7 + their vacuum cleaner.
– It is absolutely brilliant and very useful! We are an active family, and with three children from newborn to 7 years old, it quickly turns to crumbs, dirt and dust. Vacuuming is always necessary. The Roomba j7 + gets the job done every day, says Christian.
READ MORE OR BUY ROOMBA j7 + VACUUM ROBOT HERE
IT DOESN'T GET EASIER: Why choose a robot vacuum cleaner? The answer is simple: you don't have to think about vacuuming and you can do other things, says Christian Nævdal.

Schibsted Partnerstudio

CLEAN HOW YOU WANT: The Roomba j7 remembers your home plan and vacuums exactly where you want it, when you want it.

Schibsted Partnerstudio
Get the job done right
The new Roomba j7 + model offers great customization opportunities.
Christian and Anette prefer that the robot vacuum cleaner does the job when they are not at home. Then they have to trust it to clean properly, exactly where they want it, without bumping into furniture or going through wires.
– We have an Oslo lamp with a cord on the floor. Previously it had gone to the ground because the robot vacuum cleaner that we had at that time ran on the cable. This does not happen with the Roomba j +. Carpet edges, hooks, and door frames aren't a problem either.
HERE YOU CAN READ MORE OR REQUEST YOUR ROOMBA J7 +
You control it easily through voice or mobile
The robot vacuum cleaner can be started with a voice assistant, either through Google Home or Alexa, through an easy-to-use app, or physically if you don't want to use the app and don't have the voice solution. It recognizes many different commands and gives you quite specific messages.
– We use Google Home. When I stand in the kitchen and see crumbs under the dining room table, I can say "vacuum under the table in the kitchen," then drive straight to the right place and vacuum. It works very well!
The robot can also start cleaning automatically when you leave home, as well as stop again when you return.
Remember specific rooms and furniture / objects so that you can clean where it is most needed. If the area is very dirty, it is passed several times.
Pamper an easier life with roomba J7 +
Ingenious smart features
Roomba j7 + is equipped with smart features that allow you to plan, start and perform cleaning. Here are some points that show why this robot vacuum cleaner is one of a kind:
1. Full control. Define zones easily with the app
You can control your Roomba j7 + through a Norwegian language app on your mobile. When the vacuum cleaner is turned on for the first time, it walks the floor and maps the floor plan of all the rooms with cameras and sensors. Suggest a map of all the rooms.
You can then go into the app and name the different zones. The new thing about this model is that it remembers up to 10 zones. This gives you full control over which areas to clean.
– You can set limits on where the vacuum cleaner should or should not go. We have equipped the kitchen, the dining room, the TV room and the living room. You know where the couch and dining room are, and I can ask you to vacuum right there, says Christian.
NOTHING TO WORRY about – the cat will not get hit.
2 of 3Schibsted Partnerstudio
2. Avoid obstacles and do not crash
Not only does the Roomba j7 + get to know your home, it is also instantly responsive with PrecisionVision navigation.
– Identify, for example, a charging cable or a toy that we have lost on the ground. Then maneuver. Also our animals. It never crashes, says Christian.
– Narrow hooks are not a problem either, because the robot does not get stuck.
3. Empty by itself
The Roomba j7 robot vacuum cleaner can be purchased with an external dust container located in the charging station, this is called the Clean Base®.
For frequent cleaning, the container of the robot vacuum cleaner must be emptied frequently, as it is not that large. The unique thing about this vacuum cleaner is that it has a charging station with a built-in dust bag. When the robot has finished its work, it returns to its charging station, where the dust is automatically sucked out of the vacuum and into a bag.
Just throw the full bag in the trash and put in a new one. Brilliantly simple!
HERE YOU CAN EASILY ORDER ROOMBA i7 FROM ELKJØP
Powerful, advanced and safe to use
Roomba j7 + is one of the most advanced robot vacuum cleaners on the market. The powerful engine and smart navigation make it very efficient and incredibly fast.
Another great advantage is that it is future-oriented and ready for upgrades. The robot vacuum cleaner updates automatically and gets better and better the longer you have it.
iRobot are specialists in robots. They have been on the market for more than 30 years and have sold more than 30 million robots worldwide. The company promises that the data collected by its robot will never be misused or sold to a third party.
– Such a vacuum cleaner is very suitable for a family like us. But it's also incredibly suitable for anyone who has a hard time carrying a heavy vacuum around the house. Here you can automate daily cleaning without lifting a finger, says satisfied Christian Nævdal.
See all the benefits of Roomba j7 + in the video below.

www.aftenposten.no