FHI estimates that between 2 and 4,000 young children may be admitted to the hospital with the RS lung disease virus this winter. Two litters of young children have not been exposed to infections and viruses in a closed society.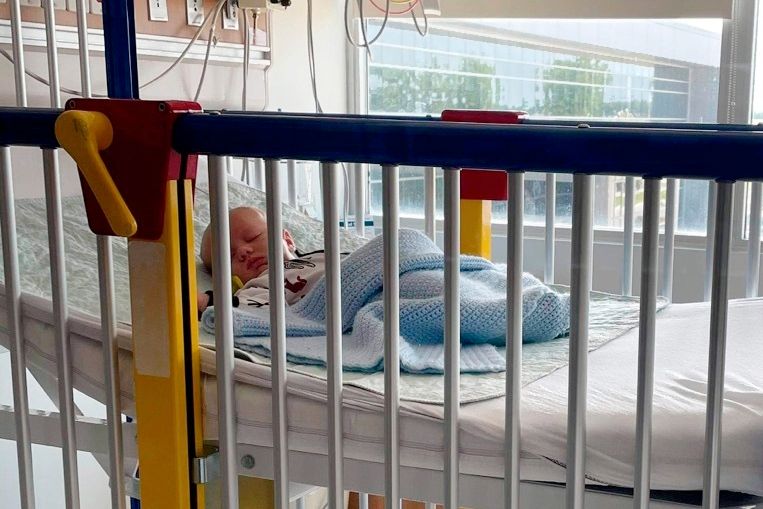 After the church baptism in June, six-week-old Beau began coughing. Little by little it became heavier and heavier to breathe through the little body.
When Beau was finally admitted to a hospital in Matoon, Illinois, in June, the doctors were in awe.
Beau became infected with a virus common to children, namely the RS virus. The unusual thing was that the virus appeared in summer.
– We have never seen this before, doctors told the Ap news agency.
In recent weeks the same has happened in Denmark, Sweden, England, Japan and Australia, among others.
The Norwegian Institute of Public Health now presents new figures and estimates. They show that the RS virus is spreading faster and faster in Norway, two months earlier than expected.
This can have significant consequences.
Estimates a duplication of patients with RS virus
Almost everyone who comes in with the RS virus is under the age of 5. Most are less than 1 year old.
Typically, the RS virus causes between 1,000 and 2,000 hospitalizations in young children. This year, FHI estimates it will double.

"This year's epidemic that we estimate could lead to perhaps 2,000 to 4,000 admissions, with perhaps some one-year and two-year-olds longer than normal," he writes. FHI.
"We anticipate that the next RSV epidemic will start in September-October and may be twice the normal epidemics," FHI writes in a note to the Norwegian Health Directorate and Health Minister Bent Høie.
It is emphasized that the estimates are highly uncertain, like all other estimates that attempt to predict the future.
The truth is that the number has increased considerably in recent weeks. 1,300 children were tested at week 36. 5 percent had the RS virus.
Three weeks ago, the proportion was positive at about 2 percent.
Most of the cases are in Viken, Møre og Romsdal, Vestland and Oslo. But it's also the counties that test the most.
Why is this important?
When the government decided to reopen Norway on Friday, health authorities made some important reservations.
The health authorities do not rule out that the capacity of the hospitals will blow up this winter. Not just because of the coronavirus.
One problem is that the rs wave can be twice as large as usual.
This can also happen at the same time as there is a big flu wave.
In such a situation, the health authorities do not rule out the possibility of new contagion measures.
"The overall burden, which also includes influenza and the RS virus, is becoming more crucial," he said. government.
The positive point is that it is considered "unlikely" to be on the same scale as in March 2020 and winter 2021.
Prepare hospitals to house many young children
Astrid Elisabeth Rojahn is a pediatric specialist and chief physician at Ullevål Hospital.
There they make concrete plans to be able to receive many sick young children:
Increase the capacity of the room.

Consider postponing scheduled treatments.

Collaborate with Rikshospitalet.
During the winter season last year, almost no children were admitted with respiratory infections. Rojahn explains this with the massive hygienic measures, at the same time that the society is closed.
– This prevented the infection from spreading. That is why there are two litters of young children who have not been exposed to the infection before, Rojahn says.
She believes this will likely lead to a significantly larger epidemic, which also starts earlier.
– We already see the outlines of this in Ullevål, where we have several children hospitalized with the RS virus. This is unusually early. The season generally doesn't start until November at the earliest, Rojahn says. She believes this could be a challenge for pediatric clinics across the country.
This is how the RS virus spreads
Children who are admitted with the RS virus receive treatment that relieves symptoms. It's primarily about nutritional support and extra oxygen.
The reason they are often admitted is that they have great difficulty breathing. This, in turn, makes them tired and unable to eat. Therefore, they need extra oxygen. Some children get so sick that they need extra breathing assistance and intensive care.
The forecasts are generally very good.
– These children are fine, but it is not uncommon for them to need a stay of up to a week a little longer, says Rojahn.
The infection spreads through droplets or by direct contact with the mucus of the infected patient.
Children can transmit the infection up to 1-2 weeks after the onset of symptoms..
The disease can be prevented. But it is expensive. It is only given to children who are at increased risk of having a severe course, including premature babies born before 35 weeks and certain groups of children with heart and lung disease.
– We're not going to paint hell on the wall. But we must bear in mind that this can be very demanding in Norway as well.
This is what Chief Physician Ole Kristian Fossum of the intensive care unit at Akershus University Hospital says.
One of the challenges is that young children require advanced special skills and their own children's beds.
– Ahus and the Children and Adolescents Clinic are now building emergency preparedness to be able to receive additional assistance from children with RS. The sickest RS children are sent to Ullevål. We are now also working on emergency preparedness with a view to filling its eight spots, says Fossum.

www.aftenposten.no