At the DNB offices in Bjørvika, the atmosphere is good when the office spaces are full of missing colleagues. Several have been out of the office for a year and a half.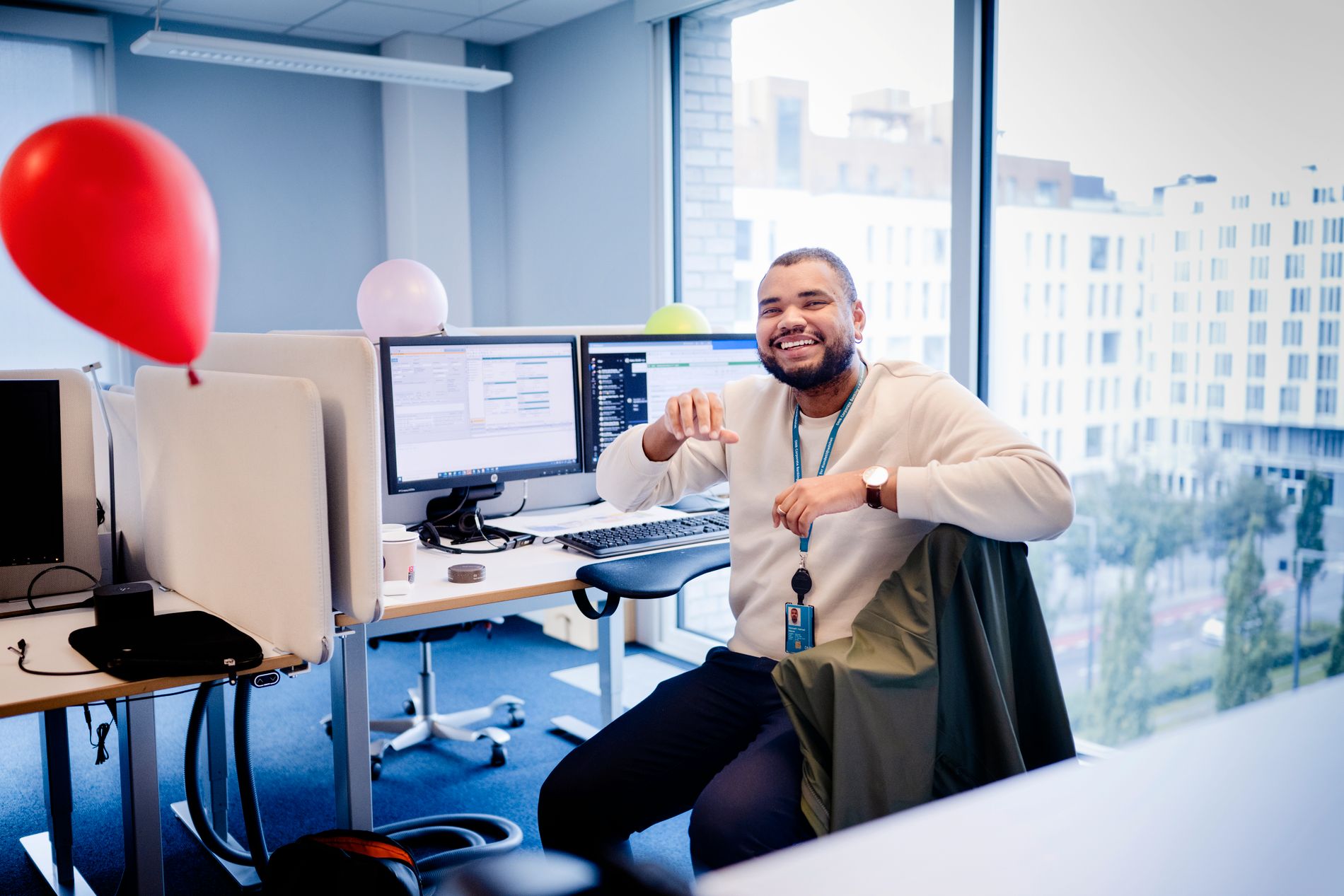 It has been 561 days since Inger Kolshus was at the DNB headquarters in Bjørvika.
– the it's something to celebrate, she says.
As a DNB employee for a full 38 years, the last year and a half has been unusually different for the veteran.
– I've missed my teammates. I'm pretty tired of being with my husband, she says and laughs.
One of the things he has missed the most is the half-hour walk back to Hasle after work. But the home office days at the Haglebu by Norefjell cabin have been pretty good too.
– I have skied a lot, but the best thing is to be back, he says.
also read
When Norway closed, again
More flexible everyday life
Department manager Fredrik Knutsen Hegdal at DNB Bedriftssenter has been under desks this weekend to install PC screens on desks in the open office landscape.
But there are also positive things that came after much of Norway had to shut down. The digitization processes in companies across Norway have taken several steps forward.
Daily life after the pandemic has become more flexible and Hegdal can more easily visit his hometown, Stavanger, if he wishes.
Full back tuesday
Kenneth Ndure is sitting by the window in the open office landscape, advising a co-worker. He is a specialized manager and business consultant at DNB, and has been in the office every day since the pandemic entered Norway.
– It was strange, says Ndure and looks beyond the half-empty local landscape that will fill up on Tuesday. Typically 200 employees work in the DNB business center. Monday, 100 pieces are in place.
– It has been very nice with the few who have been in the office, but it will be good if they have more colleagues again, he says.
The head of the department, Trond Prestø, is glad to hear the phones ring again.
"I missed the buzz, the atmosphere here when there are many people talking on the phone at the same time," says DNB business center director Trond Prestø.
also read
Norway back at the office: – It's a pleasure to chat by the coffee machine.
Startup problems
– Now there is room for everyone here, but there are some initial challenges, says division director Brita Alsos at DNB People.
It works to facilitate the workday of DNB employees.
Not all computer monitors are in place due to loans during the pandemic. Chairs, keyboards, mice and cables are missing. They also have to put more chairs in dining rooms and meeting rooms now that they no longer need to keep their distance.
– We thought it would be good to dedicate the next few days to this. We think this will happen as long as we get back to the office again, Alsos says.
She is in the home office herself on Monday, but will be back in the office tomorrow.
– I have wanted to go back to the office, but I appreciate the variety. I have been a supporter of a flexible solution for a long time. Something good has come out of the pandemic: a more flexible everyday life, he says.
In addition, DNB has several plans on the agenda, such as "Funky Fridays", theme parties and afterwork.
– It is important to do something fun and social now. We need to meet physically again, says Alsos.
Back in full force
At Telenor and Nordea, everything was in place on Friday of last week. All employees have been welcomed as of Monday.
"We have been well prepared both during the pandemic and now that we have fully returned to offices," says Human Resources Director Anne Flagstad at Telenor.
– There were only a few details that were supposed to be in place by Monday morning. We are ready for everyone to work like they used to in the office, says communications director Christian Steffensen at Nordea.
– How will it be with you in the future? Are there more demanding home office opportunities?
– We have received confirmation that employees generally view more flexibility positively, but that the degree of flexibility depends on the type of task and what is operationally possible, says Telenor's Flagstad.
– It has worked very well even though many employees have had to work from home, but we believe that many have missed the opportunity to meet colleagues and enter the office, says Steffensen from Nordea.

www.aftenposten.no