The club's chairman of the board of directors interprets the low turnout as a sign that no one disagrees that the Sandviken women's team will join Brann.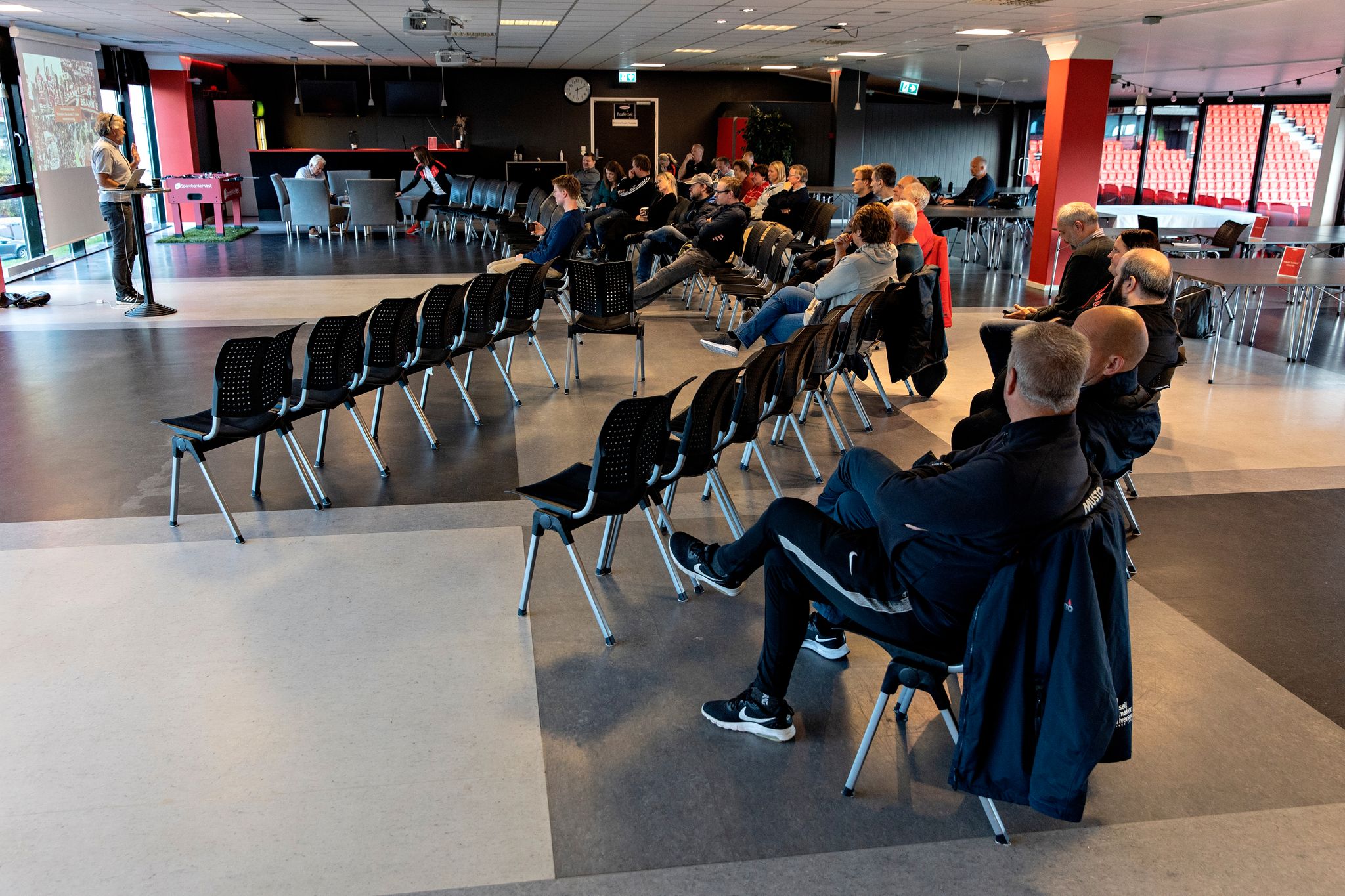 It was so obvious that it was the first thing the board chairman decided to comment on when he opened Tuesday's membership meeting in Brann:
– Of course we would like to have a full house, said Birger Grevstad.
Few had ever heard of the club's commitment to women's football and its merger with Sandviken. He could find more than 30 people in one of the stadium's restaurants, most with positions or working conditions in Brann or Sandviken.
Only about ten could be considered "ordinary" stakeholders.
– But we must interpret it as a sign that there is immeasurable resistance to the women's teams in Brann. "I think the room would be full if people had not agreed," Grevstad said with some laughter in the room.
You know what you're talking about. Earlier this year, the board received strong criticism from members when Brann wanted to install artificial grass.
On Tuesday, there was no discussion in the room until the possible introduction of VAR in the men's elite series became a topic towards the end of the members meeting.
Enters Brann in 2023
– We must work for the interest. I don't think it will come automatically even if we go to Brann, says Sandviken nestor Mette Hammersland.
She gave an emotional post, but emphasizes that she and Sandviken "haven't had a single bad day" in the merger process with Brann.
"Now we are strong and we have something to add to Brann," says Hammersland.
– Are you disappointed by the lack of attendance and low commitment?
– I interpret this as those who do not come, think that this is going their way, says Hammersland.
At the beginning of the meeting, Per Arne Flatberg, a member of Brann's board of directors, was allowed to speak quietly for half an hour about why Brann wants to recruit the best women's team in the country, Sandviken, and thus have his own women's team.
The plan is for Sandviken to change its name to Brann starting next season, and for Sandviken's best team to cease to exist and become part of Brann from 2023.
As long as the members vote for it at the extraordinary annual meeting next month.
– Should have been a bigger compromise
"There are expectations that men's clubs will contribute to women's football, and we will," Flatberg said.
When he finished and opened for questions or answers, the audience responded silently.
Before the chairman of the board, Grevstad, the room laughed again.
– He who is silent, agrees, exclaimed the president of the board.
For BT after the meeting, it was clear to Grevstad that the only right thing for Brann is to get a women's team. He strongly recommends that club members vote yes for Sandviken to join Brann.
– Are you disappointed that more people don't seem to care?
– I think there should be a greater commitment, but it has to do with attitudes, says Grevstad.
He chooses to draw a historical perspective on the question of whether people are not interested in women's teams.
– Women's football is 100 years behind men's football. There will be a development, and we just have to support it and know our visiting hours. This is the future, Grevstad says of investing in women's teams at Brann. He points out that the interest in women's sport is great in other contexts besides football.
– Just look at sailing, alpine or handball, says Grevstad.
– It is important that Brann has a women's team
Trond Olav Solberg was one of the few members who showed up to hear what will be a historic investment in Brann.
– It is strange that more people did not come, and that the commitment was not greater in these types of meetings, considering how many have something to say on Facebook and such, says Solberg without being able to remember many discussions about Sandviken and Brann on the Internet.
The 43-year-old grew up in Landås and is a party card holder. He has been a member since what he calls the "Skarsfjord mutiny".
– I think it's important that Brann has a women's team. It means something to the whole city that is also focused on women, which Brann is for everyone, says Solberg.
He has never seen Sandviken, but thinks he will see some games with Brann's potential women's team.

www.aftenposten.no