The combination of Brexit and the pandemic has caused major problems for British companies. The British hoard food and fuel, exacerbating the situation.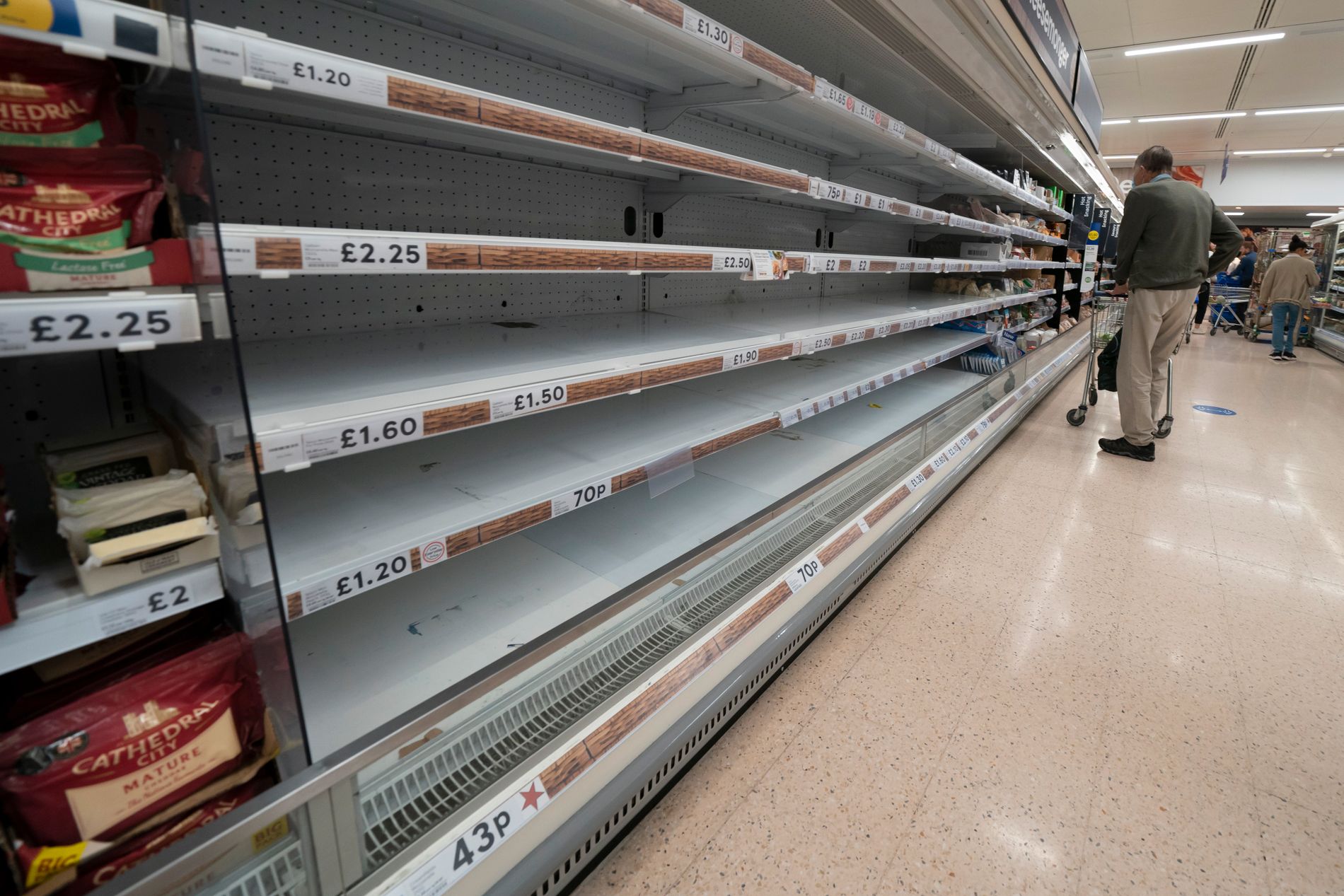 Empty food shelves in supermarkets, record orders for turkey from producers, and endless lines for fuel. The foreign workforce that left Britain during the pandemic is deeply missed, as very few of them have returned.
Additionally, retiring drivers will not be replaced when sufficient training and testing of new ones has not been completed. The shutdown during covid-19 must have a lot to blame for that.
Not only the transport industry and agriculture are suffering now, but the entire society, which in the past has largely used workers from other countries, such as in the tourism and catering industry.
On BBC overview shows that the problems started several years ago, but in the last week the crisis has become really visible.
also read
British media: Johnson is considering bringing in the army to fill gasoline pumps
Important goods
Last week, The Times reported that more than 50 of BP's 1,200 service stations were empty of at least one type of fuel. Within a few days, the number of empty BP pumps had increased to about a third of the stations.
After several weeks of calls to open up to external labor, the British government has promised temporary visas for 5,000 heavy transport drivers to bring fuel and food to stations and shops. It is proposed to use military drivers to solve the problem.
Additionally, 5,500 seasonal workers have been promised to receive a three-month UK work permit before Christmas, work desperately needed to ensure that Britain's national Christmas favorite gets to the table: turkey.
There was some relief when the government announced that it would grant temporary work visas and relax various laws to improve the situation, but for some industries, the message was greeted with a nod.
It is not enough and the measures come too late. People are still panicking.
The Brexit effect
When the business community has long called for more work permits for foreigners, Transport Minister Grant Shapps responded that the UK must fend for itself now.
When it then turns around and allows temporary foreign labor, it is not certain that it will be that easy to come by, it will take time for drivers and other workers to be in place. Another question is whether they will come. Already in 2019, before Brexit, figures of the British Statistical Office ONS that EU immigration was at its lowest level in six years.
The influx of workers from the EU started to decline in 2016, when the British voted to leave the union. This contributed to the fact that even before the pandemic there were worker shortages in various industries.
For example, the interest group of the British transport companies Road Haulage Association (RHA) estimated that already in the summer of 2019 60,000 drivers were missing.
When the pandemic hit, with travel and stop restrictions, tens of thousands of foreign drivers living in the UK returned to their home country. According to industry organizations, very few have returned.
It is now estimated that at least 100,000 drivers are missing out of a total of 600,000.
The British still have high testing requirements when entering and leaving the country, with some very expensive mandatory testing alternatives. When only seasonal temporary jobs are offered, the offer may not be all that tempting.
Turkey shortage
Manufacturers have also ensured that goods cannot be delivered or produced.
Several large turkey producers have raised fewer birds this year because there are no competent workers to handle production until Christmas.
Although there may be a potential 5,500 workers from abroad over three months to help in the poultry industry, there are likely not enough birds to work with.
Farmers in the UK have announced the lack of the traditional Christmas favorite. They respond that the opportunity to hire foreign labor comes too late.
More than half of the country's population eats according to YouGov turkey for Christmas, and then they will have a large 6-7 kilo bird, which can provide dinner and plenty of leftovers for up to ten people.
also read
Britain's gasoline panic: freezing allowed to fill empty pumps
Lost investment
Kate Martin leads turkey producers in the Traditional Farm Fresh Turkey Association and says some of the members have had an order increase of up to 400 percent, but are unable to deliver.
– Turkey farms have lost a dozen workers, a workforce they have trained and invested in for many, many years. Those workers are no longer available for seasonal jobs, instead finding work in continental Europe, Martin says. to the BBC.
Great producer Paul Kelly runs KellyBronze Farm and says the biggest hits are the hardest and also the ones that cut back the most production.
He adds that it looks better for smaller producers, who have used local labor to a greater extent to which they still have access, and sell turkey directly from the farmer to the consumer.
No beer, milk and soda
A summary from the BBC shows other examples of how the situation has developed for various companies.
The Morrisons supermarket chain has announced price increases due to a shortage of drivers.
Heineken and Molson Coors breweries declare that they are not authorized to deliver their products. The Wetherspoons chain says several of its pubs are already empty of various brands of beer.
Coca-Cola Europacific Partners says supermarket shelves are empty of some of its products, which in turn is due to a lack of drivers and problems obtaining aluminum for the boxes.
The Nando's chicken chain has closed 50 restaurants for lack of raw materials.
McDonalds has stopped selling smoothies and bottled beverages and says it's due to trouble finding heavy-duty drivers.
Several manufacturers are also unable to deliver products to the UK, such as candy giant Haribo and chain Iceland, which recently canceled 30-40 daily deliveries to the country.
A Bank of England report analyzes the situation from April to June this year and concludes that "delays in deliveries have caused a shortage of goods such as furniture, auto parts and household appliances." In addition, there is a serious shortage of materials in the construction industry, such as cement and wood.
Fewer drivers
When the Minister of Transport and Communications wants to "fend for himself," he says nothing about the fact that now there are no additional legs to stand on. Both the salary and working conditions of drivers have long been a problem, because it alienates people from the industry.
The average age of heavy haulage drivers is now 55, many drivers have retired without being replaced, and there will likely be more.
After the shutdown, it has not been possible to train and train new skills, and in June the industry notified Prime Minister Boris Johnson that in 2020 there were 25,000 fewer drivers who had passed the heavy transport driving test, than in 2019.
A similar situation in the rest of Europe means that, for example, the EU has many jobs to offer to existing drivers.
Drivers also prefer to drive routes within the EU as all the new Brexit and crown bureaucracy in and out of the UK costs them valuable time. Most are paid by the number of miles they drive and not by the hour.
There have also been new taxes and charges for driving to the UK, and when the euro has strengthened compared to the British pound, allocations from the British become even less attractive.
Driver recruitment
Starting in October, the Defense Ministry has announced that they will help test more drivers by deploying personnel to increase capacity. They will have free intensive courses on "bootcamps" to get 3,000 new drivers for heavy transport.
In addition, a further 1,000 drivers will be trained through adult education courses in the UK.
The authorities have also announced that they want to bring in the labor of all those who have already passed this driving test, but do not work as drivers. There should be close to a million Britons who have a heavy transport certificate.

www.aftenposten.no