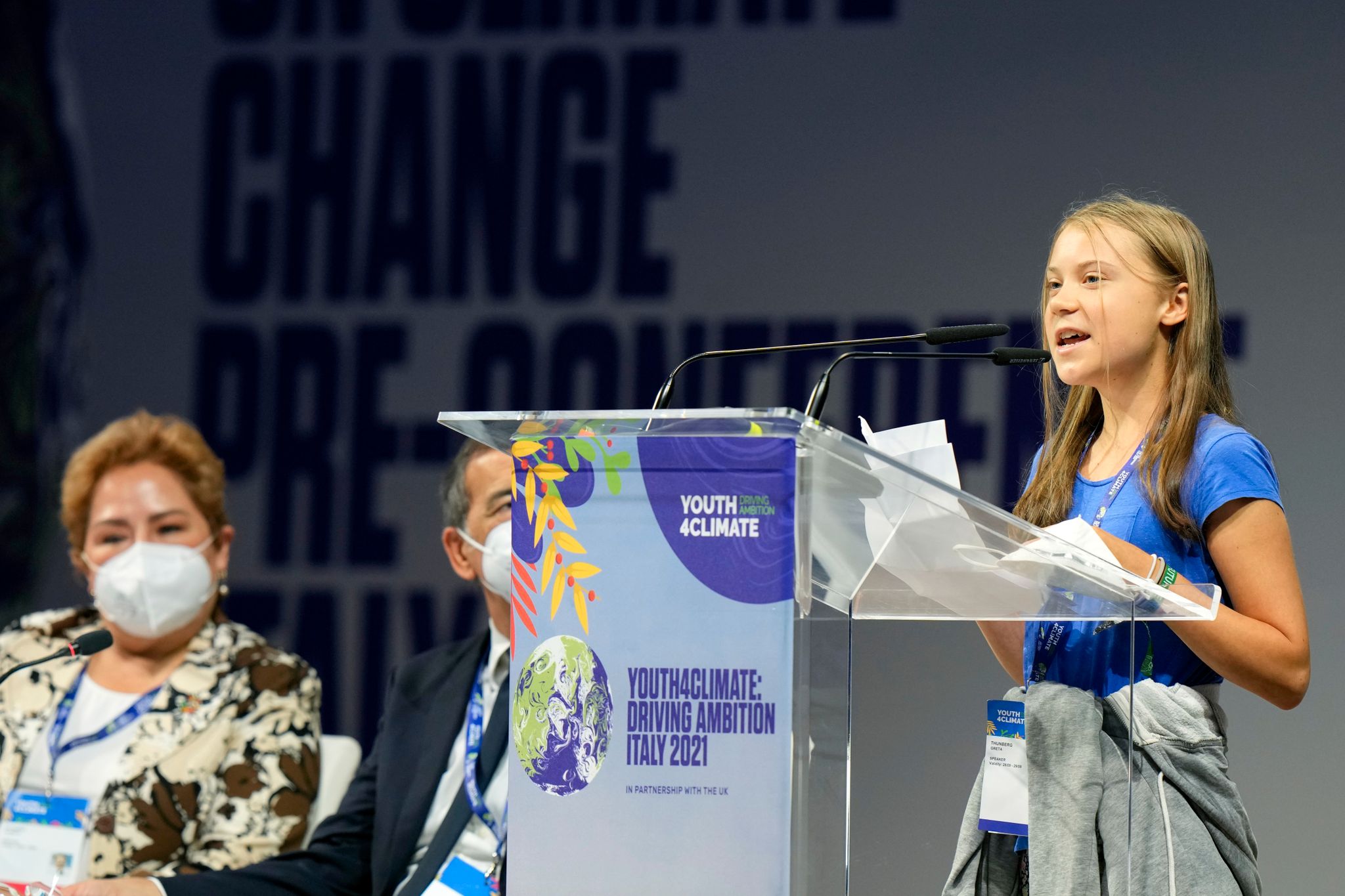 Greta Thunberg mocked the world's most powerful at a youth conference.
The world's most powerful politicians are now using the biggest words about the climate crisis we face.
From the UN rostrum, US President Joe Biden promised that the country would become a leader in climate finance.

China's leader Xi Jinping promised that the country would stop financing coal power abroad.

Boris Johnson, the British Prime Minister, cautioned against the belief that saving the climate is just about "squeezing politically correct rabbit». His message was that the transition to a greener society is about creating new jobs.
Words have gotten greener in world diplomacy. But perhaps the best-known climate activist, Greta Thunberg, is far from impressed.
On Tuesday, he spoke at a large youth climate summit in Milan.
Bla bla bla
Thunberg began the speech with nice words about cooperation and that the world can make a difference. Then the Swedish activist asked the assembly a question:
– What do you think of when I say climate change?
He waited a bit before answering:
– Works. I am thinking about green jobs.
It drew laughter and applause from the audience. The beginning was a clear reference to the green revelation of world leaders. Greta Thunberg did a skit. And the target was the mighty.
– There is no planet B. There is no planet blah. Blah blah blah, Thunberg continued.
Then he recited several promises, followed by blah, blah, blah. In particular, the British Prime Minister was allowed to make a review.
In several major international media the speech is summarized in "blah, blah, blah." The BBC has christened it blah blah blah-talen.
Critic of rhetoric
– All the time appeals to a contradiction between "us" and "them", says Kristian Bjørkdahl.
He is a postdoctoral fellow at the Center for Development and Environment at the University of Oslo and is critical of Thunberg's speeches.
– Create an unidentifiable counterpart. This time it's about "our so-called leaders." But do you think everyone, from the extreme right to the extreme left, is the same? And that they are just as bad? Bjørkdahl asks.
He uses a recent example from Norway, where the SV party has withdrawn from government negotiations, among other things due to climate policy.
– Thunberg says politicians don't care. But today, more recently, SV became so concerned that they chose to stay out of government, says Bjørkdahl, and concludes:
– I don't see anything positive in Thunberg's speech. I think this kind of rhetoric mostly helps to cover up what is really difficult to understand, namely how to establish sustainability as a political force.
It affects children and young people
Thunberg spoke with more than 400 young people in Italy at the Youth4Climate conference. It is preserved at the same time as one new UN report statuses that climate change puts children at risk.
The report shows that one billion children are exposed to extremely high levels of air pollution. 920 million children are severely exposed to water scarcity, while 820 million are severely exposed to heat waves, according to NTB.
The conference is the kickoff for the climate summit to be held in Glasgow in November.
There is great excitement for the summit. Here, the countries of the world will try to agree on new promises to reduce greenhouse gas emissions. But even though world leaders now use green words, the challenges are many:
Several of the big emitting countries have not presented new emission reduction pledges. Or they have just promised the same thing they promised in 2015. It is not valid if you want to limit global warming to 1.5 degrees.

In 2015, rich countries also promised to invest in developing countries to reduce emissions. This promise is not being kept and could create friction.

Also, the climate conference will take place during a pandemic. There is a severe vaccine shortage in most developing countries, but Paris Agreement decisions must be made physically with all UN member states present. Therefore, there is tension associated with the conduct of the meeting itself.
British, American and UN diplomats say The Guardian who fear the meeting will not live up to expectations.

www.aftenposten.no