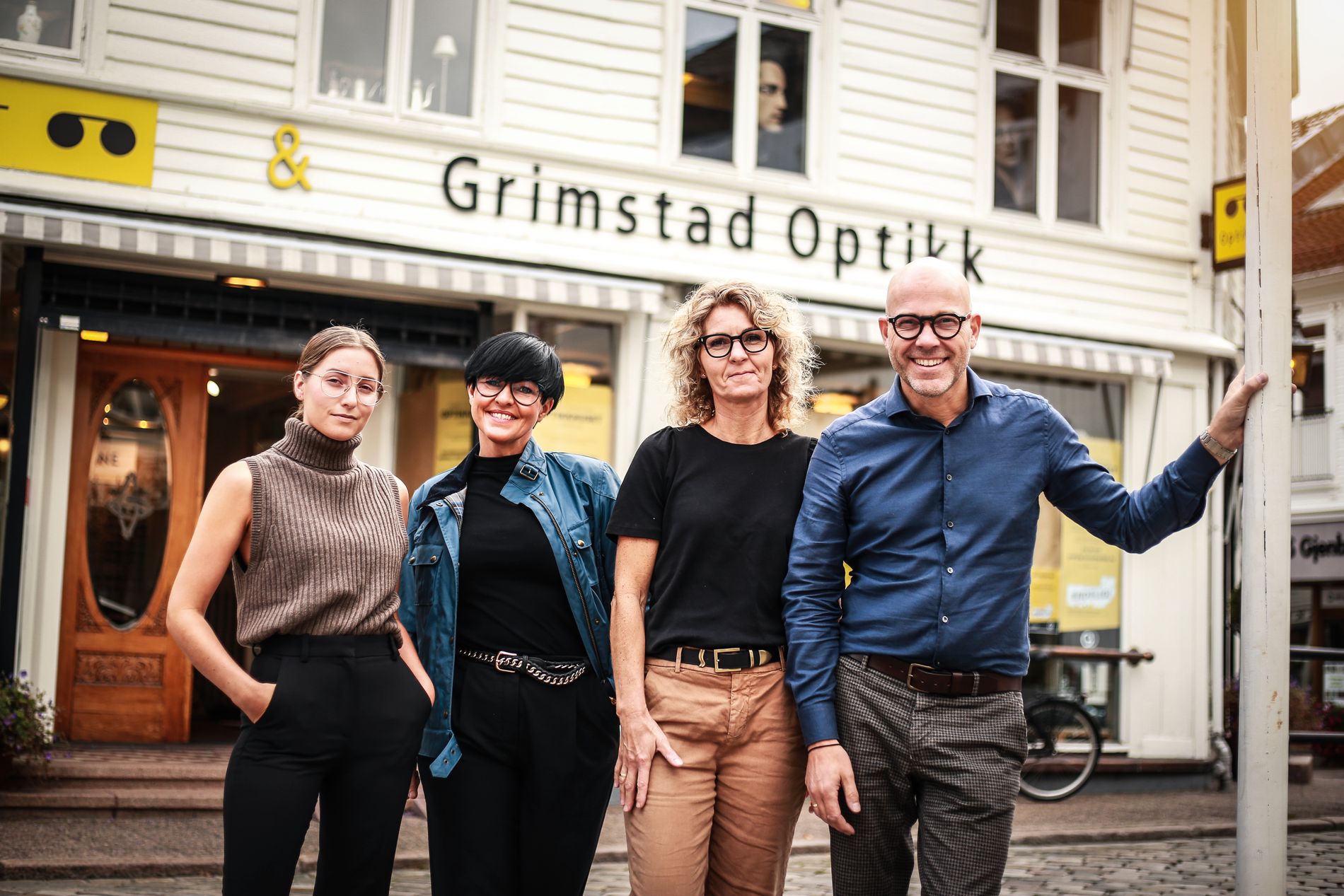 October 12, Optikkhuset opens in Grimstad. It should be full of quality, competence, and a passion for good visual experiences.
Advertiser content produced by Schibsted Partnerstudio
– I've long dreamed of creating a universe of shows out of the ordinary, and now it's becoming a reality, says owner Kolbjørn Lauvland.
In recent weeks, he has completely renovated the store at Storgaten 26, and the show enthusiast is in the process of creating a store that he has dreamed of for several years.
On October 12, Grimstad opens the optician with a new suit. And not only the decoration is new. The name is also new.
-House of optics, just listen to the name. Sounds good, doesn't it, says Kolbjørn Lauvland.
And we need to talk a bit about the name. Because it actually happened by chance a couple of years ago when a good optician friend from Copenhagen stopped by the store.
– He told me: "When it is expanded and renewed, it must be marked, and it must be called Optikhuset, and it must be a house that contains his passion," he says.
A house with many rooms
For Kolbjørn, Optikkhuset became the name that encompasses all the vision that he has long dreamed of. A house with many rooms, full of experience for a good viewing experience.
Lately, the Storgaten 26 facility in Grimstad has had a real facelift with new colors, new interiors, and not least what's best – lots of new glasses.
Kolbjørn has spent many years working on sketches of what he wants the Optics House to look like. With the help of the interior architects at Mood in Vennesla and the good carpenters at Bico, the store has now become exactly what you had dreamed of, and a little more.
– We have cultivated the good old interior that has always been here like the old pillars, but we added many new features. For example, I got an old fun horse that will be the main attraction in the department with children's glasses, says Kolbjørn.
Svennbrev in grinding
In addition to the expansion and new rooms, they will move their workshop from the second floor to the first floor, so that those who pass can see how the employees work when they grind glass.
– I was one of the last in Norway to receive the certificate of officer in freedom. I love making great products. Karoline, who works here, has learned from me, so now it will be fun to show people how we work, she says.
Lauvland is very engaged when he talks about the new store, and one of the things he hopes to show his customers is the wide range of eyewear products.
– The good selection of classic glasses will be wider, but also authentic, vintage and the colors will characterize the art of glasses in different price ranges. Then I must mention that we also have a large department with children's glasses, he says.
– Ran out of power
There is no shortage of optical chains where an eye exam and fine glasses are performed. But sometimes your eyes need something more. More attention, more experience and knowledge. Maria Kjær is the new Operations Manager at Optikkhuset, and it was precisely the good experience she had as a customer which means that she currently has a full-time job at Optikkhuset.
– I was just completely put off by the energy I got from this shop. And I, who really shouldn't wear glasses once, have finished with a job and several pairs of glasses, he laughs.
Optician Kolbjørn Lauland has a professional approach and eye for the client. And since he began learning at 16 with his uncle Torstein Lauvland at Bendiksklev in Arendal, principles have characterized his passion for his profession. Something that customers also enjoy.
Loyal customers
Kolbjørn has several clients who drive many miles for a very special customer experience.
– I'm sure you won't find anywhere else the pleasure of service and spectacle you experience when you come to Kolbjørn, says Arne Paulsen.
He has been a regular customer of Kolbjørn for the past five years and is more than happy to get in the car from Kristiansand to visit Optikkhuset.
– I have bought approx. Ten different glasses in Kolbjørn in recent years, and it's a lot of fun to come to someone who, like me, has a sense of aesthetics and some special glasses. It doesn't matter who's at work when I come in, I'm so well cared for that it's rare that I leave without a new pair of glasses, says Paulsen.
State of the art equipment
But it's not just the selection of glasses that is in a class of its own. Opticians have also invested in state-of-the-art equipment, such as an ava measuring machine, which is so precise and accurate that several customers say they have almost regained their youthful vision.
– I have struggled all these years that I get so tired of one eye regardless of the glasses I have tried on. But after running a vision test on Kolbjørn's new ava machine, the measurements have become so precise and my spectacle lenses have been adjusted so that the pain in one of my eyes is completely gone, says Minna Catarina Fagge (51 ).
The 51-year-old man's words are like music to Kolbjørn's ears.
– Being a problem solver in everyday life makes our work meaningful. Going home after work and knowing that it has meant something positive to others gives a good feeling, says Kolbjørn.
With Optikkhuset, Kolbjørn hopes to eventually expand the concept.
– I already have a store in Arendal that will eventually become part of Optikkhuset. And if the shop here in Grimstad gets too small, then we can build more rooms in other cities …

www.aftenposten.no