SV surprisingly broke the government investigation. Now everything is in place for Trygve Slagsvold Vedum's vision of a government with only the Labor Party. But SV is still the preferred budget partner.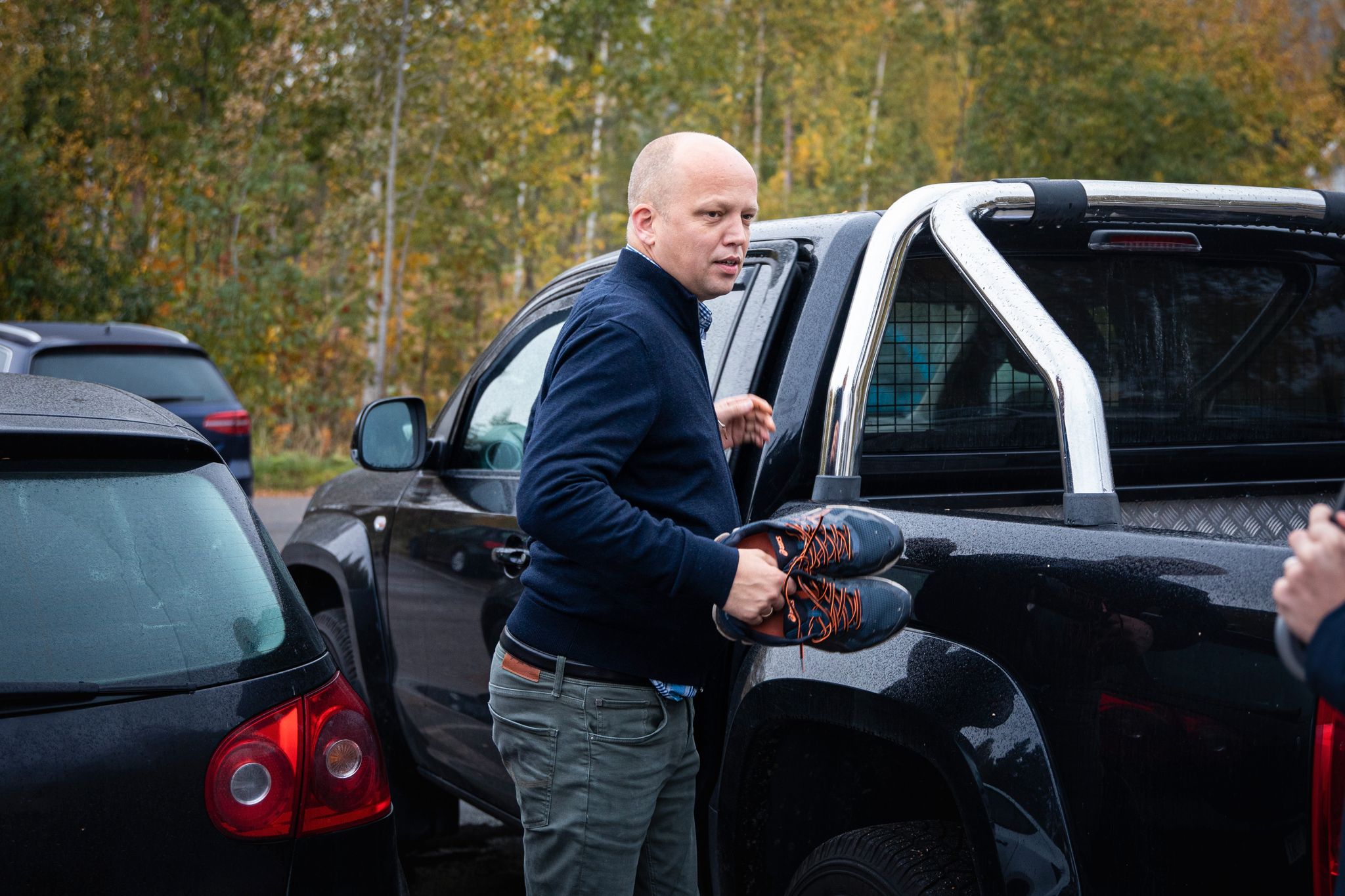 After intensive investigations since Thursday of last week, the cup for SV was filled.
– We are at a point where I expected not to reach. It is with great disappointment that we must acknowledge that, in SV's view, there is no political basis for forming a red-green government, SV leader Audun Lysbakken said.
He met with the press outside Hurdalsjøen Hotell on Wednesday afternoon to tell them that SV is now giving up trying to reach an agreement with the other two parties.
Later in the evening, it became clear that the Labor Party and the Socialist People's Party were continuing negotiations with each other with the aim of forming a bipartisan government. The two sides have met on Wednesday afternoon, Støre said at a press conference on Wednesday evening.
– In these hours we have had a good start with the launch of these negotiations, the selection of topics and the distribution of tasks. And we have high ambitions for what we will meet, Støre said at the press conference.
He stressed several times that it is SV who has drawn the conclusion to leave.
– I have listened to SV, we have the same objectives to achieve in climate policy. But we have different views on how to get there, he said.
– I am optimistic that we will manage it and arrive at a good government for Norway, said Støre.
– We are ready for a good working session with the Labor Party in the coming days, said SP leader Trygve Slagsvold Vedum.
– Create a platform that allows us to develop all parts of Norway, get people to work, use natural resources and reduce the differences between people. And also have a fiscal policy that suits the economic situation Norway is in, said Vedum.
Støre disappointed
Political commentators call the development a great victory for SP leader Trygve Slagsvold Vedum. Since 2016 he has said he wants a government based on the Labor Party.
Vedum says that Sp was ready to negotiate with SV, but that it was SV who decided to terminate.
– It was his choice. I have to respect that they chose it. Over time I have said that the best solutions lie at the intersection between the Socialist People's Party and the Labor Party, he said early Wednesday.
– Are you really happy that SV has retired?
– There is a great responsibility that falls on this. But it was the political that was decisive, Vedum said.
Labor leader Jonas Gahr Støre had to admit that his dream of a majority tripartite government in the Storting has now been shattered.
– I was expecting a different result, agreed Støre when he met with the press.
He stressed that the tone between the parties was still good. There was no bitterness. The talks have been respectful and he wants to continue cooperating with SV in the opposition.
Only in oil policy, little to gain in taxes
Audun Lysbakken listed a number of issues when asked why SV is now retiring. The party felt they got very little in climate, oil, profits, taxes, distribution, nature, and the environment.
– We are at a point where we do not believe that it is possible to put in place a platform for a sufficiently offensive climate policy and really do something about the differences, he said.
According to Aftenposten, SV was surprised at how little the Labor Party was willing to give on fiscal and oil policy.
According to the SV leader, the "access ballot" to the government negotiations would link SV to a policy of which they are critical and in which, therefore, the party cannot participate.
Lysbakken believes that the party would have disappointed many by accepting the premises set by the Labor Party and the Socialist People's Party at the polls.
When asked if the Labor Party and the Socialist People's Party formed a front against SV on the issue of continued oil and gas exploration, Lysbakken confirmed this by saying that political gravity is taking hold.
– There we have been in a situation in which we are quite alone.
He said that it will be important in the future to build ties with the other political parties that have the climate as their main theme.
ODM responded with an invitation to a "serious green block" at the Storting after the SV rape. The party invites SV, KrF, Rødt and Venstre to join that bloc, reports NTB.
It does not exclude downhill skiing in the Storting.
The Labor Party and the Center Party will have a total of 76 Storting seats and therefore lack 9 seats for a majority.
Støre says that in the future he will go mainly to SV at the Storting to achieve a breakthrough in budgets.
When asked by Aftenposten if he can go right on defense, immigration and oil questions, Støre responds:
– I mean that the main emphasis is on the side where the majority is. But I have not commented on individual cases.
– But is it realistic to go to the SV when you did not reach the finish line?
– Now we must relate to the fact that the next government will be a minority government. We have to work with him as a starting point, says Støre.
SV leader Audun Lysbakken has made it clear that SV is now in opposition, with no formal commitment to the next Labor-led government. However, he hopes that the Støre government will turn to them first to find the majority.
– It is a government that is created from our votes. They can continue negotiating here because they have the majority with us. Our expectation is that they will come to us for most of the path options based on the respect they have for the majority that made it a basis for a change of government. This applies to budget and other issues, says Lysbakken.
The SV leader says the party may also consider joining a Labor-led government at a later date. But then the negotiations must start with completely blank sheets.
Disappointed
Several Labor leaders regret that SV is not included. Oslo Labor Party leader Frode Jacobsen says he is sad that SV is leaving the polls.
Aps county leader in Møre og Romsdal Per Vidar Kjølmoen says he is disappointed that SV broke the polls.
– I do not think they get so much in return sitting in the opposition, he says.
In the Center Party, several prominent politicians also lament SV's sorti.
– I think it was a disappointment that SV does not believe that there is a basis for a red-green government. I was hoping for a majority government with SV. Anyway, we do not move by SV in the Storting, and in many cases SV and Sp are online, writes the spokesman for health policies of Sp in the Storting Kjersti Toppe in an SMS to Aftenposten.
Sp-nestor Per Olaf Lundteigen also believes that the best would be a majority government.
– When it did not work, we must bet that we get a declaration of government that arouses enthusiasm in both parties of government, says Lundteigen to VG.
The trade union movement is also disappointed. LO leader Peggy Hessen Følsvik "regrets SV is withdrawing."
He points out that now it will be a little more demanding to overcome the most important issues for the new government.
– We are disappointed. "We have had the expectation of a tripartite government with the red-green parties," says Mette Nord, leader of LO's largest union, the Sindicato.
She points out that 70 percent of its members wanted a three-party government. She says she now hopes the Støre government will cooperate with the left in the Storting.
At the press conference on the night where Støre confirmed that they entered government with Sp, he was asked if he would work to bring SV into government. Then he responds that it is SV who must change his mind.
– We will work to implement the policy. They are debating whether there is a basis for changing the conclusion they reached today.

www.aftenposten.no