AKER STADION (VG) (Molde – Viking 2-2) Several situations boiled over between Viking and Molde on Sunday night. Molde's coach, Erling Moe, believes the referees have made it more difficult for him.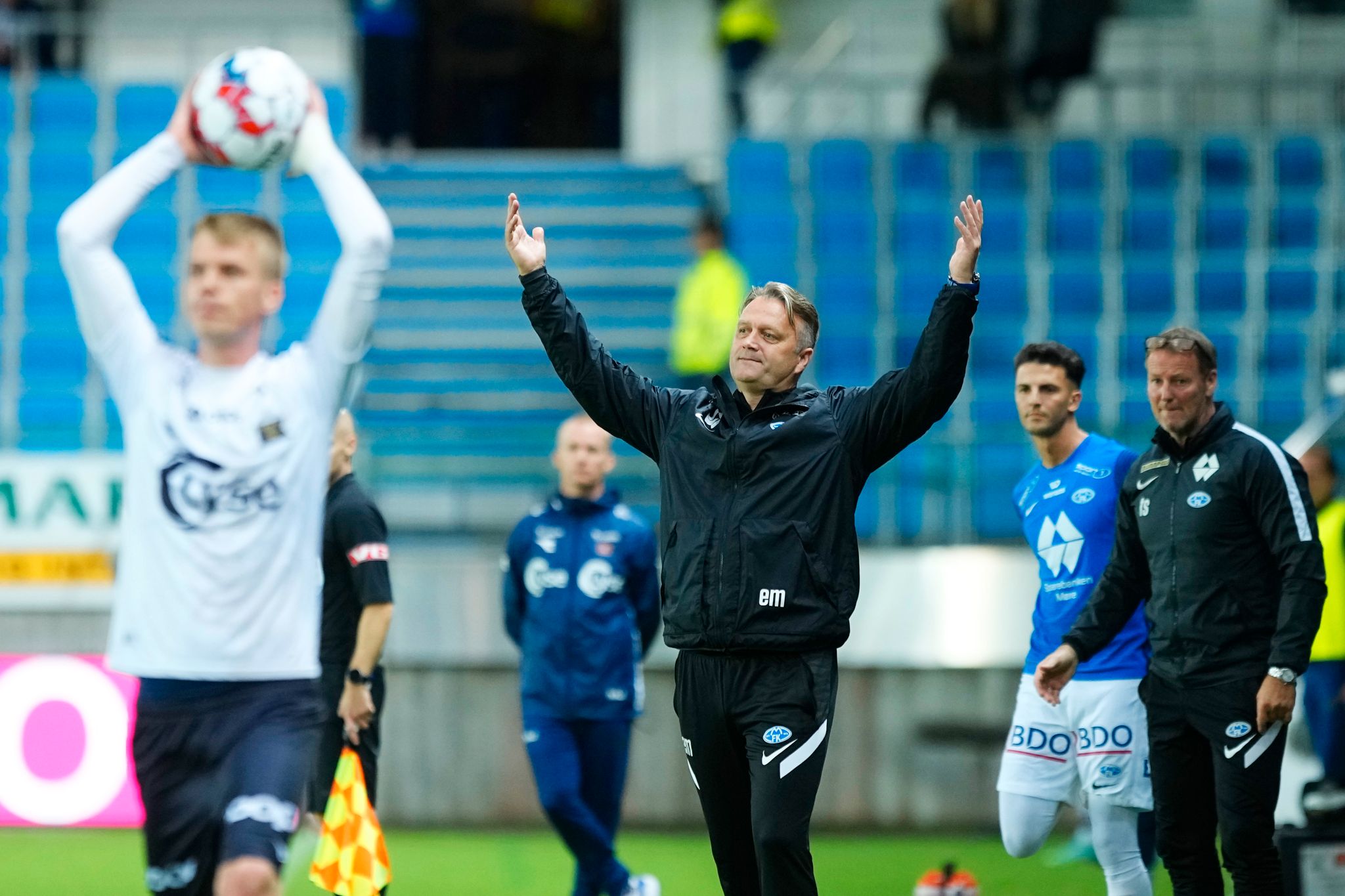 Aftenposten collaborates with VG-sporten. Therefore, as a reader of Aftenposten, you also get articles and services created by VG.
– I think it is difficult to see that they establish a coherent line with which the players can identify. Yesterday I saw the match between Strømsgodset and Sarpsborg 08. Today is something completely different. It is not the case that it is highly judged one way or another, but it is difficult for players to see where to put the list, Molde coach Erling Moe tells VG afterwards 2-2 against Viking at home at Aker Stadium.
It lacks clear and unequivocal guidelines, and believes that the differences are marked, especially between the country and abroad.
– There is an incredible amount of wind and we do not experience it in Europe, for example. There they are very clear and distinct. So it is much easier to see where the border is going. It's not always that easy for us to see here at home, he notes.
also read
Molde-Moe rejects the "luxury problem": – A truth that has emerged because everyone talks about it
That is a point shared by Mold player Ohi Omoijuanfo.
– I completely agree with that, it is difficult to know. Sometimes he is allowed to use his body, while other times he is blown into most things. It is difficult to know, although of course I understand that it is not easy for them either. Maybe we need VAR, Omoijuanfo tells VG.
– I don't want to say much about the referees, but it varies a lot from one referee to another, his teammate Etzaz Hussain tells VG briefly.
Chief umpire Terje Hauge is surprised by the criticism when contacted by VG, as he has not heard from Molde or any other club in the league.
– We have supervisors who watch the games and give me an additional report. We are happy with the line that has been drawn, but then we know we can improve, says Hauge.
He points out that they have referees who have judged for 15 to 20 years and others who are new, and he believes that the more experienced ones dare to loosen up a bit, while the younger ones prefer to take control of the game.
– Certainly there are individual incidents that should have been handled better, but we are satisfied with the bigger picture, he adds.
Check out some of the most controversial referee decisions this season:
also read
This will be the cost of the VAR for the Elite Series, now the clubs will decide
From time to time there was a high temperature outside on the artificial grass. The situation with Sheriff Sinyan and Veton Berisha was highly discussed on social media during and after the game. The judging panel didn't seem to understand what happened when Berisha had Sinyan's goatee planted in my face.
Moe hadn't seen the incident when he spoke to VG after the match, but the players themselves toned it down.
– Oi, it looks pretty ugly. But it is not on purpose. I put my foot on the ground, and then he is there. I'm not a player who would do that on purpose, Sinyan tells VG as he looks back at the situation.
That's an explanation that Berisha buys.
– It's probably just an accident. He doesn't know I'm down there. He's speeding up to get ahead, and that's what happens on a soccer field, Berisha tells VG.
See the situation here:
Moe believes much of the temperature could have been avoided and draws particular attention to the yellow card that Molde captain Magnus Wolff Eikrem received from referee Tore Hansen over protests. He believes that communication with the referee team would also have been easier to resolve if they knew what they could relate to.
– Often occurs when it is difficult to read. If you look at Magnus's yellow card, you know those things will count all fall. Viking players have the same type of reaction multiple times, and then it becomes difficult. I wish they were more consistent there, says Erling Moe.

www.aftenposten.no