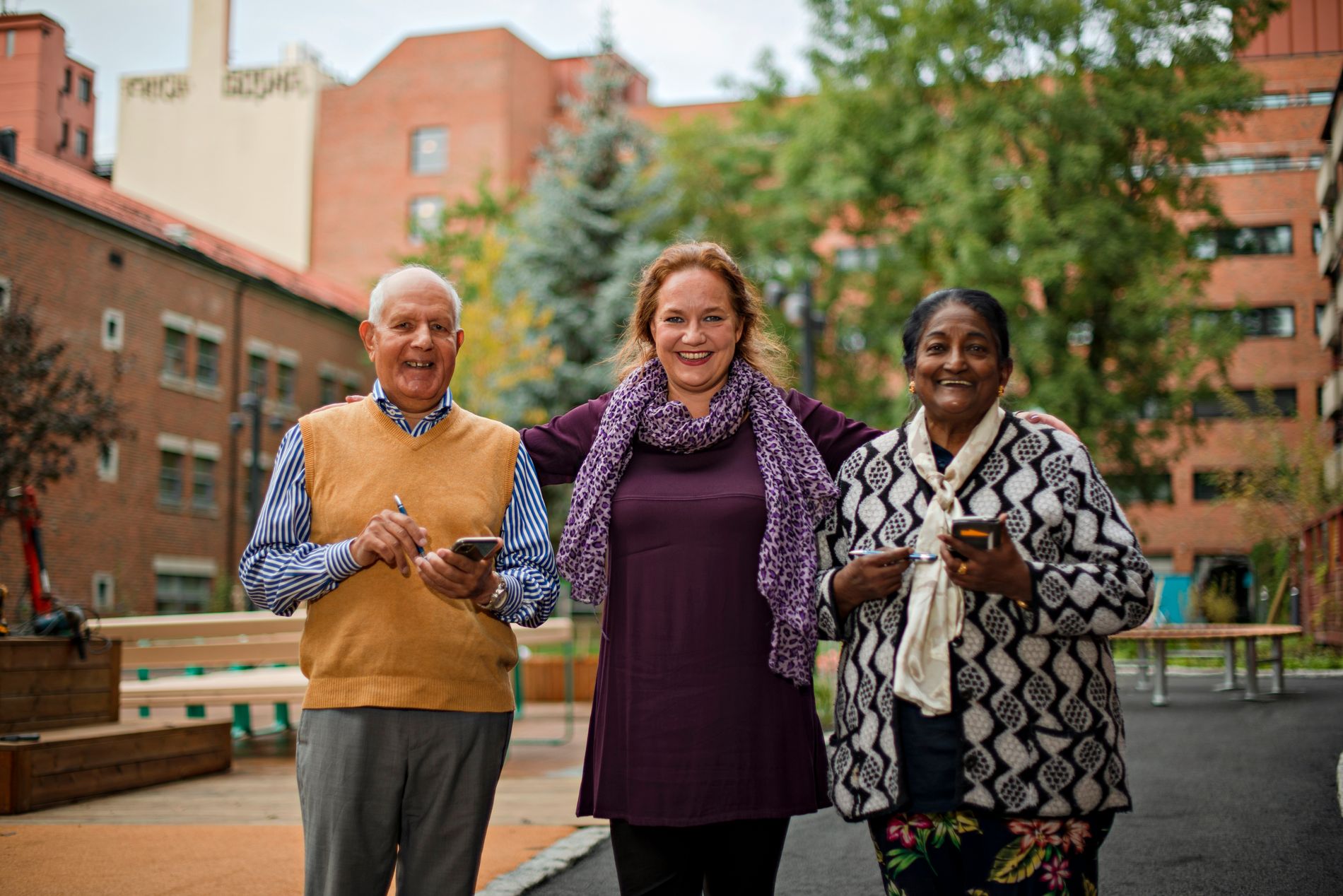 Buy a bus ticket with the app, download the vaccine passport on the phone, order food through the QR code. Many of us experience that the world has become so difficult that most of us want to stay home. So it's nice to be able to ask someone about everything they are wondering about!
Advertiser content produced by Schibsted Partnerstudio
At the Greenland multicultural senior center in Oslo, healthy adults are helped and supported to use technology that makes everyday life more fun and easy.
Rani Anandarajah from Sri Lanka, Sogndal and Oslo has become a 'digital grandmother'. Pensions Association Course Leader Marthe Landsem is responsible for fun and safe one-on-one training at the Senior Center every Thursday.
Could this be something for you? Join the Pensioners Association and join the development.
I talk to my grandchildren in London and now I have learned to send videos from the phone, says Rani (77).
Marta's experience is that many people feel stupid and afraid to ask when there are group meetings. That's why the Pensioners Association offers the popular one-on-one classes at the senior center.
Can't change the sound and font size settings on your phone or PC? Having trouble figuring out what an app is? So you should know that you are not alone, it actually applies to almost a third of the population. Competence Norway (which has now changed its name to Directorate for Higher Education and Competitionme) published in March the results of a survey on digital competence and participation of the population. It showed that around 600,000 Norwegians have little or no knowledge of what we collectively call "data."
Join the Pensioners Association and let your voice be heard
Safe elderly
Helga Hjetland, a longtime leader of the Education Association, is a member of the central board of the Pensioners Association. You are concerned that more seniors may dominate everyday digital life:
– The retired association focuses on training aimed at the elderly. Our course leaders speak so you understand, without all the technical language. You should feel safe asking about everything that is being asked. We want tablet, phone or PC users to be even more proficient at training those who currently know little, he says.
– It is very easy to ask a grandchild for help. "Svosj -svosj", then it is done. But I don't keep half. "Do it yourself while I watch," says my neighbor, who is the course leader. That's what you learn from.
Do you want to help others master digital everyday life?
Will enter the State Budget
For several years, the Pensioners Association has received funds from digital education projects for the elderly, now is the time for the subsidy to become a permanent item in the State Budgets, then we can work even more systematically, Helga says.
See what you can get from training under the auspices of the Pensioners Association
Through generations
– If technological development goes faster than the ability of people to increase their skills, the differences between people increase, says project manager Unn Johansen of the Pensioners Association.
The Pensioners Association has been an active part of the Norwegian Health Directorate project "Testing digital tools against loneliness" for more than five years, with Unn Johansen as project manager.
The association has prepared several films and course brochures, which are very supportive for both the individual and the retirement associations and senior centers throughout the country. With county associations in all counties and a total of 762 local associations, training is offered in a variety of ways. Physically in groups, one on one or with a course leader on the big screen. A lot is tested and experienced here. Unn also emphasizes how much mutual joy the young and old can have. "An Effort for Others" has become an elective in upper secondary school, and the association has a good collaboration with many schools.
The retirees association has established its own helpline, which is free to use and open to all. If you have questions about the use of a smartphone or tablet, you can call the smartphone – 22600700.
Read more about the "Smartphone" service here.
Ambassadors
To ensure the daily life of the elderly, the Pensioners Association is heavily involved in wellness technology and digital solutions. To ensure involvement and contribute to a better user experience for the elderly, the goal is to have at least one technological ambassador in each municipality. Technology Ambassadors will introduce technology, provide information, and be a liaison between higher councils, municipalities, teams / associations, and the individual user.
– Technology affects many areas, says Erik Norstrøm (77), who is one of the technology ambassadors of the Pensioners Association.
– We will be many more elderly in the future, and we cannot expect the same service in the support system as the generation before us. The aids available to us can provide us with health and safety if we learn to use them. There may be sensors that warn if you have fallen at home, if you have forgotten to take the medication, they monitor blood pressure, blood sugar and not less GPS with alarm, which means that people with mild dementia may have a greater freedom of movement.
– Talking together through smartphones, tablets or screens that are easy to operate, can also offer a lot of joy in everyday life, especially now that people move more and no longer have family in the neighborhood. So one can sit in Kirkenes and the other in Kristiansand and still sit and dine together, says Erik.
stimulating
Erik, who has experience as an engineer in the Norwegian Public Highway Administration, has worked with trainings and courses throughout his career. Today he is a technology ambassador and secretary of the Norwegian Public Roads Administration Retirees Association, which is part of the Retirees Association.
– I would encourage seniors to register their interest in becoming course leaders or technology ambassadors. It is also interesting for you. You get a fun "job" that's challenging and engaging, says the active retiree. He keeps fit by swimming from March to October, gardening and walking, but he is also aware that he should start thinking about a little house remodel so that he can live at home if he or his wife can no longer climb stairs.
Do you also want to become an ambassador of technology?
It is while we are healthy that we should think 5 to 10 years into the future. What opportunities are there, where should I go, how can I get involved to influence?
Technology Ambassador Erik Norstrøm
At the Senior Center, Rani has been waiting to speak to her grandchildren in London through a free video on What's App. Mohammed Islam, who came to Norway from Pakistan almost 50 years ago, is also a regular guest at the Greenland Senior Center. . She comes here every day from the apartment in Sørenga, so she hasn't needed any app to buy a bus ticket yet. But to be able to see and talk with the family and send photos, through Messenger, SMS and What's App, he has become a master. Every year he used to travel with his family in Lahore, but it has not been possible since March last year.
– It was fun to be able to send photos to the family and wish them good luck with the celebration of the DNI.
Islam of Muhammad
Do you find this interesting? Join the Pensioners Association and join the development.
He puts on the hat of patience
I can hardly speak enough about the fear there is when it comes to using technology.
Marthe Landsem, Course Director of the Pensioners Association
– You may have been used to being someone who has done well on their own, and then something comes up that makes you feel stupid. It is understandable if it is experienced as a personal defeat. Many people have the experience that their children and grandchildren try to educate them, but it goes too fast. Then you just despair, put it off a bit and wait for it to happen. But it's not like that. The senior center teacher is the third neutral person to wear the hat of patience. It should be nice to be more proficient in digital everyday life, then it will also be useful, Marthe emphasizes.
Watch the movie "I give you the time it takes as a gift" about how Anette and her grandmother work together:

www.aftenposten.no