KRISTIANSUND (VG) How has the city with just under 25,000 inhabitants achieved the "impossible"?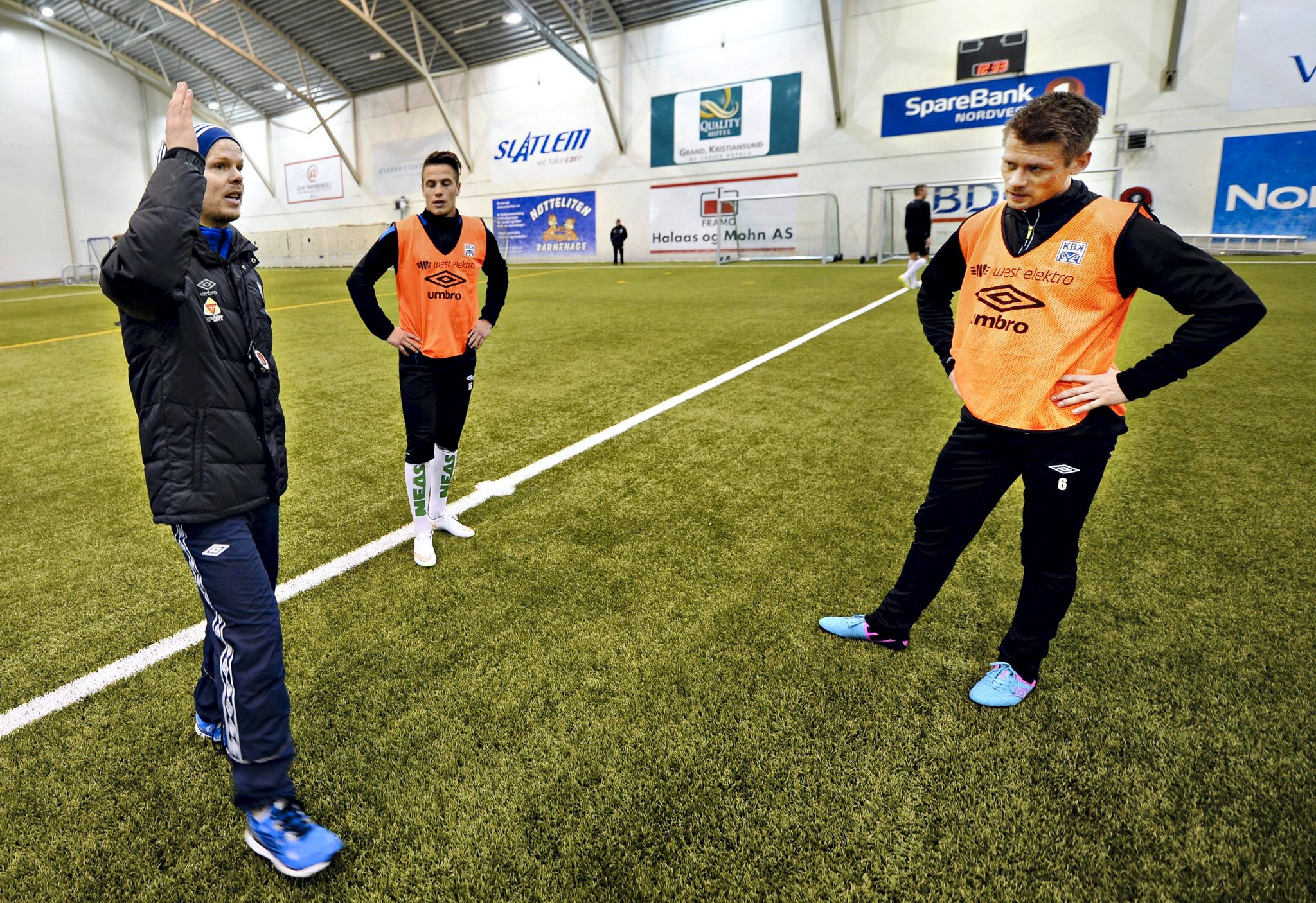 Aftenposten collaborates with VG-sporten. Therefore, as a reader of Aftenposten, you also get articles and services created by VG.
– The appointment of Christian Michelsen in 2014. He is the perfect KBK coach.
This is what general manager Kjetil Thorsen says when asked by VG to mark the most important moment in the club's history.
– We are incredibly lucky to have it. Christian is very good with people, at the same time that he has a huge will to win. He's "all in," he continues.
Thorsen looks out over the artificial grass field he sees from his office. The general manager describes home games at Kristiansund Stadium as the 15 best days of the year.
Thorsen has held the managerial position since 2006 and admits that they gambled by hiring a coach who had never been in charge of an A-team before.
They hit blink.
When Clausenengen and Kristiansund Football Club merged in 2003, hardly anyone dared to dream of what would happen.
– At Kristiansund we were good individual players for many years, but we never managed to establish a first-rate club. It was more about the local rivalry, says Thorsen.
The journey that he and the rest of the club have been on so far has been a never-ending upturn. From promotion to 2nd division in 2005, OBOS league in 2012, before Elite Series was next in 2017.
– There are many examples of clubs that have made great strides in a short time. Development goes by fast, where you get a lot of money for a quick hit, build the stadium and invest beyond your means, it can go wrong. The reverse has happened here, says Thorsen, before continuing:
– They haven't spoiled us, so we're always looking forward to what's next. Whether it's a new grandstand or a separate club bus, we look forward as a group of children, says Thorsen, who honors the many volunteers who participate and contribute.
Humble values ​​are also something that runs at the backbone of KBK.
– They may not be everyone who was born and raised with the values ​​we want to represent, which is why we spend a lot of time talking about this and how this should radiate. There are different personalities here, but there is also a common thread throughout the club.
This is how Kristiansund's journey through the series system has been:
Graphics: sofascore.com
This season, Kristiansund has held on to what will be an unprecedented golden match. Before the meeting with Rosenborg, only two points separate to a medal place and six points to the top of the table. For the first time in the club's history, they dare to talk about a medal in Nordmøre.
– Something else would be strange now, Captain Dan Peter Ulvestad tells VG.
The club prepared for OBOS in 2013, with current Lillestrøm manager Geir Bakke.
By then they had played on the third level for eight seasons. Thorsen points to the promotion as a key event in KBK's history. After a season as coach of the OBOS league, Bakke moved on to his neighbor Molde.
It was then that Kristiansund decided to give Michelsen a chance.
The coach himself is more concerned with pointing out the bearers of the club's culture. The ones who have been there longer than him.
Ole Olsen is perhaps the largest contributor to soccer in the city for the past 40 years. He was also a great asset to KBK for several years, before resigning as an assistant coach after the 2019 season.
– He is probably the most important person to me, and has been since the day I took over as head coach. He is always here as a conversation partner and often visits workouts. Ole is how it was created for this.
"Human capital" is a word that Michelsen repeats several times during the meeting with VG. He believes that it is the very identity of the club, and much of the reason for its success.
– Not everything can be bought for money. In a small club like KBK, this is extremely important. We don't have the resources that our competitors have, so we prefer to spend time and energy on what we can do.
Thorsen then mentions another detail of the success. The club "never" brings in players who have experienced more important things than playing for KBK.
– We are very concerned about that. Here you must feel hungry and be part of a journey, he says.
Players who have seen great success in Nordmøre in recent years are names like Torgil Gjertsen, Daouda Bamba, Benjamin Stokke, Sondre Sørli, Amahl Pellegrino and Bent Sørmo.
Going from musty-smelling bunker wardrobes to a separate stadium facility that seats 4,444 has been an adventure, says Michelsen.
– The players came sweating from work with buns and glue in hand to get something they thought was food. Since then, we have gone through it step by step. Kjetil has taken the lead and paved the way for the club to do it their way. It is about an upbringing in the DNA that we are going to have.
– The word "æ" does not exist in KBK. "We" are here, whatever happens, Thorsen adds.
Michelsen himself has also developed. The read and accepted "truth" that KBK is first and foremost about long balls and war is a statement that you disagree with.
– Indicates first of all ignorance. We are a much better soccer team than many people think. We work according to the "Klopp philosophy", although it is not always so easy to achieve, what was good enough yesterday must be better tomorrow. If not, you stagnate. That also applies to me.
Profile of Mjøndalen Christian Gauseth is one of those who have criticized the style of play and described it as «tragedy».
– We do not spend time sending spoon kicks to others, even if we get away with it. I heard it said that it is easier to be successful at KBK since there are no expectations here. But then, we are not alone to be with them, he points out.
After the 3-2 win over FK Haugesund two weeks ago, Michelsen dared to speak for the first time that they are in the battle for gold. He says he didn't feel like he "had" to do anything.
– Inside, hunger and requirements are the same. Externally, there has been talk that it is fun to be among the greats. But that we will compete with Molde and Rosenborg is basically not possible, but in individual periods it is possible. Now we are in that period. Lately we have been a bit tougher on the face, but I must also emphasize that we are proud to be mentioned among the best teams.
With an XP (expected points) of just 22, the table position and point capture of 35 points so far indicates that they may have received something well paid.
– You can definitely say that. But it's about the famous margins. I don't think they are a coincidence. You deserve luck, he concludes.
There is also no doubt that KBK over time has affected player logistics well. It is only in recent years that the club has been able to start speculating with other types of signings that are not from lower divisions.
The signing of Moses Mawa from Strømsgodset is one of those signings. And although KBK now budgets up to NOK 70 million a year, it took a splicing party between the sponsors to sign the 25-year-old, the club's most expensive purchase of all time.
– It's one thing to get the right players, but the man has to fit into the culture. We have had a lot of brilliant soccer players and they can be as good as they want, but as long as they don't adapt to the culture, it won't work.
KBK has upset most of the top teams in the last five years. But they still have a scalp going for them. Rosenborg, a dream rival when the stadium will finally fill up again after nearly two years in the dark.
And perhaps tonight Kristiansund Ballklubb will take a big step towards European football, almost 18 years after its inception.
– If we stop dreaming, erosion begins immediately, says Kjetil Thorsen.
The match between Kristiansund and Rosenborg can be seen on TV Norway on Sunday evening at 8pm. And here you can follow the game on VG Live!

www.aftenposten.no