Fredrik Pallesen Knudsen remembers well being called into Rikard Norling's office to get the message: You are playing Mjøndalen.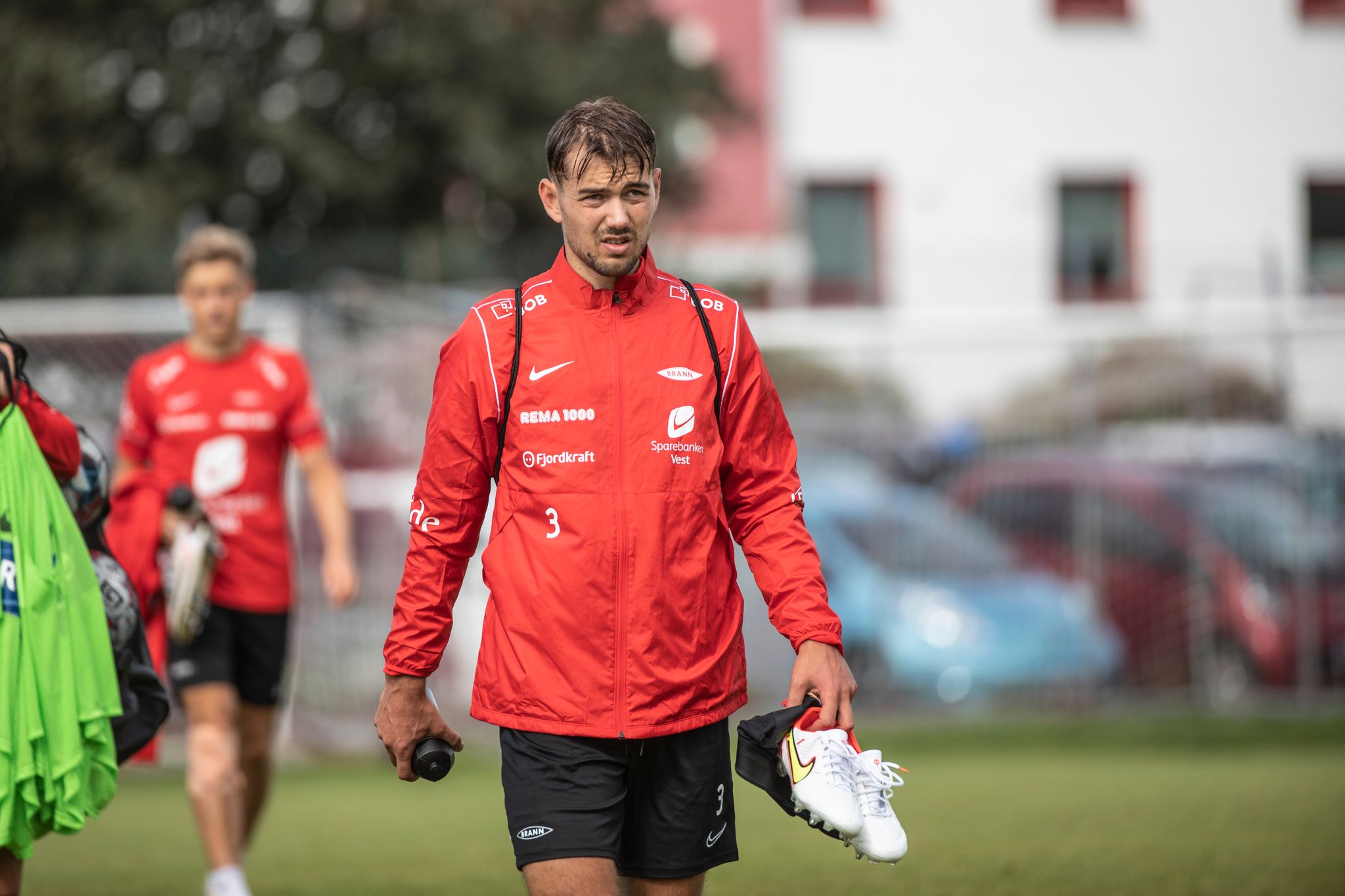 It was almost Advent in 2014, but the Branns season was still going on.
The first qualifying match to avoid relegation against Mjøndalen had ended 1-1 at Brann Stadium.
A day or two before the decisive second leg in Mjøndalen, Fredrik Pallesen Knudsen, then 18, was called into the office of coach Rikard Norling.
Pallesen, who had just played the cup final for team G19, and was only training a little with team A, was totally shocked by the message he received.
– Suddenly he said he should start, says Pallesen seven years later. Just a couple of months before, he had received his first professional contract.
– Rikard (Norling) had seen the youth games and said he had confidence in me and believed I would make it, he says.
I was in shock
The Bergen man went home to his mother and father in Møhlenpris after receiving the message. The parents were shocked that the son made his debut with Brann in the most fateful game the team had played in several years. He had just been a Brann supporter.
– They were more nervous than me. We didn't talk much that night, says Pallesen.
The young but already extremely strong dueling moment, Pallesen formed a central defense together with Azar Karadas and Erlend Hanstveit.
But the match ended 0-3. The fire descended.
– The firefighters wanted to take everything and everyone. Someone was taking Norling. The top of the house screamed into the closet. The police had to take care of the hotel we stayed in. It was a terrible experience, says the stopper today.
Maximum bad start
The Bergen man still sees something good in his poor start to footballing life: more mental strength and an experience that has helped put things in perspective.
– Not everyone gets to debut in a match like this, and it is not possible to have a worse start to a career, says the 25-year-old and adds:
– It is an experience that has settled.
A lot has happened since the debut against Mjøndalen. Pallesen has been to Haugesund and is back again. Brann became a top team under Lars Arne Nilsen, before they now fight relegation again.
However, that Mjøndalen is Branns' nemesis has not changed. On Sunday, the two meet again in the village on the outskirts of Drammen. And once again, it's a relegation battle.
– History is history. We haven't talked much about it now, says Pallesen.
Fan mobilization
Bergen has mobilized. The visiting field with space for 650 people will be filled with fans dressed in red.
It has served as an inspiration to Brann, after a very energy intensive September.
– It costs a lot what we do, and the fact that the fans support us is absolutely fantastic, says Brann's manager, Eirik Horneland.
He thinks fans should take a lot of credit for the fact that Brann recently beat Kristiansund 3-1.
But internally, according to Pallesen, the manager has said that Brann really doesn't deserve a lot of people coming into the stands to support the team.
– And that's true, thinks Pallesen.
Horneland is only grateful for Brann's latent interest that now comes to life when it's needed most. Despite nachspiel and miserable results.
Quick soccer and sacrifice
– You have to earn it for people to support you. We made it tough this summer, Horneland realizes.
Expect the team to behave in such a way that it resonates well with those who pay to watch.
– We have to play in such a way that we show that we want to give everything. And we have to play fast football in the long run. These are the things people want to see, says Horneland.
Pallesen was quarantined last season, but now he's back. Both he and Horneland have beaten Mjøndalen with other teams and therefore do not have a "ghost of Mjøndalen".
– I think now we can beat everyone in Norway, says Pallesen.
– It would have been nice to end that ghost talk, says Horneland.

www.aftenposten.no