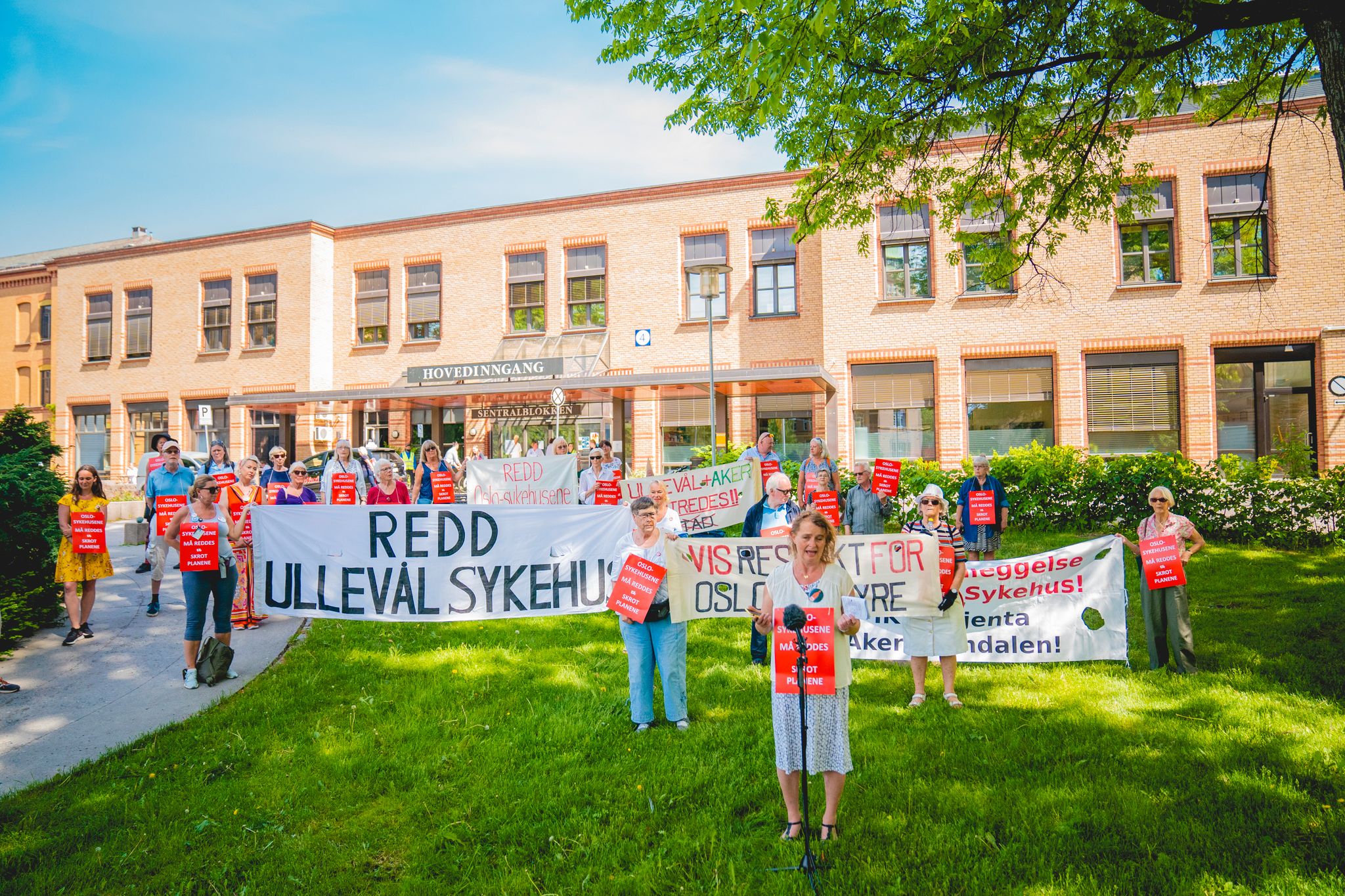 SV and the Center Party joined together against the Labor Party in the fight to preserve the Ullevål hospital. With SV abroad, Kari Elisabeth Kaski fears that Ullevål will go down Sp's priority list.
– I am concerned if Ullevål will be preserved now. Sp has many problems that they want to prioritize. And they have a stretch in the team internally, Kari Elisabeth Kaski points out to Aftenposten.
Represents SV at the Storting in Oslo.
I went recently Sp in Kristiansund in Klassekampen and called on the party to downgrade Ullevål in negotiations with the Labor Party in favor of ensuring food supplies and emergency rooms there.
The Center Party has marked itself as the guarantor that Kristiansund will be able to keep the maternity and emergency room. But Kristiansund Sp fears that Ullevål's match will damage Kristiansund's match.
Kaski is concerned about such proposals.
– I am concerned that they do not give priority to Oslo and Ullevål in these negotiations, he says.
Q: – Equally important
– It is completely strange for me to have Kristiansund against Oslo. It is not the case that one is more important than the other. That's our starting point, says Sp's health policy spokesperson, Kjersti Toppe, in a comment.
-These are very important assistance initiatives in two different places in the country, he adds.
At the same time, he agrees with Kaski that it may be more difficult for Sp to win in the Ullevål case when SV is no longer involved.
-Yes. "I have been honest about the fact that in health policy, we would have had the help of having SV in the government," she says.
She says she is betting that in any case Sp will be supported by SV at the Storting. The new minority government has said that, first and foremost, they will turn to SV to secure a majority.
– So weakened, yes, but it has not been erased at all, says Toppe about the Ullevål case.
– How is Ullevål doing in the ongoing negotiations?
– I can't say much, and it's not clear anyway. This is an important issue for us and on which we do not agree with the Labor Party. They're definitely working on that now, Toppe says of Hurdalsjøen Hotell distributors.
Vedum promised a match for Ullevål
The dispute over a new hospital structure in Oslo has raged for many years. The government has decided that a new large hospital will be built in Gaustad and a local hospital in Aker. Ullevål will be closed.
The plans have received strong criticism. Many believe that planned hospitals will be too small for a growing population, while professional communities fear for patient safety. Employee representatives on the board, various parties and various press groups want Ullevål to be expanded.
The Center Party made the preservation of the Ullevål hospital one of its most important election campaign issues in Oslo. Trygve Slagsvold Vedum he has promised to raise this in government negotiations.
The Labor Party, for its part, supports the government's decision to prioritize Gaustad and Aker at Ullevål's expense. At the local level, however, the Oslo Labor Party wants both to preserve Ullevål and to build on Gaustad and Aker.
– There is no realism in that, thinks Kjersti Toppe. She calls that solution an "Ole Brumm solution."
Politically difficult
Toppe says the Ullevål case is "politically difficult" between the two sides.
It is also related to the fact that the two parties disagree on how the country's hospital should function. Labor wants to preserve the current model of trust in health. Sp wants to replace health trusts with elected hospital boards.
According to a party source, there may be a possibility that Sp will gain a foothold in specific hospital cases, such as Ullevål, in exchange for accepting the Labor Party's demand that the trust-in-health model be maintained.
Toppe thinks it will be difficult to compare the two. She says the health trust model is closely related to the conflicts around Ullevål and the Kristiansund hospital.
– I cannot anticipate the result and, of course, it can happen. But in any case, that's not what we want and are satisfied with, he says.
– The model of trust in health is the reason why we have received these cases. Therefore, it is difficult to say that it is perfectly fine to take one and not the other. We want a new direction and prevent those cases from happening again, says Toppe.

www.aftenposten.no