The orange flood warning applies not only to Oslo and Romerike, but also to Østfold. In the municipality of Lillestrøm, it may be relevant to evacuate residential buildings.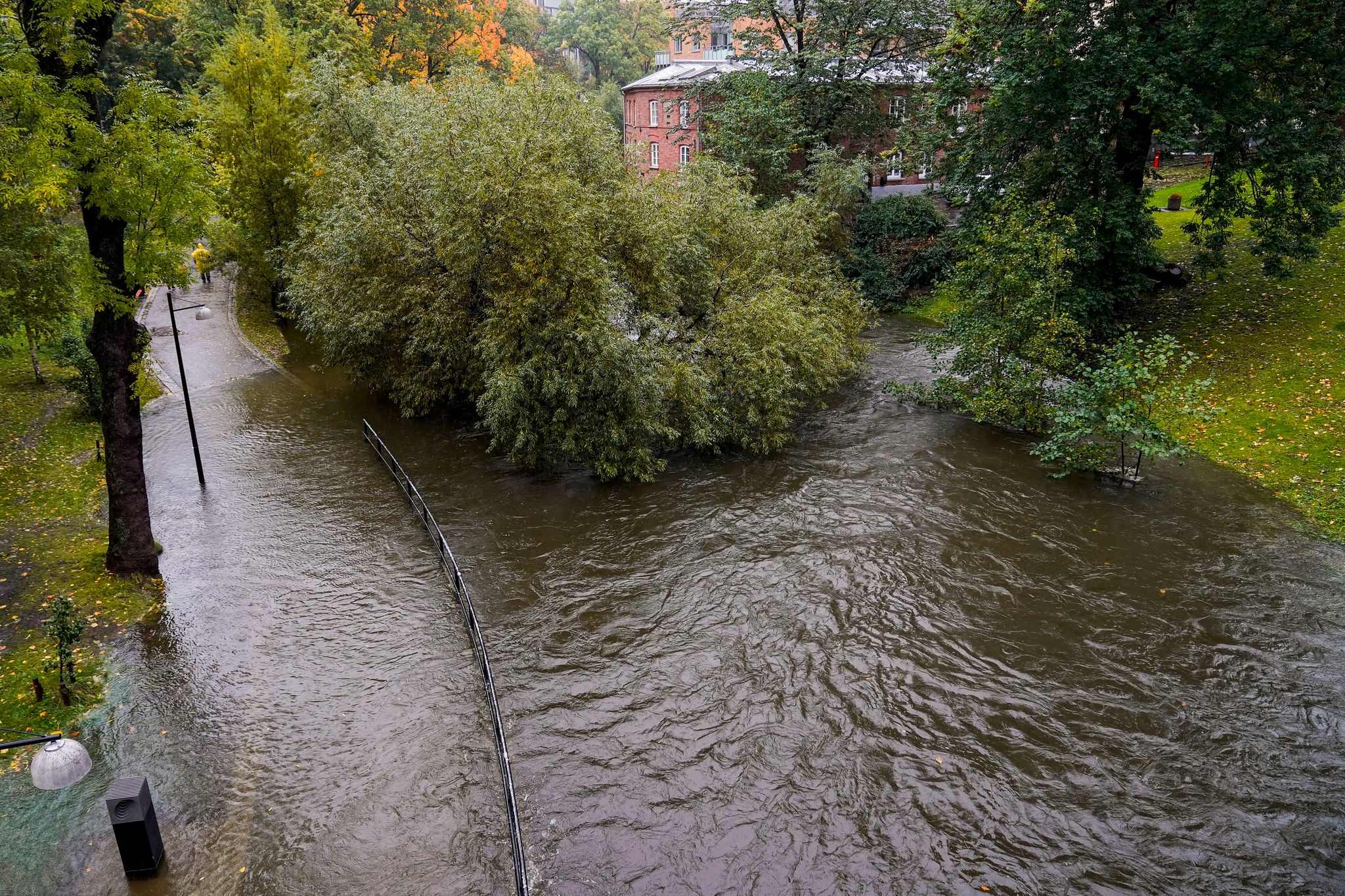 In Oslo, heavy rains over the weekend have caused several rivers to flow higher than normal. The fire brigade in Oslo is warning people on Sunday to move through flooded streams and rivers.
Upon Twitter reports to the Fire Brigade in Oslo:
"The Norwegian Meteorological Institute has issued danger warnings about heavy rain, danger of landslides and floods in our district. There is also some wind. The public is asked to take precautions when staying away from flooded rivers and streams, in addition to driving carefully.
On-call hydrologist at Norway's Directorate of Energy and Water Resources, Tommy Skårholen, tells TV 2 that people living near waterways need to pay close attention to the situation.
– It is a serious situation that can cause great flooding and erosion damage in exposed places, says Skårholen.
The Bergen line is closed on Sunday afternoons.
The flooding between Flå and Hønefoss closes the Bergen line, reports Bane Nor.
– We are working on the case, but this will take time, writes Bane Nor in one. traffic announcement at 4.30 pm on Sunday afternoon.
Press officer Olav Nordli at Bane Nor says large amounts of water between Gulsvik and Flå have led to the shutdown.
– There are crews on site, but it is too early to say how long that may be. There is a danger of the runway being washed, which means that it is closed for the moment.
A bus will be installed for the trains between Hønefoss and Nesbyen, according to Nordli.
Crisis and surface water personnel
As a result of the heavy rains and the high risk of flooding, the municipality of Lillestrøm has appointed crisis personnel.
– We monitor several waterways where the water level is high. It is especially Leirsund that is exposed with respect to surface water, says the municipal manager for environmental technology in Lillestrøm, Morten Nårstad, to Romerikes Blad.
On Saturday night, the Leirsund Bridge on County Road 1535 was closed by the Norwegian Public Roads Administration due to high water levels in Leira. A nearby walkway was also closed.
– If the water level rises much more, it may be relevant to initially evacuate four houses adjacent to Leira, says Nårstad.
The water level in Leira dropped slightly in the morning hours on Sunday, but with more rainfall on Sunday, the municipality is on hold.
Strong winds in various places
In various parts of the country there have been strong winds and a lot of precipitation. Trees were felled and roads were blocked. People are asked to drive carefully.
Fjordlines ferry company trips between Kristiansand and Hirtshals were canceled due to bad weather.
A police patrol reported a landslide on the E6 in Drivdalen while they were at the scene, Trøndelag police wrote on Twitter. Drivdalen is located between Oppdal and Hjerkinn.
Water in basements
Sigmund Clementz, head of communications for insurance company If, says in a press release that the company is closely monitoring the situation.
– On Sunday, a lot of rain was reported in many places, and it can bring water to both residential homes and businesses, he says.
If a lot of water gets into a basement furnished with a bathroom, there can be damage of between 300,000 and 500,000 crowns, according to Clementz.
– Closely monitor the water level around the house and carry objects and furniture from the basement to another floor if the water threatens to enter, says the communications manager.



www.aftenposten.no