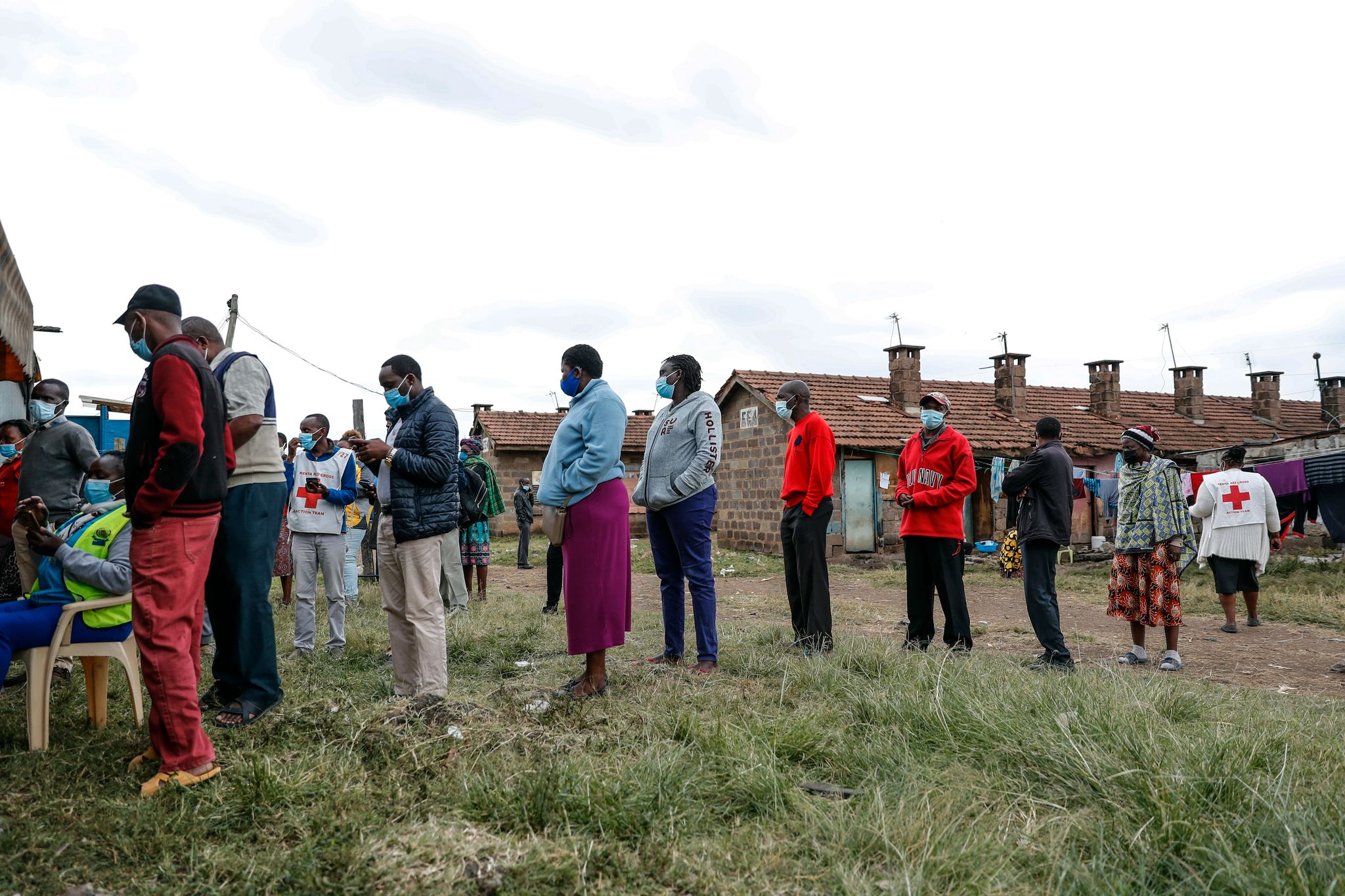 In Africa, 94 percent lack a vaccine. Norway and other wealthy countries should consider this when considering giving citizens a third dose, the minister believes.
Several countries have begun to apply a third dose of vaccine to their citizens. In Norway, the discussion is in full swing.
At the same time, poor countries in Africa are crying out for coronavirus vaccines. Only 6 percent of the world's population has been vaccinated.
Since September 20, 7 million third doses have been shipped worldwide. During the same period, Africa has received a total of 18 million doses. A third dose is a luxury that developing countries can look back on.
Of all the doses of vaccines distributed in the world in the last seven days, 2.7 percent of them are third doses. Displays numbers from Our world in data.
FHI believes that two doses are sufficient
Israel has been the biggest proponent of a third dose. There the number of admissions has increased among the elderly who were vaccinated more than six months ago.
The United States has chosen to give a third dose to those over 65.
Recently a Swede came exam among 464 hospital employees who showed that the level of antibodies dropped by 85 percent after seven months. The study has not been peer-reviewed.
However, the immune system is made up of more than just antibodies. Defense cells and memory cells after vaccination are also important protection.
The Norwegian Institute of Public Health (NIPH) believes that two doses still provide good protection for most people. Therefore, they offer a third dose only for those with a weakened immune system.
The WHO has said vaccines must be given in developing countries before rich countries start the third dose.
also read
Israel tightens vaccine requirements. Requires third dose for visits to cafes.
– We should not give a third dose to healthy Norwegians
WHO receives support from the Minister for Development Aid Dag-Inge Ulstein (KrF).
– The pandemic has shown us how unfair the world is. I am concerned about the low vaccination rate in many of the countries in Africa, he says.
– We should not give a third dose to healthy Norwegians until health workers and vulnerable older people in African countries have received their first dose, he adds.
– Possibility of doing two things at the same time.
Saliba Andreas Korkunc is the Secretary of State to the Minister of Health Bent Høie. He has a different opinion on this than Ulstein.
– It is possible to do two things at the same time. We can protect our own population and, at the same time, help everyone in other countries receive vaccines, he says.
– Our goal in the future is that we do not receive more doses than we need at any given time. At the same time, we work internationally for better access and higher production, says Korkunc.
Norway will offer a third dose for some groups if needed, according to Korkunc. We have enough vaccines in stock to do that.
Far behind the goal
Much of the vaccines in Africa are placed in South Africa and Morocco. They have reached their own agreements. Other countries depend on Covax.
Covax is a global collaboration that aims to secure vaccines for poor countries. The project is financed by rich countries and private donors. The World Health Organization (WHO) is among its backers.
So far, Covax has distributed 311 million doses of vaccines in 143 countries. He's way behind. The original goal was two billion doses by 2022.
Norway supplies more than 31 million doses of vaccines to Covax.
– Western countries came to the market first
India is a major reason why Covax is missing its goal. They had promised to produce and ship vaccines in large quantities to poor countries. The Serum Institute of India (SII) would become Covax's main supplier. Then the country was hit hard by a severe corona wave. The Economist estimated up to 30,000 deaths daily. So India decided to keep the vaccines.
All countries that contribute to Covax have an option in the agreement that allows them to take the vaccines themselves at any time. The UK and Canada have. In June, the UK alone received more doses of Covax than all of Africa, according to the Associated Press (AP).
Several are critical of rich countries' efforts to secure vaccines for developing countries. Some call the bias vaccine apartheid, while others accuse the wealthy of vaccine nationalism.
– It has taken time to increase vaccine production. Western countries entered the market for the first time through bilateral agreements. This is one of the reasons why Africa has received so few doses.
That's what doctor and field worker Erlend Grønningen says at Doctors Without Borders.
You can get new varieties
The WHO goal was for all countries to have fully vaccinated 10 percent of the population by September 30. It has only been achieved in 15 of the 54 countries in Africa. Most of them are small countries.
Furthermore, the WHO goal was to fully vaccinate 40 percent of the world's population by 2022.
– We have a long way to go to reach that goal, sa Who is Richard Mihigo torsdag.
No one is safe until everyone is safe said the head of the UN, António Guterres, criticizing the "nationalism of vaccines" of rich countries. But what are the consequences of Africa not being vaccinated yet?
– When someone is infected, new variants may appear. They can spread and be able to infect fully vaccinated.
This is what the immunologist and professor Anne Spurkland of the University of Oslo says.
You can donate doses
In recent weeks, municipalities have received more doses than they can use. Once the doses of the vaccine have been sent to the municipalities, they cannot be donated, according to the Ministry of Health.
Those stored in FHI or hospital records can be sent.
Doses not used in Norway will be transferred to other countries, says Secretary of State Korkunc.
If Norway is to donate vaccine doses, it must do so bilaterally, that is, directly to another country, and not through Covax.

www.aftenposten.no