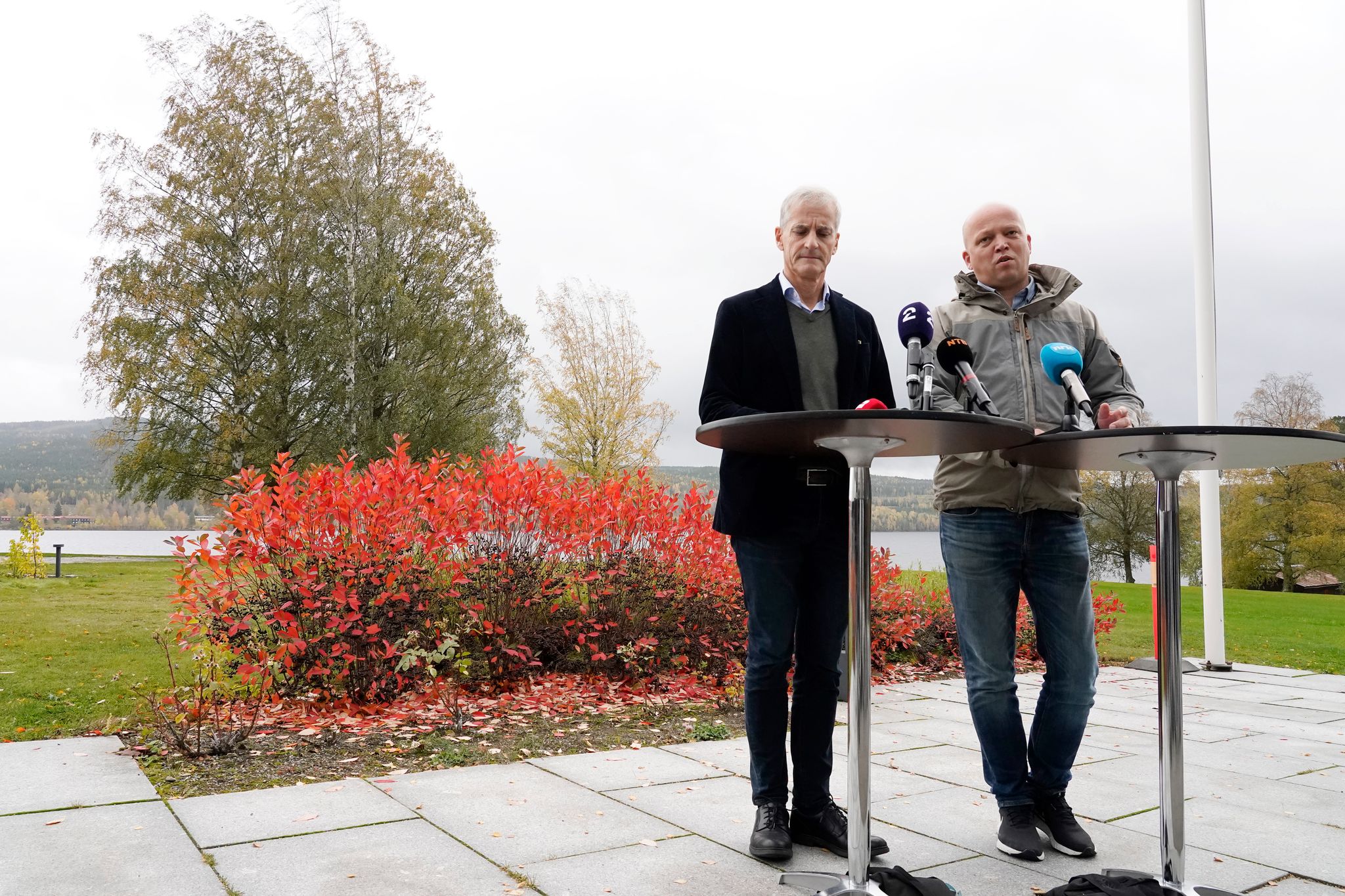 Labor leader Jonas Gahr Støre and Social Democratic leader Trygve Slagsvold Vedum believe the business community is calling for a new policy.
Støre opened the press conference on Monday afternoon stating that trade and industrial policy are important issues in the negotiations. He says these will be critical to achieving ecological change.
– The backbone of Norwegian business are small and medium-sized companies that employ people and have high innovation and are adaptable. What you hear in Norwegian business today is that they are calling for a more active state, setting and making demands.
He spoke about how the state can enforce a policy that alleviates the risk of starting new technology or taking ownership positions to start new initiatives.
– If we look at the climate targets towards 2030, industrial innovation is a big part of the solution, but we won't achieve anything until we achieve a change of pace in the way industrial and industrial policy unfolds, said Støre, who will likely be the from Norway. next prime minister.
Vedum said that the procurement scheme in the municipalities will also be important in a green change.
– Can set strict weather requirements and other kinds of quality requirements.
Støre also mentioned hydrogen and batteries as possible areas of focus.
– This is an important field for us that we will specify in various chapters of the governance platform, said Støre about investing in hydrogen.
Disagreements remain
The two party leaders have been negotiating for power to the government since SV met in what was then called government elections last week.
Labor leader Jonas Gahr Støre said early Monday that there are still some disagreements in the government negotiations, but that it should be possible to finish during the week.
– If we have progress, it is possible. But now I don't put a threshold on it, Støre said when he arrived at the Hurdalsjøen hotel on Monday morning.
As party leaders left Hurdalssjøen on Thursday, other people from both parties have continued to work to find a common policy and draft it together over the weekend. The goal is for it to culminate in a government statement, to be presented during the week at the earliest.
– Much has been cleaned up and resolved when we now check in together. But of course there are again some points of disagreement, says Støre.
He says he has packed his bags to stay at Hurdalssjøen all week.
– We have not set a date for when we will finish, but Vedum and I agree that it will not take longer than necessary, says the Labor leader.
also read
Støre and Vedum must create enthusiasm. There are no more tricks than that.
Vedum: – Good progress
Sp leader Trygve Slagsvold Vedum arrived at the hotel a little later than Støre in his big diesel car. The press crowded around him and he had trouble parking.
– I think it's a very good advance. So it always happens that there are some cases where you spend more time than others, said Vedum.
He also plans to stay at the hotel for the next few days.
– Now we'll just work. So we have the joint responsibility of both the Center Party and the Labor Party to get a good platform, says Vedum.
Feel that both parties have a clear desire to keep up.
– Then we'll see what day we land. The most important thing is that it becomes a solid and adequate document, he says.
also read
Now SV is back on the grass. They are demonstrating against the Støre government.
Secret about cabinet posts
On Monday, the party leaders will first discuss the work done this weekend with their fellow party members, before sitting down to discuss.
– Now we will tackle all the issues. We will have a review of all the work that has been done this weekend, we have written most of it. And then we'll qualify together when we meet a little bit in the morning, says Støre.
Asked if they were in the process of discussing cabinet positions, he replied as follows:
– We talk about a little bit of everything all the time. There are drops here and there, but I don't think I should lighten the veil now. The most important thing is the platform, says Støre.
– Is the number of ministers distributed?
– At.
Vedum also wouldn't reveal whether work in the cabinet clique is underway.
– These are the issues that are important that we are working on now. It is to be able to place a platform. Then I am absolutely sure that we will also be able to achieve a good distribution between the Center Party and the Labor Party, he tells NTB.
Government negotiations between the Labor Party and the Center Party began on Wednesday last week. Beforehand, SV had also participated in the elections, but the party decided to break up before negotiations could begin.

www.aftenposten.no