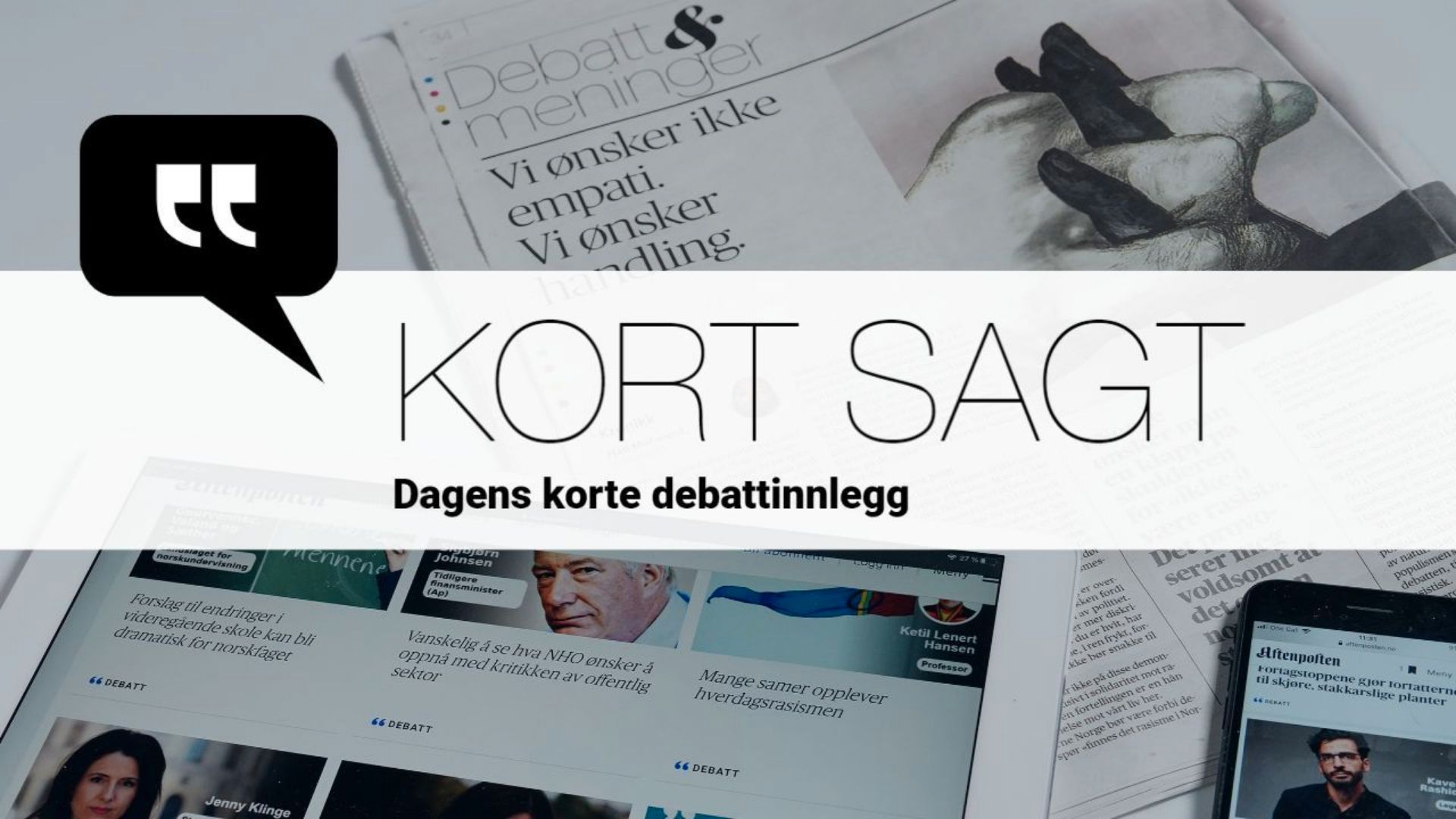 Telephony for the elderly and broadband. Research dissemination. Unknown shipping history. This is today's postcard!
Debate
This is a discussion post. Opinions in the text are the responsibility of the writer.
The commentator cartoons
In Aftenposten on October 5, Christina Pletten writes a comment that tries to reproduce the arguments of those who "want to defend tax havens".
It is a shame that Pletten cannot present his own arguments without caricaturing others. Also in this text, she appeals to me and states that I think it is "unfair and directly wrong to draw attention to some" tax havens, because Norway itself is a tax haven through the Norwegian International Ship Register (NIS).
This is not just a caricature of what I mean, it is absolutely untrue.
the Article What I have written, and to which she links in the online edition of Aftenposten, says otherwise about the need to fight tax evasion and secrecy. That I and some others also try to qualify some of Pletten's one-sided and uninformative articles, I think makes sense.
Kristin Clemet, leader, Civita
---
Our routines failed
In Aftenposten on October 3, Elisabet Kongsbakk writes about her parents, ages 98 and 84, and her experience with Telenor.
We have spent a lot of time organizing simple and good trips for clients. But in this case, we have failed to capture and solve the customer's problems.
When our customer service receives calls in which the customer cannot request, install or use new services, our routines should be that the query is handled until it is resolved. Time can be spent on the phone to guide and assist. An installer can also be requested from the customer to install and demonstrate how the new service works. We have also made it easier for family members to act on behalf of their parents.
We have seen few challenges in relation to the number of clients transferring to new services. When our routines fail, as in this case, it is good for the client to notify us so that we can improve.
Camilla Amundsen, Director of Broadband and Television, Telenor Norway
---
Research dissemination is important
Society has high expectations of the University of Oslo (UiO). It's good. It is expected, among other things:
Excellent research

Research that responds to societal challenges

Quality of education and relevance

Dissemination in dialogue with the general public

Innovation

Entrepreneurship

Management of Norwegian history and objects (mainly through the Museum of Natural History and Cultural History)

Basis for knowledge-based policy and management
And so on, all within a working time frame for the individual.
Different tasks are solved by different people and vary for each individual researcher over time. There are phases where you do more research, teach more, or communicate more. Personal freedom is great. Textbooks are a very important part of this set. It must be balanced with broadcasting on many other channels and not least on digital channels.
UiO's strategy towards 2030 emphasizes communication. Our ambition is for UiO to strengthen the dialogue with the outside world. We will work to ensure knowledge is used, facilitate knowledge-based conversations, and be there where opinions are formed. This is ambitious.
I think there is a great conscience and a good communication culture at UiO. We were successful, but we can always improve, and we take input from Associate Professor Alexander H. Sandtorv when we want to facilitate even better through "training", channels and other assistance. Not least, it is necessary to strengthen the monitoring of researchers who are exposed to incitement and threats.
Svein Stølen, Rector of the University of Oslo
also read
The researcher goes out to his own workplace: – We miss important books
---
An insulted group
Red politician Sofia Rana comments in Aftenposten on September 30 about the proposed park between Børsen and Bjørvika. She was pleasantly surprised that the idea came from Fred. Olsen ». That is understandable!
Shipowners and the "rich" are an insulted group in Norway today. So it is easy to attribute to groups attitudes and characteristics that may not correspond to reality. After working with Fred. The history of Olsen from 2003, does not surprise me.
History is full of future measures related to the environment, sustainability, and human development and engagement. An important driving force in my work has been to show this facet of the shipowner and also of the activities of the companies. Frog is sorry, but if the whole story had been known, Fred would not have surprised her. Olsen's commitment. And that is positive.
Harald Bråthen, co-author of the Fred Olsen story (unpublished) with Fred's former CFO. Olsen & Co, Fridthjov Haavardsson

www.aftenposten.no