Clas Brede Bråthen (52) is accused of having cut his own job. But lawyers for the Norwegian Ski Association see a possible problem using this in a dismissal case against the ski jumping manager.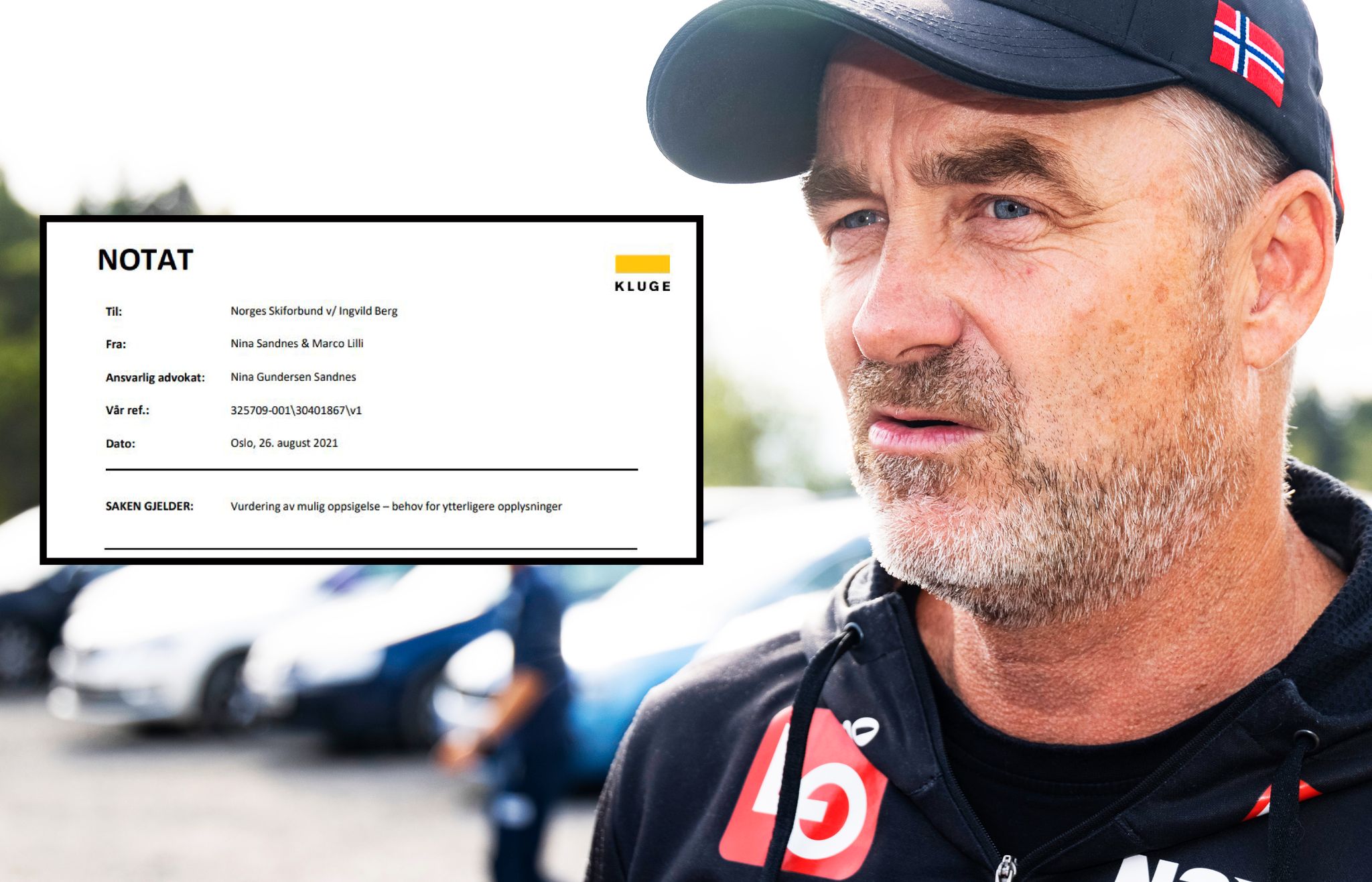 Aftenposten collaborates with VG-sporten. Therefore, as a reader of Aftenposten, you also get articles and services created by VG.
Displays an internal memo from the Kluge Law Firm, which has been given access to VG. Kluge works for the ski association in conflict with Clas Brede Bråthen.
The document is titled "Evaluation of possible termination: need for more information" and is dated August 26. It is the same date as the ski association meeting. sent a press release where Bråthen was accused of unacceptable behavior and communication.
It was in late June that the jumping committee leader Alf Tore Haug sent the jumping manager a signed contract for the period until 2025.
Then Bråthen signed the papers himself and sent a joint email thanking him for the trust. Later, Haug claimed that he only sent one draft and that Bråthen has tried to hit your own job. Bråthen thinks however, what more emails shows that Haug has misinformed himself in the case.
VG may reveal new details today about the reason for the special episode:
Early june General Secretary Ingvild Bretten Berg was contacted by the jumping committee, with the message to sign an extension to Bråthen's contract. Bråthen has been a jumping manager for 17 years, all the time on temporary contracts.
also read
Røste receives circuit referrals for handling the Bråthen case
However, General Secretary Bretten Berg refused to sign and defended demands for a change in Bråthen's behavior.
That was the reason for a meeting on June 24, where the jump management sent five people, including national team manager Alexander Stöckl and marketing coordinator Arne Åbråten.
At the meeting, the marketing coordinator Åbråten demanded that the jumping committee leader, Alf Tore Haug, resign from his position. And that Bråthen had to be sent a new contract.
– The reason why the steering group asked Haug to resign as chairman of the jumping committee, was that he himself had said before the June 10 elections that if he did not manage to sign a new contract with Clas Brede before the election of a new jumping committee, then he would retire as a candidate, Åbråten explains to VG.
The day after, Friday June 25 According to the in-house counsel note, he and Haug must have had the following SMS exchange:
Åbråten: – Hello, from what I understand, CBB has not received the contract. Is there anything unclear from yesterday's meeting?
Haug: – I ask for respect so that we try to solve this case.
Åbråten: – Respect? I hope you have respect for what we said yesterday. Not to threaten, but our path to the media, as outlined yesterday, is fast approaching. Send the contract to CB as soon as possible.
Then, according to the lawyer's note, it takes two minutes before the following message is sent:
Åbråten: – It has been sent?
Haug: – We are trying to solve the case.
Åbråten: – Alf Tore. I really hope that yesterday's meeting gave you a confirmation. What we do not understand and we do not like is that you do not respond to CB or give you your signed version.
There is a sentence in the lawyer's note.
But in the original SMS, the phrase continues with «Like you said yesterday that it was natural for you to do it. You have to explain to us why you don't do it.
Haug had already signed and dated a contract, which he sent to Clas Brede Bråthen. Haug maintains today that this was one draftand not a final contract. Bråthen disagrees and has questioned why someone signs and dates a draft to a contract.
also read
Ski association with letter to Bråthen ally: Demands answers on loyalty
In the memorandum to which VG has been given access, General Secretary Ingvild Bretten Berg and Ski President Erik Røste answer specific questions from their own lawyers in Kluge.
In the note, the attorneys write the following:
"A potential challenge with using incidents related to the draft contract in a case against CBB, is that you can claim that jump management in this case operates on its own, and that CBB, for example, cannot be blamed. for Åbråten's threat to go to the media unless the contract is signed. '
He then asks if the ski association has information that can show that Åbråten and Bråthen have acted together.
Ingvild Bretten Berg responds to her own lawyers in the note:
We have no "evidence" that Arne and Clas Brede operate in pairs, but I have an assumption about it, which I can try to substantiate with the following information; Friday June 25 at 10:36 PM I receive an email from Arne Åbråten with a request for access to personal information in accordance with the Privacy Act. Saturday June 26 at 08.06 I receive a similar email from Clas Brede where he has taken a screenshot of the access request that Arne sent, and he sends me the same request ».
– I thought it good to inform my immediate manager, Clas Brede, that I used my right to send a request for access to my personal information to the employer and therefore received a copy of what I sent him NSF 25.6, Åbråten explains in day.
VG has contacted the Norwegian Ski Association regarding this case.
"VG has been given access to the internal documents of the case and we cannot comment on the content of these", communications manager Espen Graff writes in an email.
Bretten Berg writes in the note that the ski association is aware that Åbråten and Clas Brede Bråthen have been friends for many years.
"But of course we have no fixed evidence that they operate in pairs, other than that we hear a lot 'in town' about it." writes the Secretary General.
Åbråten emphasizes to VG that he has had a working relationship with Bråthen since 2005, and that the two have worked closely together on the job for the Norwegian show jumping.
– Most of the time we agree on the academic content. I have never perceived this to have been a problem for the Norwegian Ski Federation as an employer, nor have I heard the term "two teams" used about us. If we have a "nickname" with an employer I'm not familiar with, others should be able to explain it, he says.
VG revealed last week that the ski association, which is being sued by Bråthen, is considering the removal of the ski jumping manager, who has coaches, athletes and sponsors behind him.
The ski association has also questioned Arne Åbråten's loyalty and demanded that he written responses about this.
The lawyer's note cited in this case thus shows that a dismissal was already on the agenda internally at the ski association in August. Yesterday, Tuesday, VG wrote that Bråthen you have now been summoned to a discussion meeting next week. This may be the first step towards the termination of the man who has a few months left on his contract.

www.aftenposten.no