Art. Tax. Food in a nursing home. This is today's postcard.
Debate
This is a discussion post. Opinions in the text are the responsibility of the writer.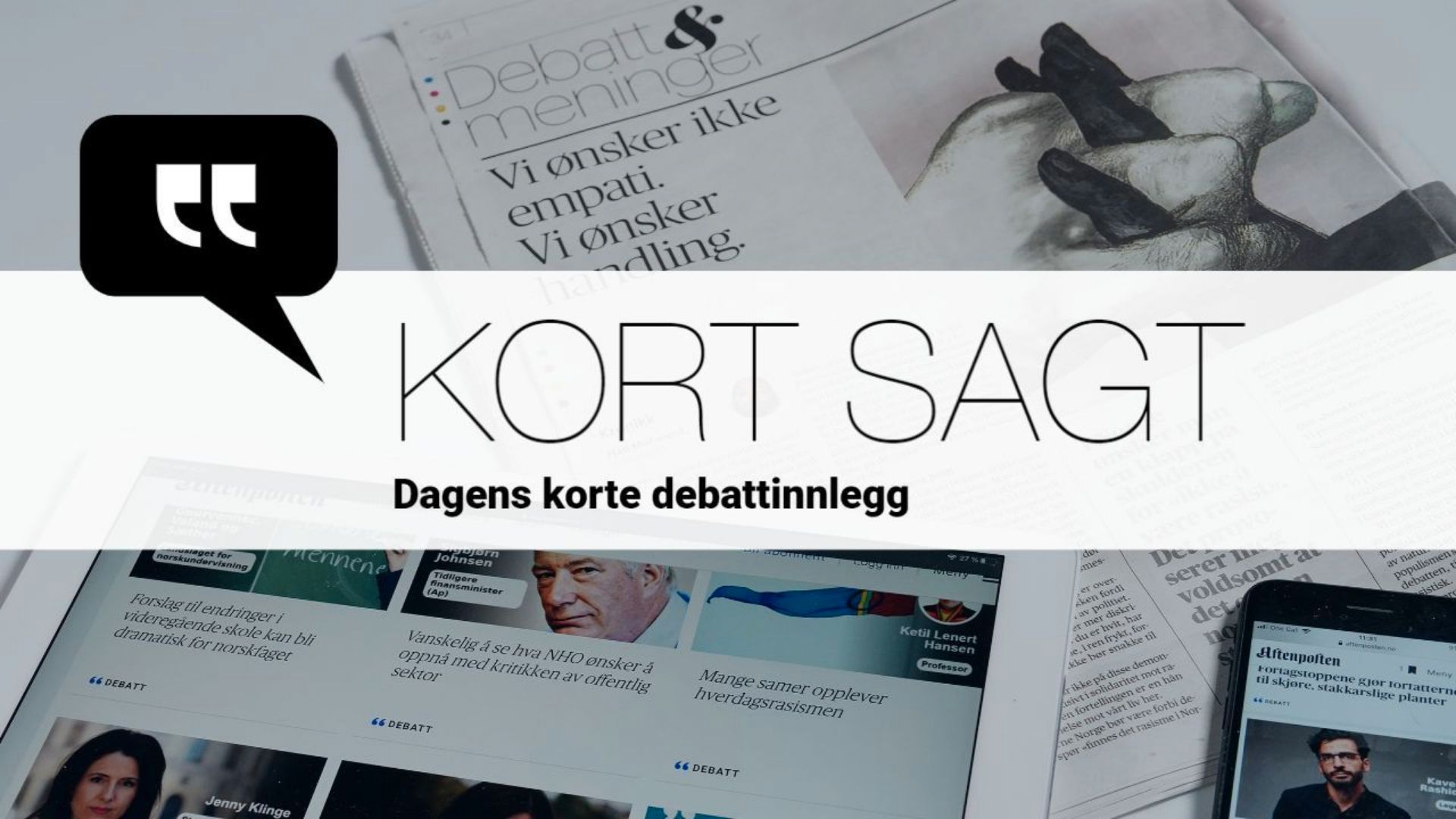 An instruction manual for art?
At Aftenposten on August 25, Jon Elster claims that a curator was fired from Momentum because he did not want to "explain" the artworks. The evidence for this is a comment from Lars Elton. (It doesn't say in Elton's text, but it can be. It's Elster's interpretation of this, understood or misunderstood).
The fact is that a trustee was fired because he did not present a contractual text in which he had to explain and clarify his own idea of ​​the trustee's action. It's part of the job to be open about what you think and what you want. You can leave, but then you don't do what you have agreed to.
However, no one believes that neither the curator nor anyone else can "explain" or give instructions for the art.
If someone should have been formulated that way, it must be for ironic-pedagogical reasons, where the background is a common certainty that in principle it is impossible, and the intention is to lead someone to think something by hitting them on the head with something that is obviously not the case.
Unfortunately, it is also not true that the titles of works are meaningless, although many wish they were. The problem is often the opposite: titles tend to be too meaningful and draw attention in the wrong direction. Therefore, they can be destructive for the purpose.
When curators never give recipes or instructions for use or explanations of the art they display, it does not preclude the existence of an "instructional art", good or bad.
It is a type of art that cannot be understood without having to read about it. This type of art seems to spread, because it may be "understandable", but it does not differ significantly from what is not art.
One may wonder why this has become so widespread. But it is a completely different matter, even if it is similar.
Dag Aak Sveinar, Director, Gallery F15 and Gard Olav Frigstad, Professor of Theory, Oslo Academy of Arts
---
Taxes create value
Kristin Clemet is disappointed with the development of the debate on growing inequality (Aftenposten October 1). According to her, she is ashamed of the "unadorned messages" about, among other things, taxes. But after reading the post's headline, I wonder what it means.
"Taxes do not create value" is a statement that I do not understand. Possibly it suggests that value creation only takes place in the private sector, while the public sector is a pure spending item in the state budget, as some often claim.
Does Clemet really believe that the tax revenue that funds education doesn't create value? Or do you think that the financing of schools and kindergartens should be left to private individuals?
If everyone had to finance their children's education themselves, that is, buy educational services, it could "create value" in someone's eyes. The education of children would not be an expense in the state budget, but in the accounts of each family. However, there is nothing to suggest that this would create more value in Norwegian society.
Everything indicates that such a scheme would have led to large groups of young people receiving a poorer educational offer than what we currently finance through community solutions.
We all have a responsibility to contribute to a nuanced and accurate exchange of words. Taxes create value, Kristin Clemet. And the tax-funded public education system is the best example of its headline being unadorned, or perhaps completely wrong.
Steffen Handal, Leader of the Education Association
---
My wife complained about the food for several years.
I read with interest the article "More and More Seniors in Nursing Homes Get Very Little Nutrition" and I can't help but think about my wife. He died at the end of January.
My wife complained constantly and for several years about how bad the food was at the nursing home. I tried to tell her that it couldn't be true that it was that bad and that she had to be more positive.
I had several meetings with management, but it never got better.
I tried to bring food that I prepared myself at home, so that my wife would have more food. But she only got thinner and thinner.
The article sheds light on the problem and I hope the senior care leadership takes this seriously and does something about it. It cannot be the intention that the elderly who have contributed their whole lives to society end their days like this.
Today I blame myself for not doing enough to improve it and walk with a constant guilty conscience.
Jan C. Bronger, Oslo

www.aftenposten.no