JORDAL AMFI (VG) National team coach Fritz Aanes (43) resigned when Exauce Mukubu (20) withdrew from the World Cup after a heavy weight cut. The 20-year-old thinks he should get better help ahead of time.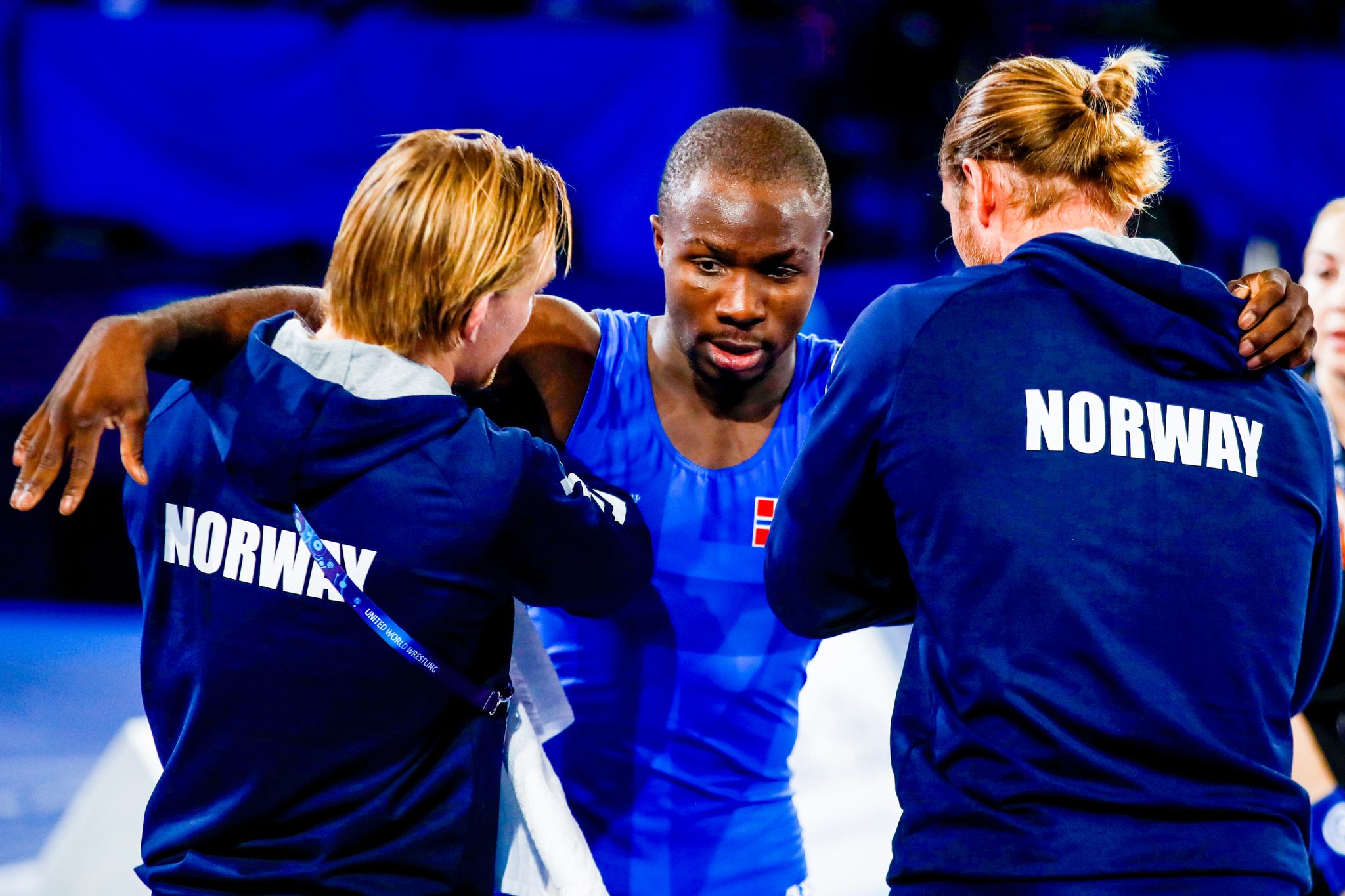 Aftenposten collaborates with VG-sporten. Therefore, as a reader of Aftenposten, you also get articles and services created by VG.
Mukubu, nicknamed "Exo", has had a brilliant youth season with bronze at the European Championship and silver at the World Cup. He was considered an exciting challenger in the 77-pound class in the senior WC.
– We expected him to win the first game, but then he must take the weight seriously. I think he hasn't done that and therefore runs out of power, Aanes tells VG after Mukubu lost 6-11 to Indian Sajan Bahnwal.
Bahnwal then lost the quarter-finals and thus also missed a chance to qualify again.
Mukubu explains the weight issues with an injury he sustained in Denmark two weeks ago, something Aanes doesn't understand:
– You received a slight bump to the ribs, but it shouldn't affect how much you have to lose weight.
– How much did you have to go down?
– I don't want to say that, but it was a lot. It was completely over before it had to break. He won't compete that much more at 77 kilos, and he will tell you clearly, Aanes says firmly.
A very disappointed Mukubu meets VG in Jordal Amfi a few hours after the defeat.
– It's bitter to break out. Family and friends had performed here, and he dreamed of being able to fight for a bronze final, he says quietly.
Mukubu also didn't want to say how many kilos he had to lose.
– I had a conversation with Fritz yesterday (Wednesday) and wanted to make a plan on how he would reduce the weight. I didn't get any help and I wish he had been more involved. But I am not in the national team and I will not receive that follow-up …
– I feel like a "recruit boy" who is brought in when needed.
also read
The bull out of the World Cup – do not regret the tactic
– You need older people
– What do you think when Aanes says that you cannot compete more in 77 kg?
– I have won four medals in 77 kg this year, so it cannot be so frivolous. It's probably the preparations that have been the problem.
– Fritz may have his opinion, but it's bad to label me trash. These are things that practitioners do not need to hear. "We have had several conflicts and that is the reason why I have chosen to be out of the national team," says the 20-year-old.
Mukubu says the plan is for him to join the national team program shortly.
– The comments you make mean that I have to consider whether it is so accurate. I'm still a 20-year-old boy and I need grown-up people around me. Fritz is not a good character or father figure.
– We'll see how it goes. It is at least an advantage that Stig-André (Berge) joins the technical team. It can weigh a bit, says Mukubu, who has the Paris Olympics in three years as his big goal.
Aanes does not want to comment on Mukubu's criticism, but emphasizes that they should talk about the plan together in the future.
also read
The devastating profile of the World Cup wreck after a serious diagnosis: – It was cursed
Aanes has received a lot of attention in recent weeks after NRK came up with the documentary series "Head in a pinch." The coach of the national team, Felix Baldauf, is in constant conflict with the head coach.
Baldauf has also chosen to run a separate program on the side of the national team. He is not with in the toilet after serious injury problems, and was recently diagnosed with ankylosing spondylitis.
With to learn
Both Mukubu and Per Anders Kure actually compete in the 77kg category, but Mukubu won the pre-World Cup tie, so Kure had to climb to 82kg where he lost 3-4 to Croatian Bozo Starcevic.
Snorre Harsem Lund (55 kg) also exploded in the first match at 0-9 against Japanese Ken Matsui. Norway's only victory so far in the championship came when Håvard Jørgensen (72kg) beat Colombian Jair Alexis Cuero Muñoz 3-1, but lost 0-8 against Armenian Malkhas Amoyan in the quarterfinals.
Later, Amoyan secured a place in the final and therefore Jørgensen can work his way to a bronze final through re-qualification on Friday morning.
P.S.! Oskar Marvik (130 kg) and Marcus Worren (97 kg) will compete on Friday. On Saturday Stig-André Berge (63 kg), Morten Thoresen (67 kg) and Ruben Elias Been (87 kg) will be in action.

www.aftenposten.no