ISTANBUL (VG) Stefan Kuntz (58) makes his debut as a coach for Turkey in the World Cup tie against Norway. At Thursday's press conference, the German was silent on the tactics he will use to win.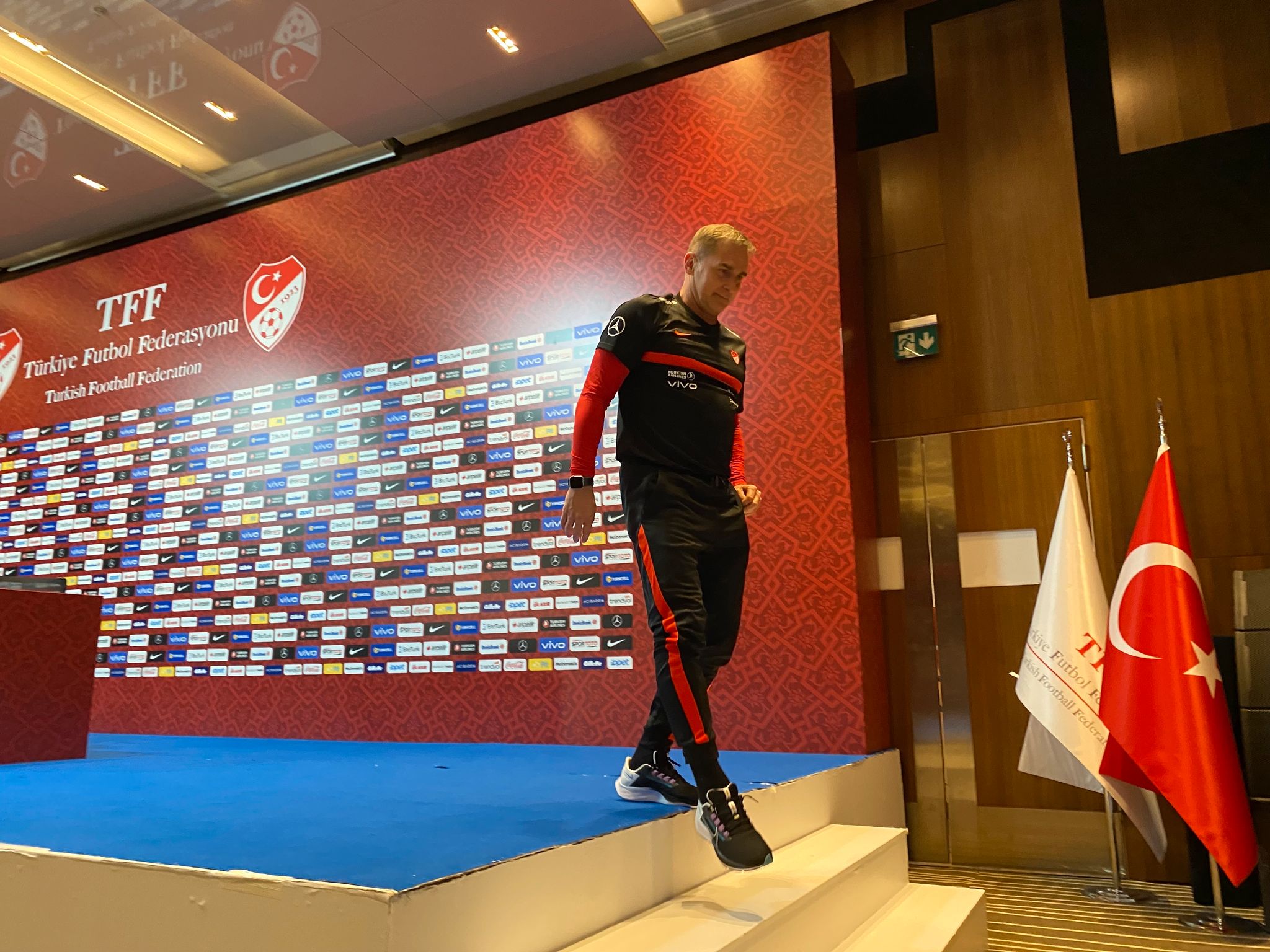 Aftenposten collaborates with VG-sporten. Therefore, as a reader of Aftenposten, you also get articles and services created by VG.
– It's because you're here! Kuntz responds in cash to the VG reporter when asked why he doesn't want to say anything about tactics ahead of Friday's all-important game.
– I know that people are interested in the changes I want to make in the team, but Norway will understand what I am saying here. That's why I don't want to talk about it.
The 58-year-old from the small town of Neunkirchen in Germany was linked to the managerial position of "Die Mannschaft" after Joachim Löw's departure this summer, but on 19 September he was introduced as Turkey's new manager.
Just one day before Friday's game against Norway at the Şükrü Saracoğlu stadium, he met with the press together with team captain Burak Yilmaz (36) at the magnificent football association's facilities by the Black Sea.
– He likes secrets
Turkey is hungry to participate in the World Cup after being out of the most generous tournament of national teams since 2002. That is one of the reasons they have brought in Kuntz.
The 58-year-old comes from work as a coach for Germany's Under-21 national team, which led to gold at the European Championship both in 2017 and earlier this year. As a player, he scored 179 goals in 449 Bundesliga games, making him one of the top scorers in league history. He also won 25 games for the A team during his active career, and did not lose any of them.
During Thursday's meeting with Turkish and German journalists, as well as the VG reporter, it was impossible to be wiser about how the team will perform against Norway.
– I have no idea what formation Turkey will use or who will play. You like secrets. He likes to keep everything to himself, Turkish TV reporter Ege Kiraz of beIN Sports tells VG.
Don't expect radical changes
Kuntz and Yilmaz received many questions about the trouble in the Turkish field that led to the change of coach, without wanting to go into much about it. The captain says the team has already received new energy, after only a few sessions with their new boss.
– We have a new coach. We have a new atmosphere. We can see what new it brings us. We are very motivated to play against Norway, says Yilmaz, who scored hat trick against Holland in the opening match of qualifying for the World Cup.
– It probably won't be radical changes, but you will probably see that some things are a little different from Norway. We are very focused, says the spearhead of Turkey.
Helped beat Norway 3-0 in March. Now both teams are coming up with several new faces for Friday's game. After VG's questions, Kuntz responds that he thinks Norway's main injury problems will lead to a different kind of resistance, but he doesn't think it will necessarily weaken the Norwegian crew in a single match.
– I didn't coach the last camouflage here, but I know the team beat Norway with all the big names in place. I know that in one or two games, all those who replace the big names can do well. That's why I don't think Norway is going to lose so much quality, says the Turkish coach, before he elaborates:
– Of course there will be new players in some positions. They may not all be so cohesive, but to be honest: you know that I am new here and I only care about my team and that it must be full of quality in the match.
As coach of the Germany Under-21 team, his teams appeared with energy, running power and a great disposition to attack. You probably want to see Yilmaz and the other players the same way against Norway on Friday night. The start is at 8:45 p.m.

www.aftenposten.no