– The world is ruled by a lot of old pigs, says Elisabeth Moberg in "Women on the Edge". Photos of Sandviken players are now being posted at various locations in Bergen.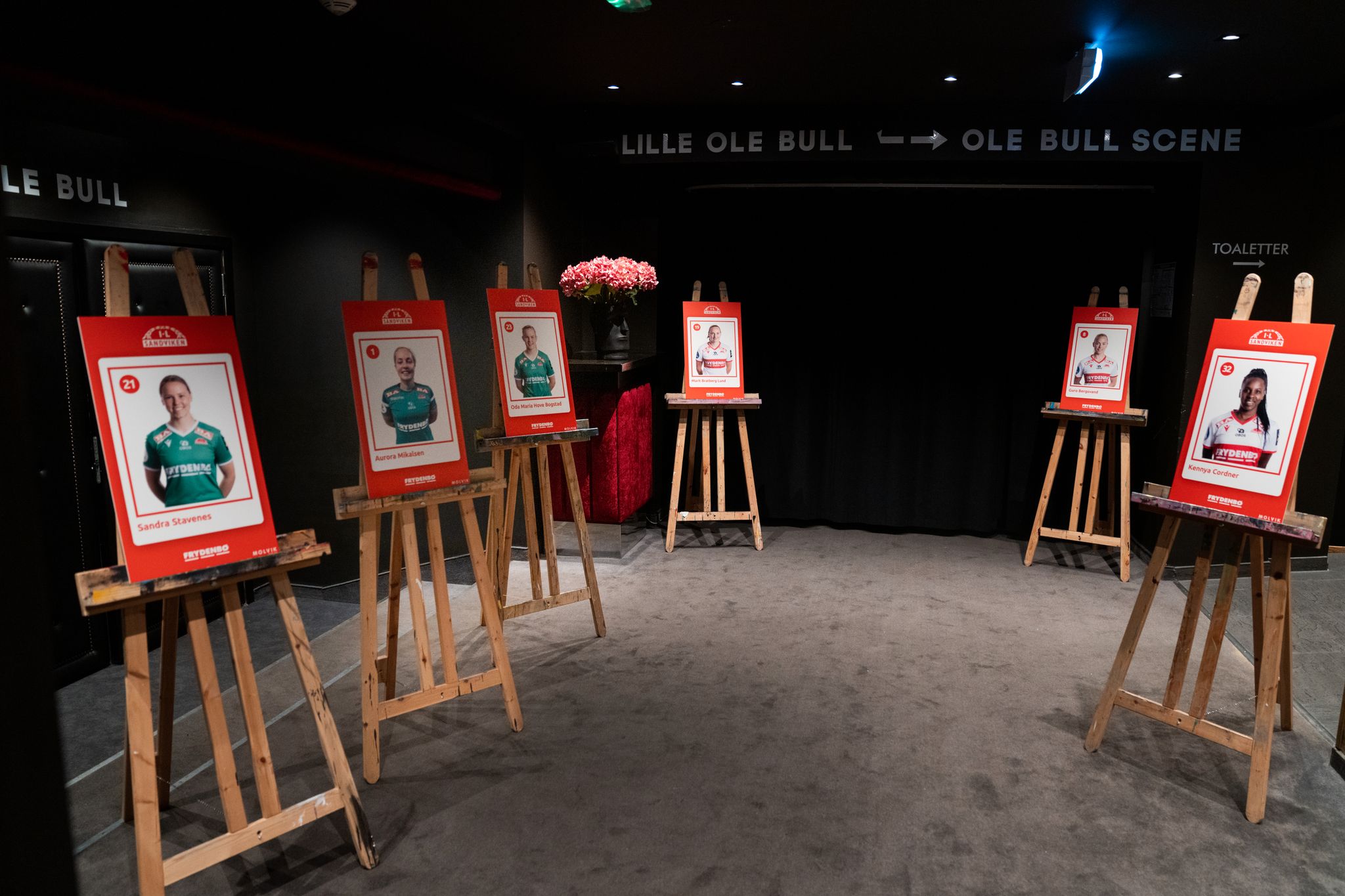 What about photos like they were removed from the dressing room at Sandviken because they were "disruptive" it has aroused reactions. Many now choose to show their support for Sandviken by posting the images on their premises.
The trio of actors "Women on the Edge" are some of those who have reacted. On the Ole Bull stage, where they give a show, they have now made sure that the footballers characterize the lobby.
– We were bothered to read about the case. Inside our closet we have photographs of our colleagues, and photographs inspire us. What happened in that dressing room is a completely backward country, says Marit Voldsæter.
The exhibition that the trio has taken the initiative to extend through Christmas, and around 25,000 people in the coming months will pass the images on their way to the room, according to "Women on the Brink."
Kjersti Berge is a girl from Sandviken, and that says she is missing from what happened.
– This is in addition to a number of little things that show bad attitudes towards women. This is not how we can have it, says Kjersti Berge.
– The world is ruled by a bunch of old pigs, adds Elisabeth Moberg.
– A great victory for us
On Friday night, Mette Hammersland, Sandviken Toppfotball media manager, and Sandviken player Marthine Østenstad were on site to see the new exhibit.
– This is really cool, says Østenstad.
She says that gamers are shocked by the response they have received after the case of the images became known.
– We think it was all stupid, and the sad thing is that we may have got used to being treated like this. So it was a great victory for us to put the photos back on the dressing room wall, says the footballer.
– We do this because we believe that what was done at Sandviken was both disgraceful and a mockery of the Sandviken players, says theater director Sølvi Rolland on Ole Bull Scene.
The theater chooses to let the images of the women's team adorn the entrance area as a framework of equality and support for the Sandviken players.
Rolland never thought that something like this could have happened in the culture industry. It has photos of all the artists who have performed on stage in the artist's dressing room.
– Nobody has ever said that the images are offensive or demotivating, but it is a great motivation to see other male and female artists sell full houses and perform on stage, he says.
– That this is a storm in a glass of water, they have to go further into the country. It's about attitudes. It would never have happened if it had been an elite men's team that had posted pictures in the locker room.
"Everybody" wants women on the wall
Also at the Fyllingsdalen theater, they mark the support for the women's team.
Actually, pictures of the theater were to be hung on the walls, but when the theater director read what had happened in Sandviken's dressing room, the plans changed. Now Sandviken players will adorn the wall of the children's and youth theater.
– We have the best football team in Norway. We want to make this visible. We want to show that we are incredibly proud of this team. What they have achieved is absolutely fantastic and we will be proud of them and propel them forward, says theater director Jørn Kvist at Fyllingsdalen Theater.
Encourage others to do the same:
– Get photos of these fantastic players. I promise that the photos will not disturb us. Our experience is that good women inspire both men and women, he says, adding:
– Of course, like this, I never thought I would have to tell a journalist.
– Inspiring
Ado Arena, which is Norway's premier swimming and diving facility, receives about 40,000 visitors each month. Images of Sandviken players will now be hung on the walls of the swimming facilities.
– We want to splash the players a bit. They use the swimming facilities to recover and train after injuries and are very happy to be allowed to come here. They're not exactly spoiled, says director Håkon Egeberg Johansen in Ado Arena.
Ado Arena has collaborated with Sandviken Toppfotball for several years.
The photos will be hung alongside the medals of the late swimmer Alexander Dale Oen, along with photos of swimmers, divers and triathletes. Egeberg Johansen believes that women will be a great inspiration to many.
– I think that nobody is bothered by the images, but rather is inspired to think that if you stand firm and do a good job you can go far.

www.aftenposten.no