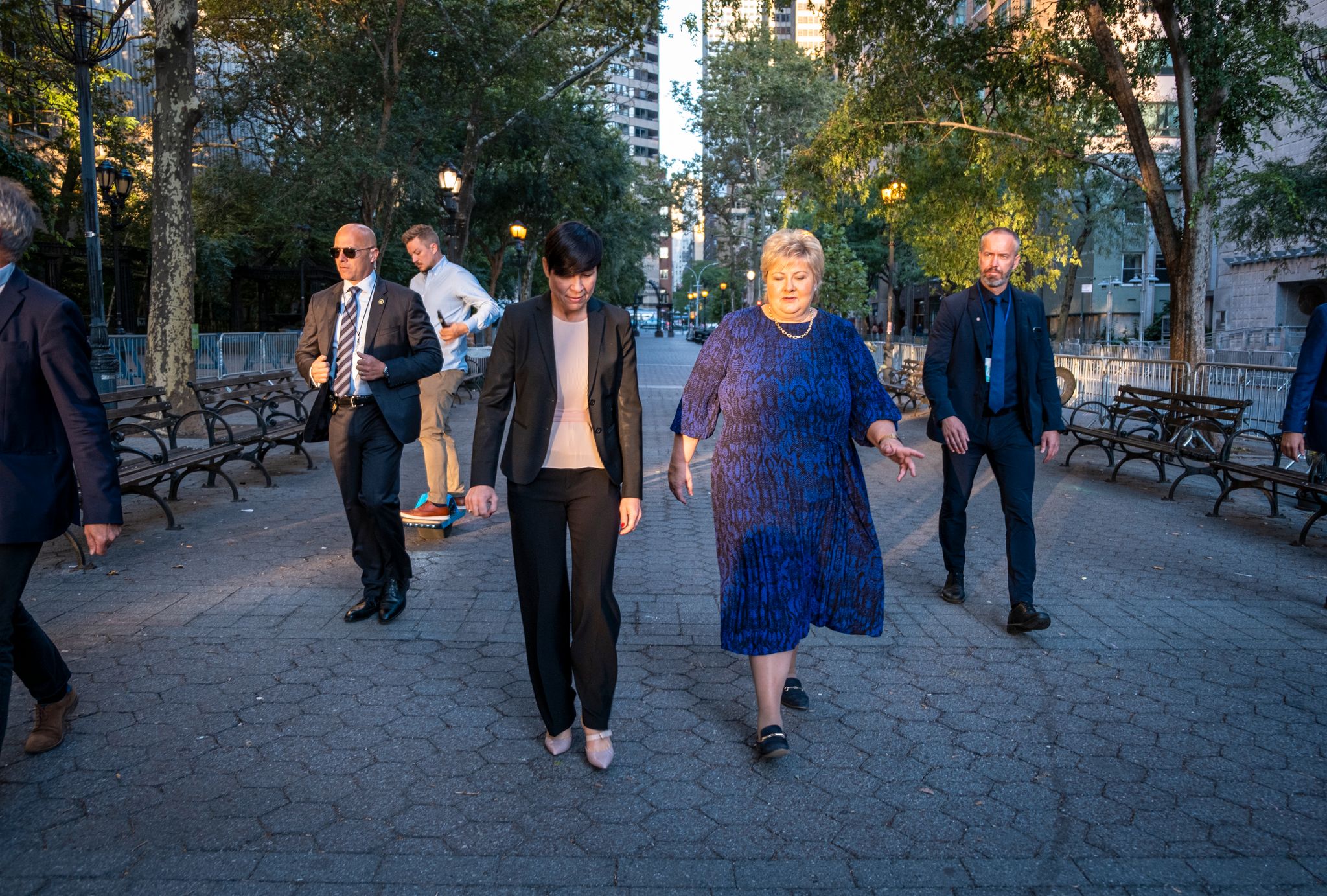 The rivalry between the great powers is once again a turning point in international politics.
Chronicle
This is a chronicle. Opinions in the text are the responsibility of the writer.
Storting President CJ Hambro influenced Norwegian politics throughout his life. But as a leading figure in the League of Nations, he was also actively involved in attempts to resolve the international crises of the time.
Hambro understood that if Norway wanted to preserve freedom and room for maneuver in a world of increasing rivalry, it needed a strong defense and a strong international legal order.
Our room for maneuver is still based on these two basic dimensions. As Minister of Defense and Minister of Foreign Affairs, this has been one of my top priorities.
In the last eight years, there have been several clouds in the sky. Russia has remained steadfast in its assertive foreign policy following the illegal annexation of Crimea in 2014. Internally in Russia, the democratic space has become smaller.
The security architecture in Europe has weakened after many years of pressure, while international cooperation on a larger scale is affected by a deepening strategic rivalry between China and the United States. In several countries, nationalism, populism, and isolationism erode the will to compromise international cooperation.
Well-appointed
The decade after the financial crisis was different than we might have imagined. No one knows what will follow the pandemic. However, I am confident that the government will leave behind a well-equipped foreign and security policy for the future.
We have built the Armed Forces since its foundation and invested, among other things, in new equipment for the Army, new submarines, fighter jets, and maritime surveillance aircraft. Adjusted for inflation, the defense budget has increased by NOK 16 billion over the past eight years.
In 2020, Norway spent more than 2% of its gross domestic product on defense. 30 percent of this went to investments. If the long-term plan is followed as expected, the strengthening will continue in the coming years.
At the international level, we have taken an active line to protect and further develop binding cooperation, because that is our most important foreign policy interest. We have strengthened cooperation with like-minded people, but also with countries that are usually further away from us, when we can meet in individual cases.
Build the unit
When we launched the White Paper on Multilateral Cooperation in 2019, it was in recognition of the need to address the pressure for binding international cooperation so that we can safeguard Norwegian interests. This year, Germany has presented a similar message.
In NATO, Norway has been a driving force in reinvigorating collective deterrence and defense, as well as building the cohesion necessary to agree to major reforms. At the same time, we have strengthened bilateral cooperation with Nordic countries and close allies, such as the United Kingdom, Germany, France, the Netherlands and the United States.
The Complementary Defense Cooperation Agreement with the United States (SDCA) facilitates the strengthening of the apparatus we need to receive allied reinforcements. The emphasis is on reinforcements in crisis or war. Grassroots, call and nuclear policies are firmly established. The reinforcement line remains the best guarantee against permanent foreign fighting forces in Norway in peacetime.
Deterrence and peace of mind
Relations with Russia are being dimensioned for our foreign and security policy. It is based on the balance between deterrence and peace of mind.
At a difficult time, we have further developed practical cooperation with Russia in fields such as fisheries management, nuclear safety, search and rescue, and work against plastic waste in the Barents Sea.
People-to-people cooperation has been preserved and we have had good and stable contact at the political level, both bilaterally, in the Arctic Council, the Barents Council and now in the UN Security Council.
After the violation of international law of the annexation of Crimea in 2014, not everything could be as before in relations with Russia, neither for Norway nor for other countries. This is not idealism, but sober realism.
International law is part of Norway's front-line defense and we must defend it. If we let time pass, other problems will wait longer.
Old debate
The debate over how Norway should relate to the great powers is an old one. He has followed the Foreign Service since 1905. In the early years, some believed that Norway, to avoid pressure, should not stick to diplomats or foreign policy.
Norway in interwar Norway debated the raison d'être of the Armed Forces. In our time, some have argued that Norway should refrain from taking demanding positions at the UN.
But Norway has always handled pressure within larger communities better, not through isolation or neutrality. As you now prepare for a new great-power rivalry, it is within a strong UN, NATO and Europe that we can best defend Norway's interests.
NATO has been a bulwark against pressure for more than 70 years. In working on a new strategic concept in NATO, we must strengthen this dimension. We must expand political dialogue and coordinate our response to new security challenges. The further we go in this direction, the less room we leave for pressure.
Close cooperation
We must also revitalize the historical culture of NATO to make a difference, within a clear framework. This is a cause for concern when some member states take NATO processes hostage over bilateral disagreements. We cannot afford that at a time when threats are as often directed at decision-making processes as they are at military targets.
Norway must also continue to build close cooperation with the EU. This has been a priority for the government.
Many of the security challenges of the future lie at the crossroads between defense, technology and commerce. Coordination in fields such as selection, export control, and technology development can prevent pressure and strengthen our national knowledge base. Here the EU and the Nordic countries are natural partners.
A strong NATO pays little if governance in member states rots.
Finally, foreign policy must remain rooted in a resilient Norwegian society. Resilience is not just about critical infrastructure, but also about trust between people and trust in decision makers and political processes.
The defense of freedom, democracy and the rule of law of the Atlantic Treaty are not empty words, but essential for collective defense. A strong NATO pays little if governance in member states rots.
Now the next chapter in the history of Norwegian foreign policy will be written. No one can say for sure what challenges await. But the government is delivering a defense that is in significantly better shape than when we took office eight years ago, and a Norway that is even more involved in international cooperation.
It provides a good basis for safeguarding Norwegian interests in the future as well and handling the lawsuits that may come.
---



www.aftenposten.no