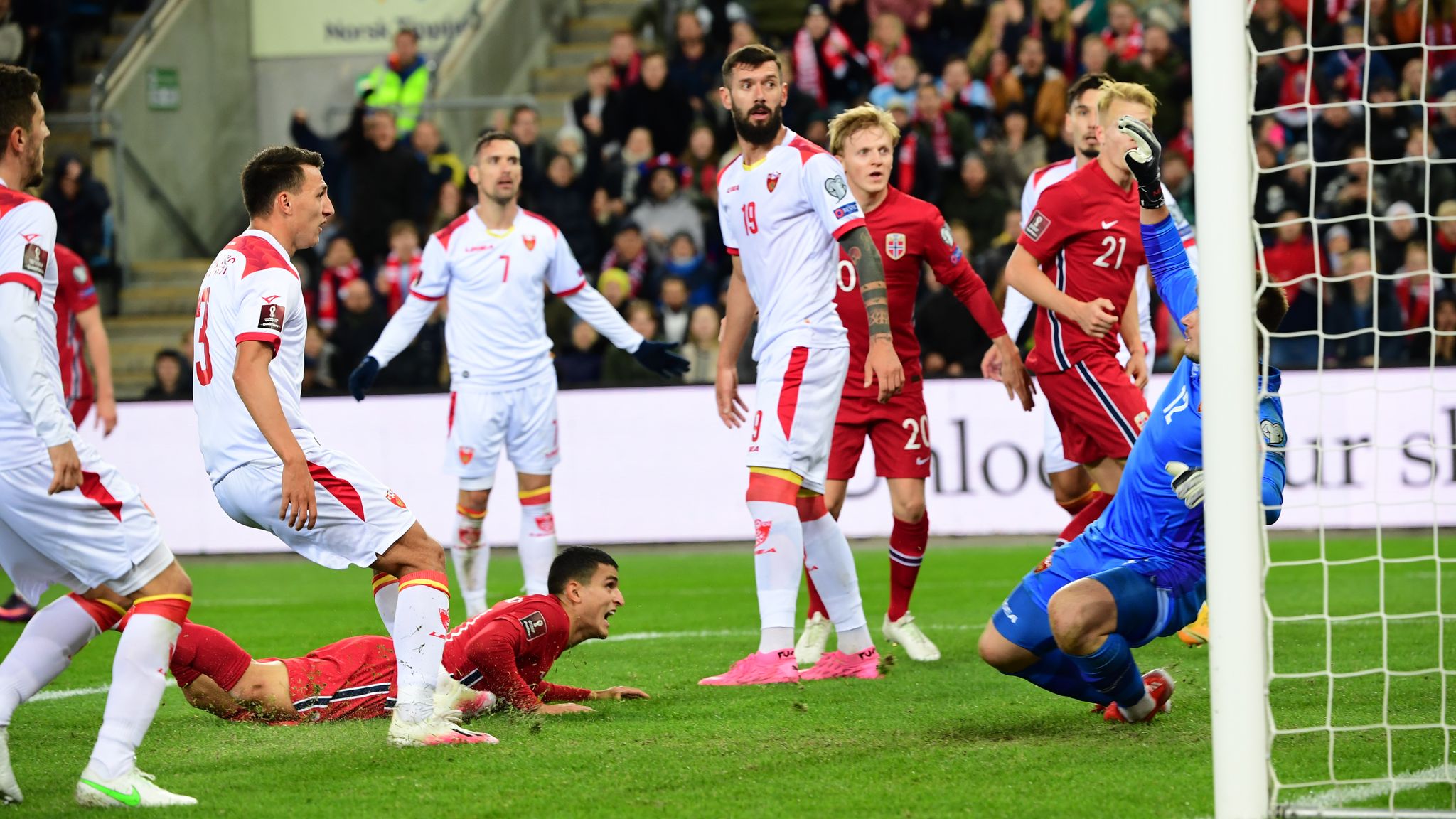 ULLEVAAL STADION (VG) (Norway 2-0 Montenegro) For the second game in a row, Norway scored from a set piece, and this time Mohamed Elyounoussi struck between the posts.
1 of 4Photo: HELGE MIKALSEN
Aftenposten collaborates with VG-sporten. Therefore, as a reader of Aftenposten, you also get articles and services created by VG.
Ståle Solbakken's move to bring in dead ball expert Bernardo Cueva ahead of the national team meeting must be considered a success.
Kristian Thorstvedt saved a point against Turkey after a short corner with posts and back stumps. The recipe was exactly the same when Jens Petter Hauge received the ball from Martin Ødegaard.
He pushed it towards Marcus Holmgren Pedersen, who lifted the ball towards the back post. Stefan Strandberg was very strong at the back post and headed him back onto the field. Mohamed Elyounoussi tried a shot, but from an awkward position, sending the ball to the visiting fans.
It opened up a bit tricky for Norway. Sloppy reception and passing errors caused Ståle Solbakken to give up clearly on a couple of occasions. He roared so that the roughly 25,000 spectators could read Norway's most widely used swear words on his lips as Holmgren Pedersen lost the ball under his foot and on the throw-in.
Midfielder Stefan Strandberg also gave Mats Møller Dæhli a clear message when he ruined the ball a minute earlier, but it was Dæhli and Holmgren Pedersen who created Norway's first opportunity on their own.
The Montenegro goalkeeper saved Dæhli's shot with his left foot, but a corner turned into another corner, and Norway took the lead 1-0 on their second chance of the match.
He came, of course, from set pieces, as he did against Turkey. Mexican dead ball expert Bernardo Cueva has shown that the Norwegian Football Association is worth the money.
In the second half, a nervous team from Norway abandoned part of the initiative. Mohamed Elyounoussi was close on the post, Mats Møller Dæhli had a useful finish, but the Montegriners were also having a great opportunity.
Ståle Solbakken already faced Fredrik Aursnes for Jens Petter Hauge during the break, and continued to give Dennis Tørset Johnsen the A-national team debut when he arrived alongside as Veton Berisha.
Nervousness both on the field and in the stands increased as the clock struck 90 minutes. Just ten minutes before full time, Solbakken decided to replace captain Martin Ødegaard with midfielder Stian Gregersen.
Norway changed to five behind: you had to defend the advantage.
Unaware that Latvia was still holding Turkey in a draw at Daugava Stadium in Riga, after taking the lead for the first time, the blocking trio with Gregersen, Strandberg and Hanche-Olsen went ball after ball.
The latter was injured when he heroically went into a duel and was replaced by Ruben Gabrielsen two minutes before full time.
An almost full Ullevaal stadium carried the Norwegian team forward with constant shouts and a sea of ​​flashlight beams on the phones.
Cheers went to the ceiling when Marko Vesovic signaled his second yellow card in extra time, and even more so when Mohamed Elyounoussi scored his second goal of the night.
Seven minutes of overtime Turkey was punished in Riga.

www.aftenposten.no