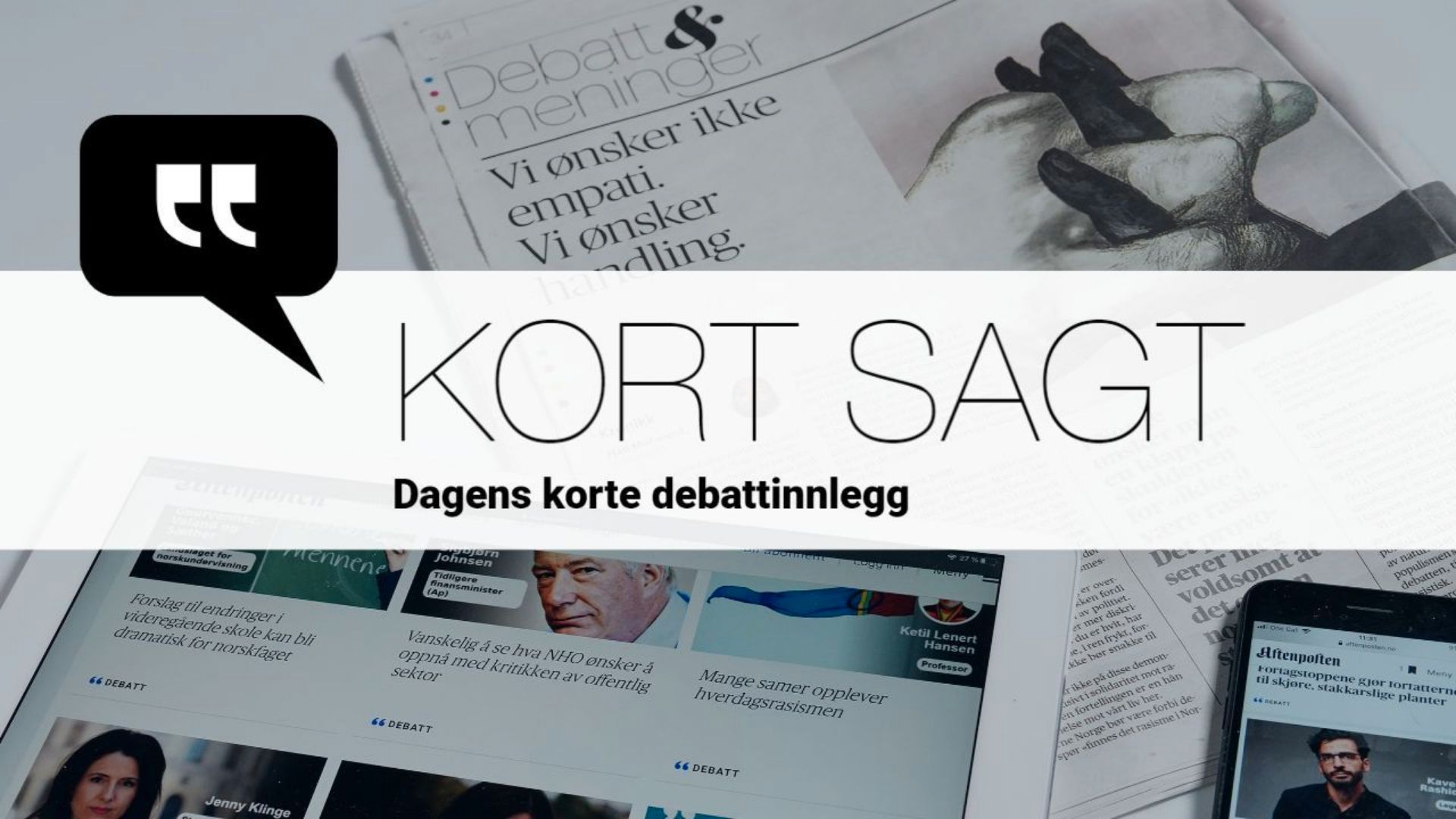 Shower and patient rights. Julian Assange and the Nobel Peace Prize. Taxes and value creation. Here's today's postcard!
Debate
This is a discussion post. Opinions in the text are the responsibility of the writer.
Can we give you a shower whenever you want?
Astrid Ladderud's article "My house has become an institution" makes a strong impression, also for us in the Patient and User Ombudsman. Of course, the law does not quantify how often one should shower. But if you are entitled to medical care, you must also take care of your personal hygiene. Make no mistake about it: showering more often than every six weeks can be safely thought of as that.
When illnesses and accidents hit us, those of us who know the system and the legal texts can quickly help you discover:
what rights do you have

solve which problems to tackle first

which bodies should be contacted to clarify what is unclear
We can attend meetings with the service and be by your side to discuss your case. Asking and transmitting questions, comments and complaints is an important help that we provide, completely independently and free of charge.
We listen to and help thousands of patients and users every year. Through unique experiences, we know that it gives them more value to guarantee their own legal security or that of their loved ones.
Ladderud's right to decide on his own hygiene disappeared overnight. This is not how it should be.
Jannicke Bruvik, West Norway Patient and User Ombudsman, Bergen Office, National Coordinating Ombudsman
---
No Nobel Prize for Julian Assange
We have witnessed the delivery of the Nobel Peace Prize where journalists Maria Ressa and Dimitry Muratov shared the award. They receive the award for their attempts to guarantee freedom of expression, a condition for democracy and lasting peace, said committee chair Berit Reiss-Andersen. Truth and facts are under attack, he added.
Much deserved! After this function in Dagsrevyen An interview arrives with the incoming Prime Minister of Norway. Jonas Gahr Støre (Labor Party) says it was they have who proposed a candidate, and gives their reasons. The two are extremely brave individuals who, at the risk of their own lives, do their job, he said of the winners.
Then we see a sale in Dagsrevyen where the current Prime Minister of Norway, Erna Solberg (H), reads aloud some complete sentences where she praises the winners and tells how important their work is for democracy and to keep power under control. .
After this, the world must have the impression that it is the Norwegian government that is behind the awarding of the Peace Prize. Many outside our borders may think that another high-profile journalist who is in prison for his work should have shared the award as well. You may think that the government and the Nobel Committee did not dare to award the prize to Julian Assange on Wikileaks for political reasons and for fear of the US reaction.
I also believe it.
Arvid Ystad, M.Sc.
---
Taxes do not create value
"Taxes do not create value" was the headline of an article I wrote in Aftenposten on October 1. In an October 7 post, Education Association leader Steffen Handal asks what I mean by that.
Specifically, it asks if I believe that only the creation of economic value takes place in the private sector, or if I believe that, for example, education and health should not be financed by the public sector, that is, with taxes.
I think maybe Handal already knows the answer: value creation takes place in both the public and private sectors, and the public sector should be responsible for financing and ensuring that everyone receives equal and qualitatively good services in areas such as education. and health.
Still, my headline is not bad. It costs money to collect taxes.
The general rule of thumb in Norway is that it costs 25 øre to collect a crown in taxes. Therefore, it can be said that taxes do not create, but destroy values. But then the use of the funds can create new values ​​that correct this.
The final appearance of the calculation, and whether it goes in plus or minus, depends on how the money is spent, what taxes are raised, and how high the taxes are.
Kristin Clemet, leader, Civita
---

www.aftenposten.no