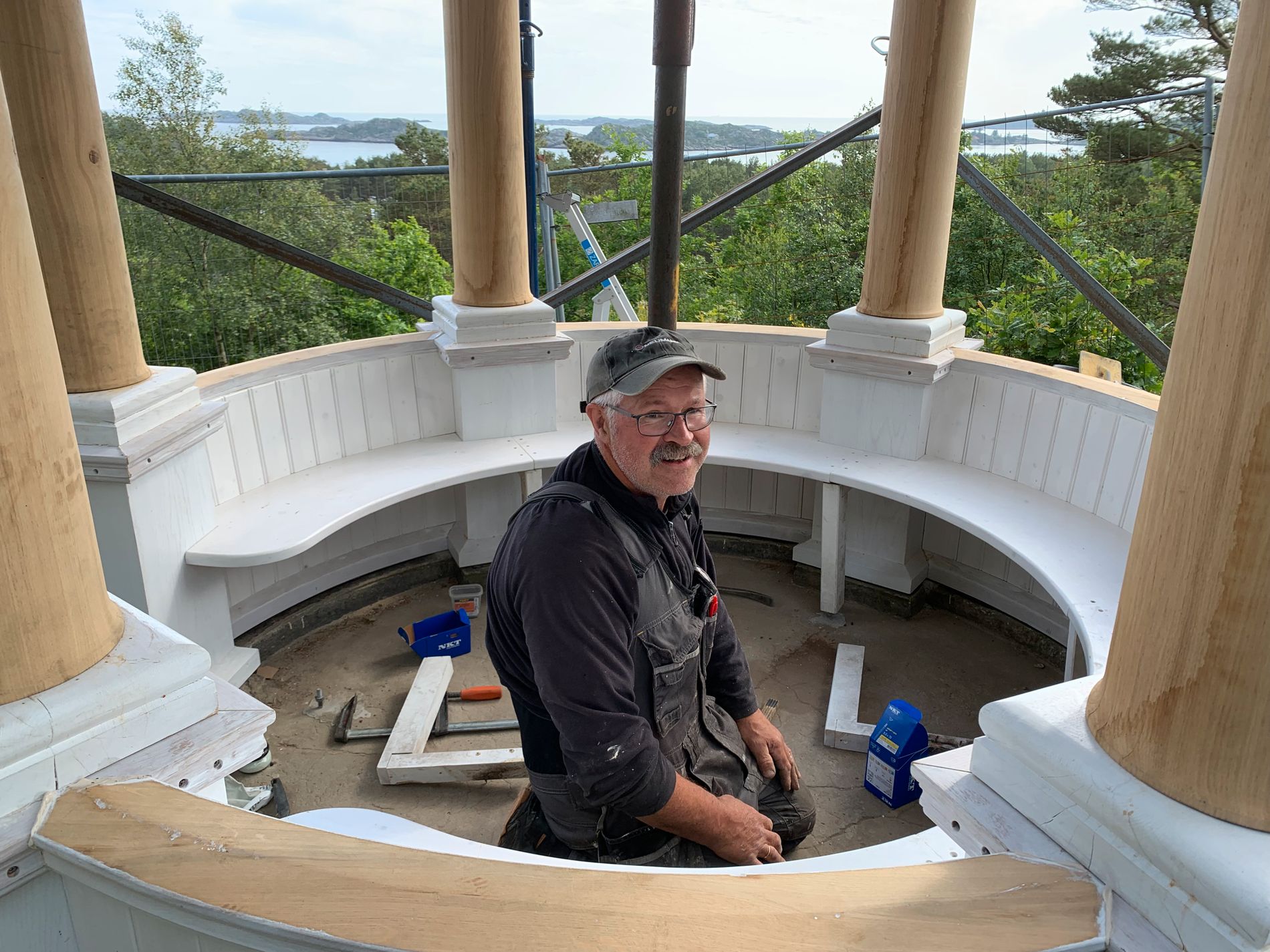 The gazebo has been on the Risøbank wasteland for 115 years and was marked by decay. Thanks to monetary donations from, among others, Sparebanken Sør, the gazebo was completely renovated, in the earl's time.
Advertiser content produced by Schibsted Partnerstudio
– It has been a dream to be part of it! We are very grateful that the gazebo has finally been restored, says Ulf Aanonsen, director of the Risøbank Intermunicipal Company (IKS).
Risøbank was built in 1901 for Lord Edward Salvesen of Edinburgh. The lord wanted a summer place in Mandal, the city where his parents came from. Risøbank's little gazebo was completely renovated this summer, after Lord Edward Salvesen's Scottish descendants donated around NOK 150,000 to Risøbank IKS. In addition, Sparebanken Sør entered the scene with a donation of NOK 50,000.
– Sparebanken Sør lined up as usual and gave us exactly what we needed to be able to get started with the renovation, says Aanonsen.
The renovation was a collaborative project between the County Curator and builder Harald Lund.
– The gazebo has been repaired several times. It is very exposed to the elements and was in very bad condition. Harald Lund has done a wonderful job. People have been full of praise and praise both during the renovation work and when they have seen the final results, Aanonsen boasts.
– Always appears
Maintaining the venerable summer resort is an ongoing process. When Risøbank was taken over by the state in 1971, the authorities wanted to demolish the buildings, but the locals protested loudly.
– Risøbank is a source of pride for the inhabitants and is widely used for both business and recreation, says Aanonsen.
The municipality and county municipality are responsible for maintenance, but Risøbank also has other loyal fans in the local community.
– Sparebanken Sør has always defended us. The funds we receive from them allow for significant increases for Risøbank, says Aanonsen.
A couple of years ago Risøbank received a large monetary gift, which they used for new furniture for the main house library and for dining room furniture.
– Risøbank is very expensive to maintain and maintain, and all the funds we receive are useful, says Aanonsen.
Here you can request financial support
– An institution
– Risøbank and the gazebo are like an institution to be reckoned with in Mandal, and it is important to take care of. These are venerable old buildings and a pride of the city. The gazebo is a small but important part of Risøbank, and when the need for renovation was so great, we would like to contribute, says Roy Møll, bank manager at Sparebanken Sør in Mandal.
Sparebanken Sør is the largest bank in the region and has given gifts to teams, associations, sports and culture for almost 200 years. They hope to continue to do so for at least two hundred new years.
– We are owned by our depositors and, through the donation plan, we will contribute to the growth and development of the local communities in which we live. The gifts go to nonprofits that should mean something to many, Møll says.
Crucial support
Sparebanken Sør in Mandal, among other things, has supported the cycling club, the health sports team, the Laudal shooting team, the Lindesnes Pride, the Øyslebø vel and the code club. The bank also has a large number of permanent endorsement deals with, among others, Good kulturhus, Mandals Turnforening, MK, and Holum sports club.
– All teams and associations that have projects or activities that can benefit the community can request financing from us, says the bank manager.
The feedback on the gifts given is very good.
– We often hear that gifts contribute an incredible amount to many. We often hear that support has been the key to implementing events or projects, says Møll.
The bank greatly appreciates being able to contribute.
– It means a lot to us to be a positive player in the local community. It is a privilege to be able to help volunteers to carry out activities for the benefit of young and old.

www.aftenposten.no