Fritz Aanes is portrayed on television as a loud and ruthless wrestling coach. He readily admits that it's not all bad.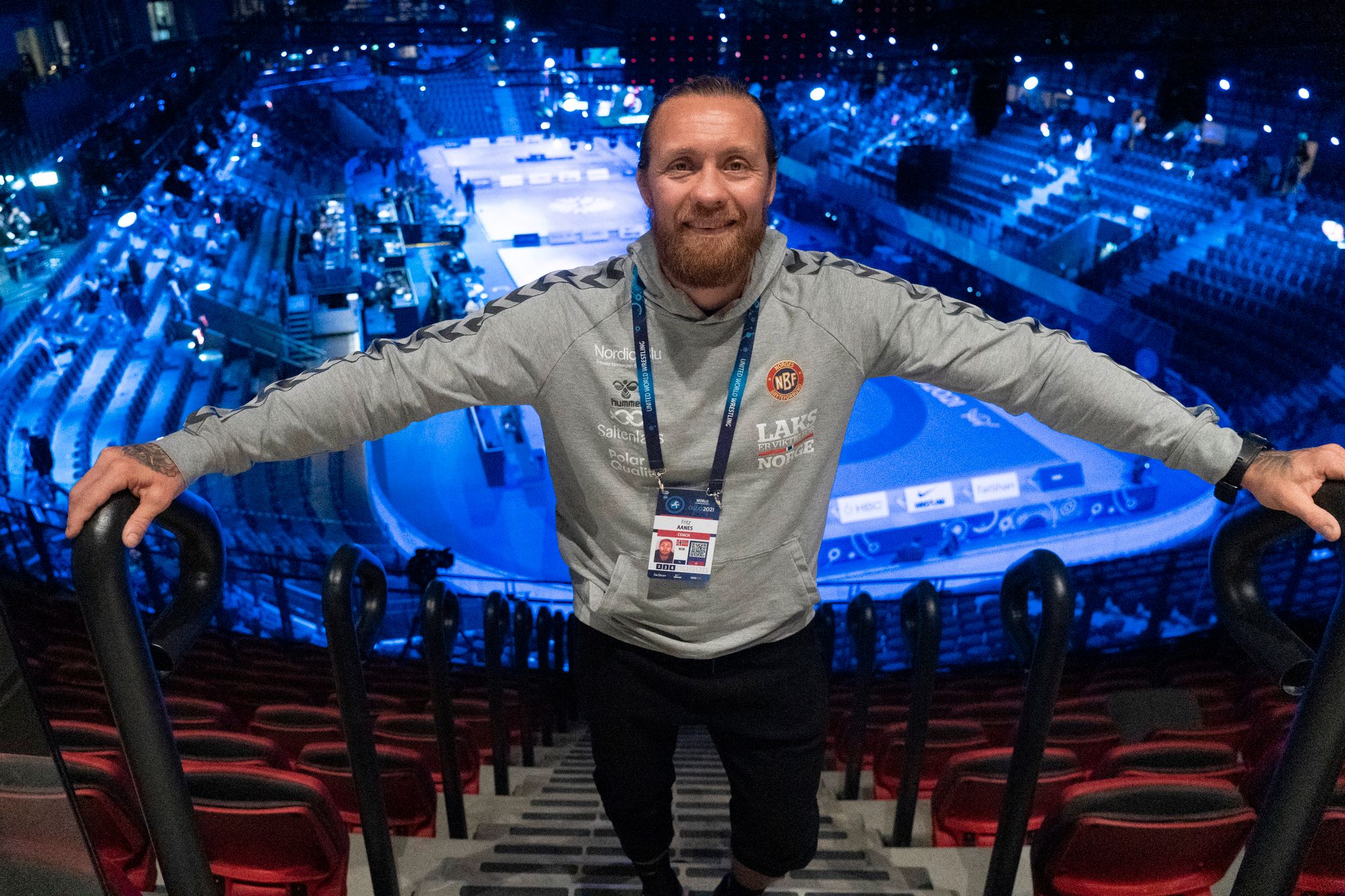 – I can understand being perceived as disgusting. But at the same time, people must understand that this is my job. This is what I live on. Results. I do not live on friendship.
Fritz Aanes is about to cross the table in the Jordal Amfi press center. Beard, tattoos, half-length hair in a knot at the back, a loud laugh, and fixed wrap clips that wave.
It kicks a bit when hard-hitting messages are delivered about most things. It's been a while since she packed three bags of clothes when she was 19 and left Narvik. The northern Norwegian mining town had gotten too small. He wanted to be the best in the world. The train from Narvik to Stockholm stopped at Gävle.
Close to a quick return
No one received the 19-year-old at the station in the Swedish fighting town as promised. On the other track, the train returned to Narvik. For once doubt gripped him that he is an oblique, abrupt and arrogant wrestling coach in the NRK documentary about the wrestling community. Should I go to the other lane and go home?
Whoever was going to pick up wrestling talent at the Swedish city wrestling station, had been delayed. He came and Aanes stayed. The 19-year-old would eventually become one of Norway's best fighters.
He quickly gets involved when it comes to the sport he grew up with. Narvik has always had a great wrestling atmosphere. His father was involved in the club. No wonder he ended up in the sport early himself.
A sport that had its origin in the working class of the city. The father worked for one of the city's large employers, the Swedish mining company LKAB. There he eventually became a sheet metal apprentice and welder. He has a business certificate, but has not been a soldier since taking an additional job in Gävle as a young fighter welding hospital beds.
It was a long race, but he didn't become the best in the world. A fourth place finish at the Athens Olympics was everything. He later lost it after a positive doping test. He had used a dietary supplement contaminated with nandrolone.
After his career, he became a trainer, not a welder.
The hatred that was absent
Sunday afternoon last week. All Norwegian wrestlers have done their part in the home wrestling WC in Jordal Amfi. He came with a bronze for his boys. There are still several episodes of the NRK series Pinched head. Here he has been portrayed as a crude, ruthless and uncompromising coach. The language is spiced with classic northern Norwegian invective where what hangs under the horse is often used to describe the characteristics of the practitioners themselves.
– I expected a lot of hate messages. But I don't have a single one. I look forward to the first hateful message. I like that. He fires me a bit, and I'm actually a bit disappointed in the Norwegians because they don't hate me anymore, he says. This is followed by a broad smile amid the beard.
Now he's not just a delusional insane wrestling coach with a language called exuberant. Not everything that appears in the television series that he is so proud of.
– There is no doubt that Fritz Aanes can appear as a vulgar and tough person, but he also has a big heart as a human being. But the style that I drive is "to go or not", and that style is what I defend. I am one hundred percent like that.
And that is exactly what he demands of the practitioners whom he calls "my boys." It demands everything, and your job is to help them on their way to performance.
– I will do everything in my power to make athletes perform. It's not that I don't care about them. They have attended meetings and have been told that they will become Olympic champions. I have asked if they are willing to do the job. They have responded: "Yes, I am willing."
Fight San Marino
He himself believes that wrestling is perhaps one of the toughest sports in the world. Norway is a mini-putt nation. Aanes believes that the Norwegian fight has resources that San Marino has in the world of football.
– So, every time we take a medal, it is completely unique, even though I am the yeast. I fully understand that someone thinks that I am the yeast. We are a small nation trying to take on large nations that have a budget a hundred times larger than ours. Many of the countries we compete against have athletes who are legends in their countries and when they win medals, they are financially independent for the rest of their lives. My athletes pay 25,000 crowns a year to participate in this.
Once that's the case, you've found your method. The one with the brutal messages and at least such brutal training sessions. In the national wrestling team, they have three words that are central.
Take a sit. Loyalty. Rawness.
– It is a tough sport, and if you want to reach the top, you must be willing to put your health at risk. I often say that sports are healthy, the best are not. There is no doubt about it. If you're going to be on top of the world in wrestling, you have to risk something.
And although he thinks that he himself may have been well demonized at the beginning of the television series, he believes that a good image of everyday life is given to the fighters who want to win.
– When it comes to the lives of athletes, everything is real. This is everyday life. You have to train hard, and the hardest thing in wrestling is not the day of the competition. It is mass training. The quality you must have in daily training is mentally tough.
He believes there is no point in telling the media that they have medal goals in the WC, EC and Olympics if there is no hard bet. Really difficult.
– There are many times that I feel sorry for my athletes. I know they have it difficult, but they have to endure it. Otherwise, there will be no results. Only hard work applies.
Until last Saturday, he was the coach of Norway's best fighter for many years, Stig-André Berge. Now he has resigned and will be one of the assistants of the 43-year-old from Narvik.
He is waiting for that.
– Maybe he'll be the one to come in and balance Narvik's madness?
– Yes, you can say that. But at the same time, there is only one boss. It's me.
4th episode of Pinched head broadcast on NRK 1 Tuesday night at 9:55 p.m. All episodes are available on NRK.no

www.aftenposten.no