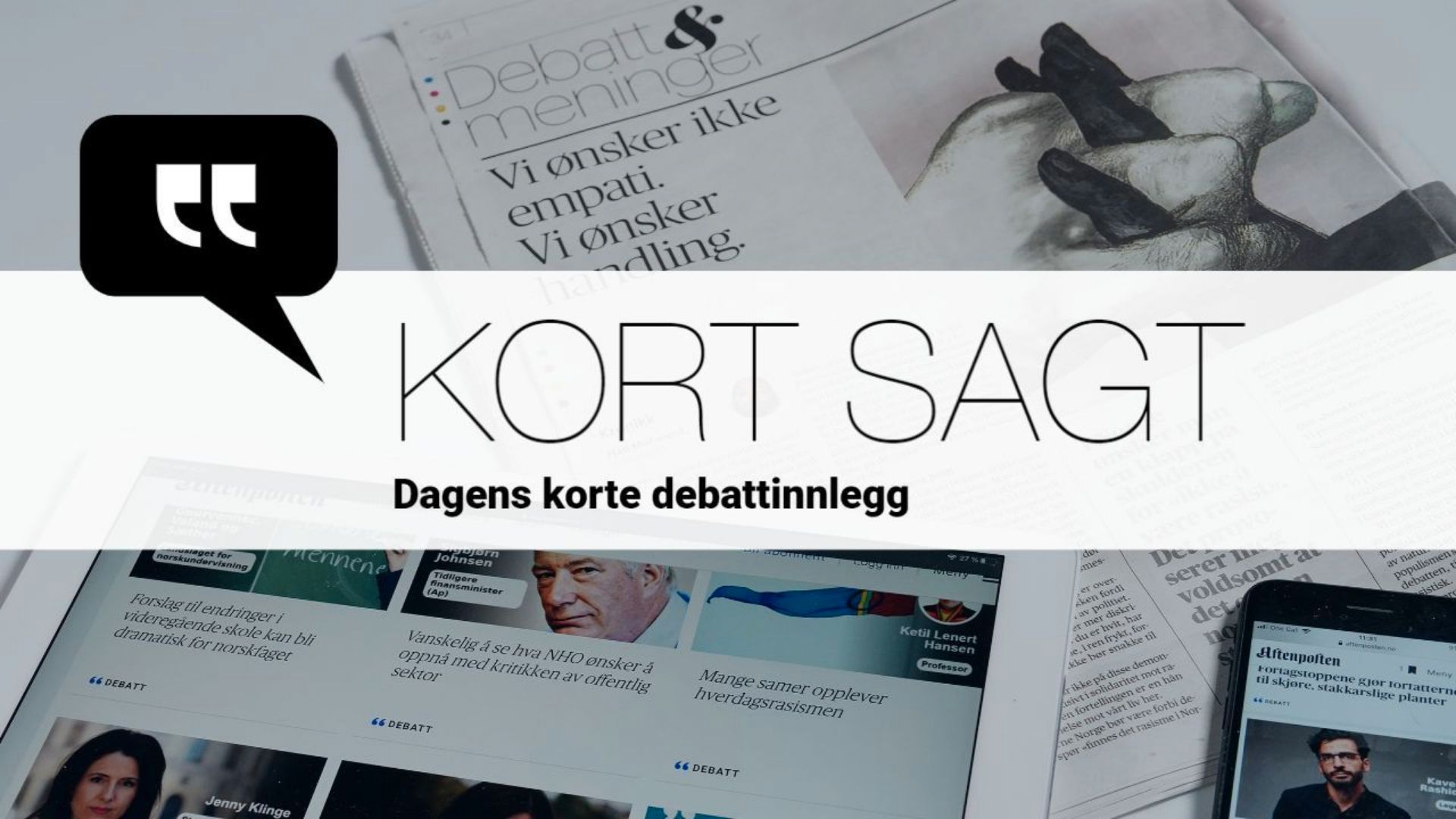 The right to shower. Predator policy. Commuter homes. And more. Here's today's postcard!
Debate
This is a discussion post. Opinions in the text are the responsibility of the writer.
Good home service is possible
Astrid Ladderud's article "My home has become an institution" was indescribably sad to read.
You must have been very unlucky with home delivery in your neighborhood. Like her, I also ended up in a wheelchair. That in itself is, of course, a great stress. At the hospital they also told me what I am entitled to when I return home. Here is a big difference between us.
For me, home delivery came immediately. The friendly people have come in regularly and have been very professional. They washed my hair in the bathroom sink while showering was impossible. Later, they offered me a shower regularly. Therefore, I have absolutely no reason to complain about home delivery, and I think it is very sad that Ladderud's sad experience is left alone.
I hope the article has started a process that makes her and other unfortunates' days easier. For my part, I would like to thank Nordre Aker's home service for their invaluable help.
Kirsten Thaule Lund, Oslo
---
How much does the predator policy cost?
In a debate with strong opinions and widely separated parties, it can be demanding to keep your tongue straight in your mouth. There are facts in the debate that one must relate to. Our predators fail in their response to our discussion post in Aftenposten on September 23rd.
Our point is that researchers have estimated that 60 "units of sheep" (equivalent to, say, 12 heifers) can be fed per. km² of useful grazing in the area of ​​the wolves. The usable pasture is estimated at 7,015 km². In total, this food corresponds to a value of NOK 100 million per year for the entire area.
The area of ​​the wolves has a total of 15,520 km². We did not say that there should be "zero wolves" or "20 sheep in each target in the wolf zone." Our figures show how big the wolf zone is and the size of the resources that have been withdrawn from production.
With a long border with Sweden and a connection to the Finnish and Russian wolf tribes, wolves will always enter Norway. The main position of the farmers' association is that we should not have breeding wolves in Norway.
At the very least, we believe that the policy adopted by the Storting should be followed, which is not the case at present. As of now, we have 8.5 juniors, and we've had that since the Storting adopted a population target of four to six juniors.
Grazing animals nurture the cultural landscape. There will be a greater diversity of herbs and insects.
It also uses resources that humans themselves cannot eat. Biodiversity and efficient use of resources become important when global food production comes under pressure from climate change.
Ole-Kristian Bergerud, Leader, Østfold Farmers Association, Jens Thori Kogstad, Leader, Akershus Farmers Association, Elisabeth Gjems, Leader, Innlandet Farmers Association
---
Parliament and governing bodies
Aftenposten deserves praise for having discovered many criticisms in the Storting. In a newspaper comment on October 8, Harald Stanghelle summed up a long list of negative cases in recent years.
The Storting has previously overlooked help from other government agencies, for example Statsbygg for its tunnel project and the Office of the Auditor General's audit of its finances. When it comes to solving tax problems related to travelers' housing, the Storting has hired expensive private tax attorneys for advice.
Most of us have probably thought that the Skattedirektoratet government agency was the best qualified interpreter of our tax rules. The Storting clearly has a different opinion.
Alfred Kvalheim, Former Chief Operating Officer
---
Idiocy or the new working life?
Dear Halvor Hegtun, who demanded "hybrid idiocy" in the Last Word column this weekend.
Freedom of choice is important. For you, it means wearing a hat and coat, walking the Østerås piste, and being calm at work. You will not be exposed to a hybrid workday. In latin hybrid it really means bastard or meat, it's fun. But that's not what most people put into words.
There is nothing wrong with the Østerås course. I myself use it from time to time. But when winter comes, wouldn't it be nice to get into the writing room at home, instead of sharing the flu with everyone else on the subway? Do you spend the extra time with your family and yourself?
The office is important for meetings and for building culture. At the same time, concentrated working hours can be advantageously realized elsewhere. Hybrid work is about giving people more freedom and flexibility in everyday life. Without this flexibility, many will find a new employer. Especially those who are even younger than you and me, and who have finally made everyday life go more or less like this.
But everyone must be part of a community. And then we have to enter the workplace, at least for a few days. See you on the Østerås track this winter, Halvor?
Even Bolstad, Managing Director of HR Norway
---
NHO opposes the warning institute!
Article 2 A-1 of the Work Environment Act has as a sub-topic that one has the right to notify about the employer's activities. If our legislators wanted to reduce the notice space, the text of the law would state that "employees have the right to report on matters worthy of criticism in the employee's business."
The "employer's business" therefore implies something that extends beyond the employee's business. Employees who notify conditions in other legal parts of the employer's business activity have, accordingly, the same notification protection.
The Norwegian Confederation of Business and Industry (NHO), for its part, reduces the employer's activities to mean the same as the employee's activities. His Supreme Court attorney, Kurt Weltzien, is conducting a seminar on the group's organization's limited whistleblower protection.
Those who want to avoid whistleblowers can consequently set up parent companies where only they work. Employees of subsidiaries cannot, with the protection of the law, report that the parent company dumps toxic waste into the sea!
NHO's interpretation and dissemination of it is a serious threat for the purpose of the warning institute.
Per-Yngve Monsen, broadcaster and winner of the Fritt Ord Award (2008)
---
Foreign researchers are improving the Norwegian academic world
The social mission of the researcher is to create and disseminate knowledge. Knowledge is best created in a discussion with those who have slightly different perspectives than yourself. The diffusion takes place in the auditorium and in the public exchange of words.
Research is the most important thing. Without research, there is no serious research-based outreach. Since knowledge knows no national boundaries, neither should we distinguish between nationality in employment.
There is no reason to believe, except when language is essential, that foreign researchers are worse in the audience than Norwegians.
Participation in public speaking is also important, but not more important than research or our responsibility to students. Researchers, both Norwegian and foreign, are employed to fulfill a broader mandate. It's too easy to blame the number of foreign researchers for the lack of a researcher-driven debate.
Is there an upper limit for the proportion of foreign researchers in Norwegian scientific educational institutions? Obviously yes. Especially in undergraduate studies, something must be taught in Norwegian.
Are there subjects in which it is not advisable to have foreign researchers? Obviously not. "Norwegian" research fields also benefit from having someone look at established truths with fresh eyes.
Norwegian researchers are in a clear majority in Norwegian institutions. If it is really the case that researchers participate very little in public discourse, then one must wonder why Norwegian researchers do not participate more.
Dagfinn Rime, Professor of Finance at BI Norwegian Business School
---
Religion and politics
Einar Gelius feels in a church "that acts more and more like a local SV group", a church "that takes more and more partisan political positions on difficult and complex issues."
This applies to oil extraction, asylum and refugee policy, climate and environmental issues. Gelius concludes that "the theological and values ​​commitment of the church has been reduced to red-green political slogans."
I am not a member of the Church of Norway, but I wonder about Gelius's criticisms. First, it has occurred to me that the Church of Norway has taken "partisan political positions on difficult and complex issues." Does this mean that the church has explicitly endorsed one or more political parties? When did it happen?
Furthermore, I wonder how the church's 'theological and values ​​commitment' should be expressed, if it does not also address some of the most important social and political challenges of our time.
Wasn't that what Jesus did when he sided with the poor and oppressed? Wasn't it precisely because his message was perceived as a threat to religious and political leaders that he was sentenced to death?
If Gelius feels "alienated and uncomfortable" in the church, as he puts it, does it have to be the church's fault?
Inge Eidsvåg, Lillehammer

www.aftenposten.no