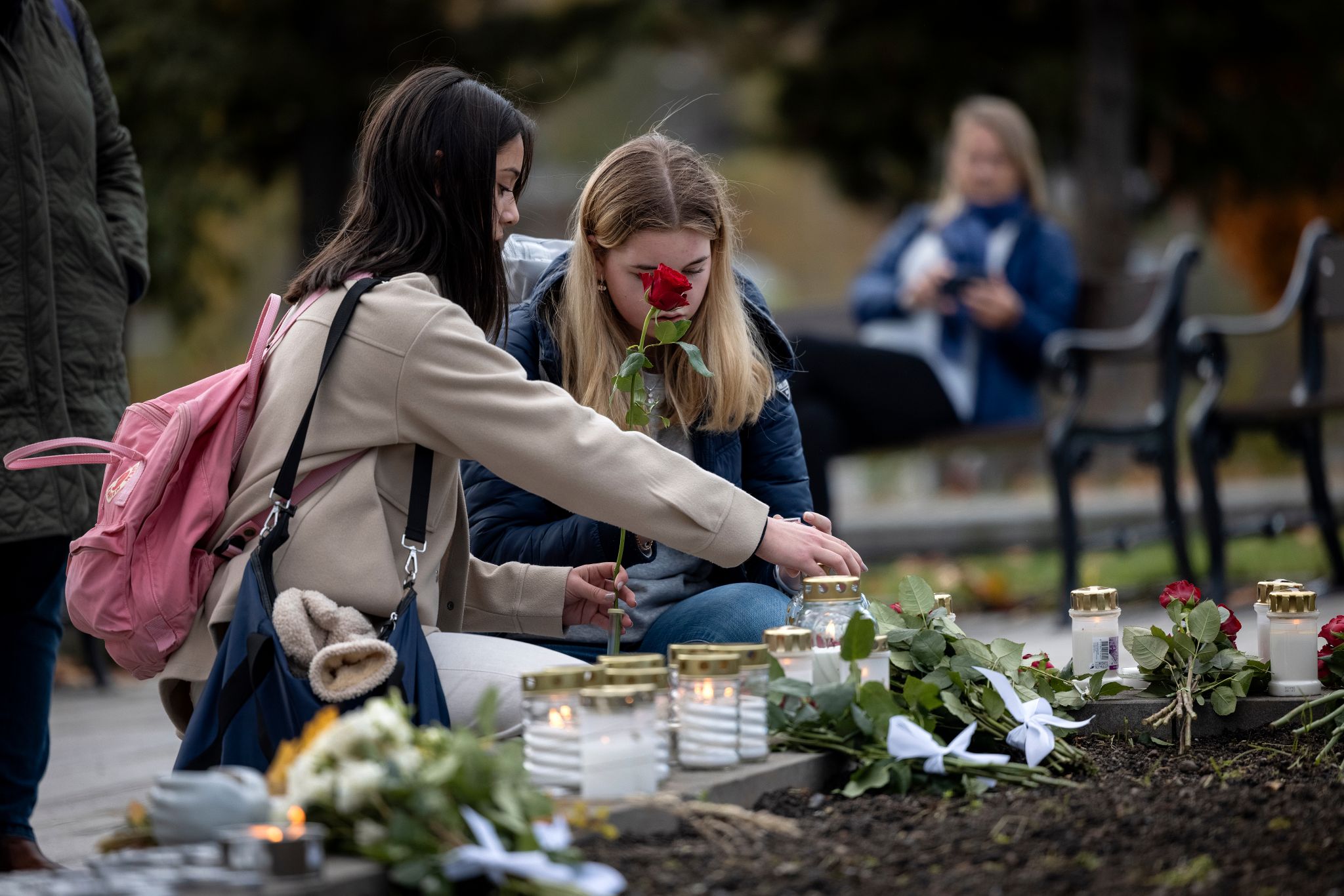 KONGSBERG (Aftenposten) Kongsberg is in mourning. Residents have flocked to Magasinparken in the city all day with flowers and candles. – The sense of security has been shaken, says Councilor Wenche Grinderud.
– It has been a very special day. It is sad, strange and unreal. It affects everyone, says Heidi Bjørndalen, a teacher at Kongsberg Upper Secondary School.
On Thursday, he went with his students to lay flowers at Magasinparken in Kongsberg, near where the killings occurred.
Several students chose to stay home today.
– Not everyone has met today. We must respect that. It's not just about connecting with everyday life immediately after this.
Bjørndalen says that several students were close to the events on Wednesday night,
– Many people walk around with questions about the reason and why this has happened. As a teacher, I can't do anything but be present and listen, she says.
– You don't expect this to happen here
It created great unrest throughout the city when news of the police action and later of the tragedy spread in Kongsberg.
Bana Asgedom (16) refereed a football match at the Tislegård school on Wednesday night, which is located on the other side of Lågen, in the center of Kongsberg. He finally realized that something was happening downtown.
– Parents who watched the game saw what happened on mobile phones. They told us we had to stay there until the perpetrator was caught, he says.
On Thursday, she and her classmate Jenny Alexandra Suoniemi Dyrkolbotn (16) laid flowers to remember the victims.
– It was heavy today. Kongsberg is a small town where everyone knows everyone. You don't expect this to happen here.
– You no longer feel safe
Kongsberg doesn't feel so confident anymore, Kongsberg upper secondary school students believe
– It's scary that it happened completely out of nowhere, without warning.
– What are you going to do the rest of the day?
– It will be a different school day. Many students are unable to concentrate. Many fear that this was an act of terrorism and that something is also happening at the school, Dyrkolbotn tells Aftenposten.
Ann and Anne Camilla Arnecke also visited the memorial site in Myntbroa on Thursday.
– I think it is important to show that we are together with family members. This is a small town, we are all close to each other. You feel quite helpless, says Anne Camilla.
The solution was to place flowers and light candles.
– It could have been anyone
– We wanted to show our support because this is a difficult day for many. Even if you are not a relative, you feel part of it, says Anne Camilla Arnecke, who is at the memorial site with Ann Arnecke.
– Now all Kongsberg must unite and support each other, they believe.
They live not far from where it happened.
– It's completely unreal, a sad day. We heard the helicopter, but we thought it was for the hospital, Ann says, adding:
– People were in the wrong place at the wrong time. It could be anyone.
– This happened completely unexpected- You are not thinking that such a thing can happen. Now it is important to be here and light a candle. That's the least we can do, says Anne Camilla.
The councilor: – People are stunned
Councilor Wenche Grinderud has been in town a lot and met people today. She speaks of deep pain and unity.
– It is a feeling of a terrible tragedy. Kongsberg is a small town and there are rumors about who is affected. This characterizes the entire city. People are stunned and the words are hard to find. There are many who feel uncomfortable and the sense of security is shaken, says Grinderud.
– But Kongsberg will get through this together, he concludes.

www.aftenposten.no