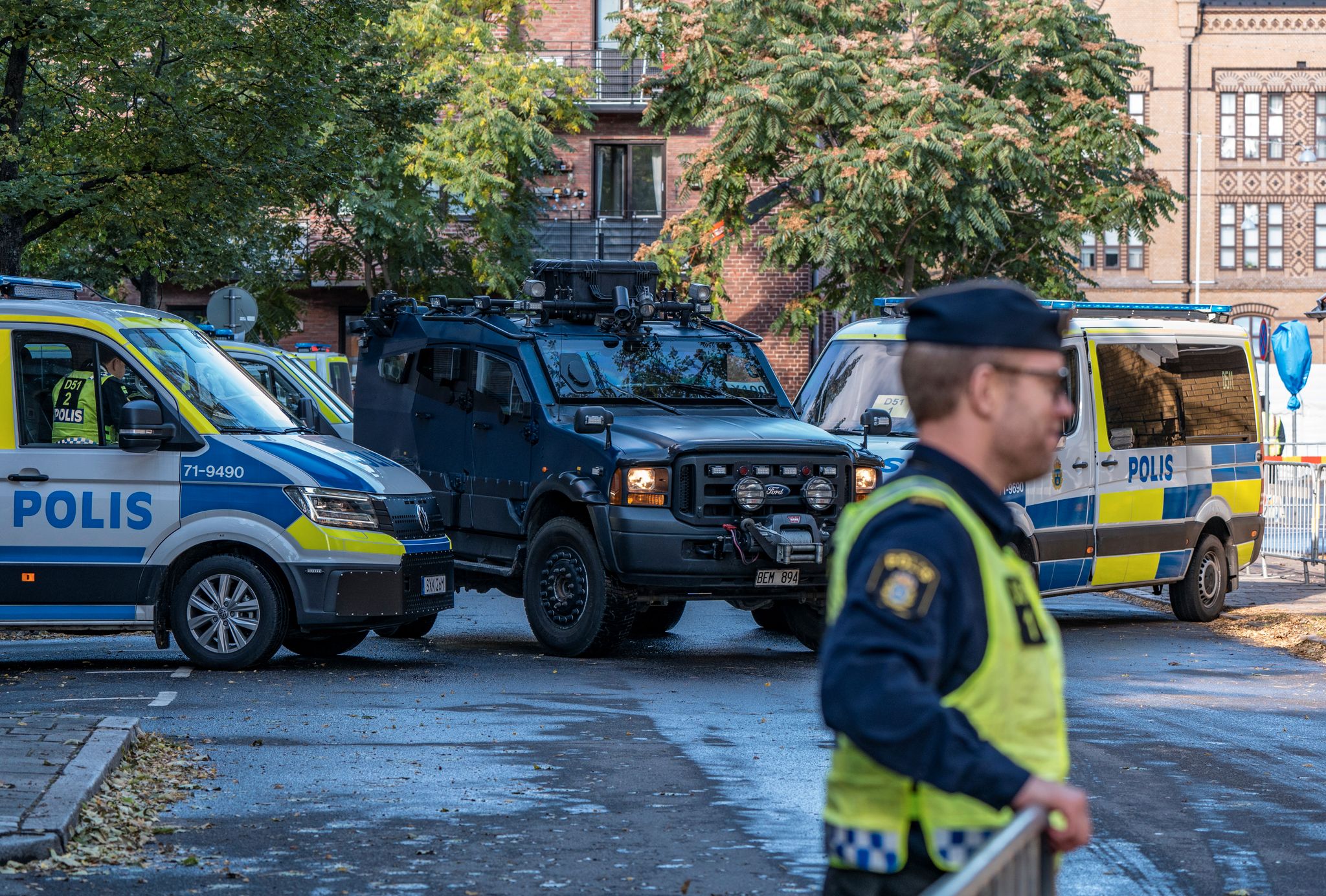 When Swedes must remember the victims after the Holocaust, huge security measures are being taken. Swedish Jews speak of growing anti-Semitism.
Salomea Gosenius (21) gets scared every time she goes to the Malmö synagogue. Mira Malm Kelber (21) refuses to hide her Star of David, but it makes her horny.
The two young women from Malmö have been interviewed by Aftonbladet and Swedish newspaper. Both say it has become more dangerous to stand out with their Jewish identity in the Swedish city.
Gosenius's sister was beaten up in the schoolyard a few years ago. It happened after she spoke to some guys who did the Nazi salute and shouted "Sieg Heil".
She herself hid for a long time that she was Jewish. Gosenius thinks he owes his great-grandmother to stand up. He lived in Poland during the war, but survived the Nazi extermination.
Mira Malm Kelber's father was born in Ukraine in 1940. He lived his whole life with the trauma of the war and came to Sweden as a refugee in 1968. She has started a Jewish youth association in Malmö. She also believes that it is a duty for the family to stand out as a Jew.
Jewish youth say incitement increases when the image of the news is marked by conflict between Israel and the Palestinians.
Massive security measures
Wednesday was a memorial day for the victims of the Holocaust in Sweden. It is not a coincidence that the biggest event has been added to Malmö. The city has a big problem with anti-Semites. At the same time, it is a city with a large immigrant population and armed conflicts between criminal gangs.
Commemorative ceremonies and seminars on anti-Semitism will be held for two days.
The list of participants includes world leaders such as UN Secretary General António Guterres, US Secretary of State Antony Blinken, and EU Commission President Ursula von der Leyen. They will meet both the Swedish royal couple and outgoing Prime Minister Stefan Löfven.
Therefore, parts of the city center were cordoned off Tuesday afternoon.
The police must, of course, take over the heads of state of almost 40 countries. But they must also be prepared for the city's Jewish population. It says a lot about the situation that booksellers selling Jewish literature, covers your shop windows.
The Malmö synagogue is one of the largest in Sweden. It is common for the police to impose strict security measures during the holidays. The danger of terrorism in relation to marking is considered very great.
Increased during the pandemic
Wednesday present the online newspaper Expo a survey that showed anti-Semitic comments have risen on social media over the past year. In collaboration with organizations in Germany and the UK, they have investigated social media such as Tiktok, Instagram, Facebook, Parler, Reddit, Telegram, Twitter, Youtube, and 4chan.
The bottom line is that the media platforms are not doing enough to eliminate anti-Semitic propaganda.
The pandemic has given rise to many types of conspiracy theories. In such a climate, anti-Semitism almost always increases.
Fear that the conference is a doormat
A Facebook spokesperson said in response that "anti-Semitism is completely unacceptable, we do not allow it anywhere on Instagram." The TikTok spokesperson stated that the company condemns anti-Semitism and actively works against the spread of hate.
Facebook manager Sheryl Sandberg has been invited to speak about fighting anti-Semitism at the seminar.
It seems that the Aftonbladet newspaper commentator Mattias Beijmo it's like the cancer association inviting tobacco producer Philip Morris to a seminar.
He fears that the entire conference will be a doormat where Facebook can shine its shoes. Beijmo recalls new revelations of how social networks like Facebook reward polarized content.
Moving to israel
Prime Minister Stefan Löfven thinks it is good that Malmö is hosting a conference on anti-Semitism. It is precisely the fact that the city has such a big problem with harassment of Jews that makes it particularly important. He says that prejudice exists throughout Sweden.
– It has been decided that here in Malmö they don't want anti-Semitism, I think that's good, he says.
For many Swedish Jews, that is not enough. This weekend had Today news a great report on a Jewish family. They did not dare to present themselves with a name and an image. Parents have experienced anti-Semitism since school days. When the daughter told them the same thing, they decided to move to Israel.
– I wish Malmö was for everyone, but it is not like that anymore, says the daughter.

www.aftenposten.no