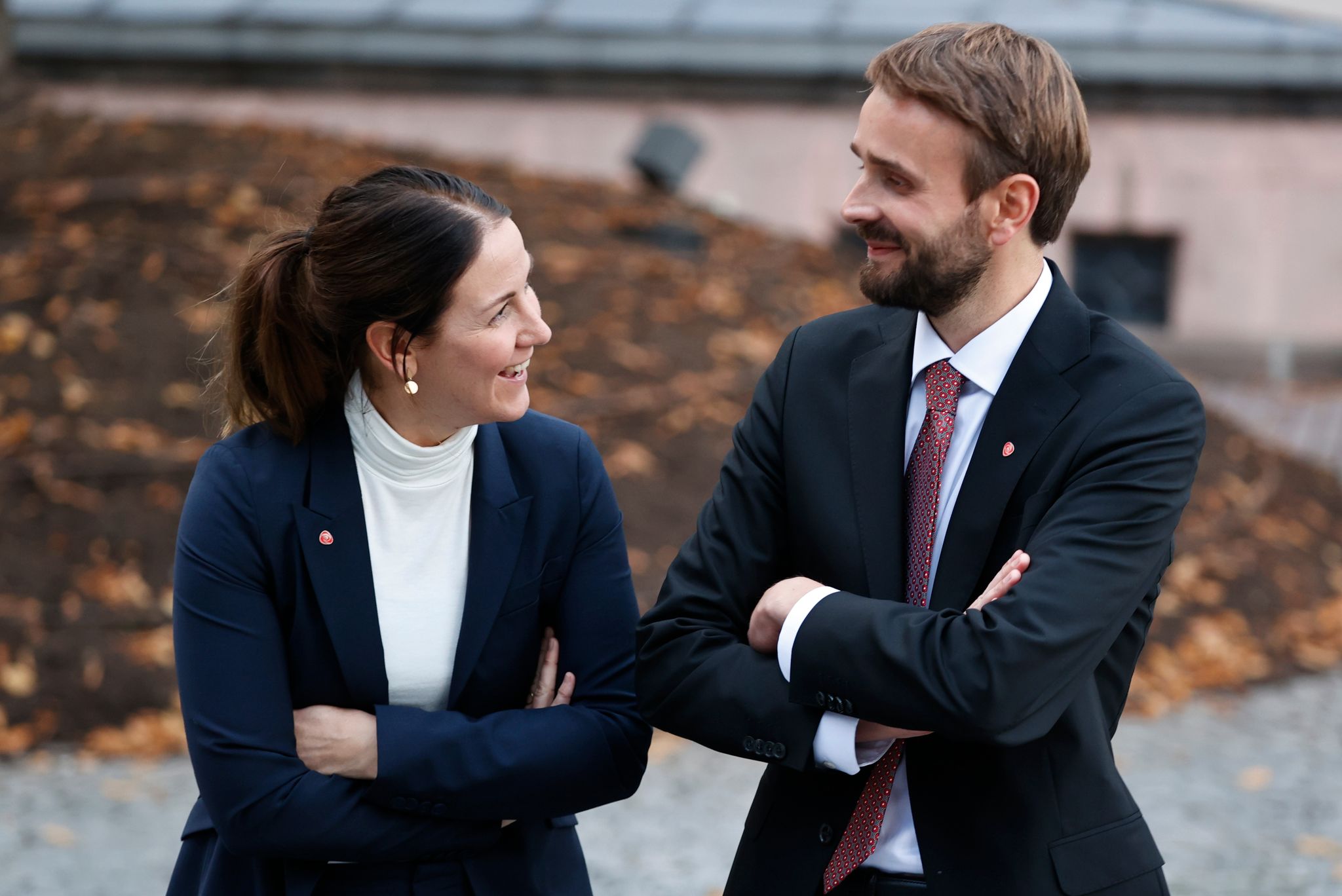 They survived the terrorist attack on Utøya. Tonje Brenna (33) and Jan Christian Vestre (35) are now ministers in the new government.
Arnhild Aass Kristiansen

Journalist
Norway's new Prime Minister Jonas Gahr Støre (Labor Party) introduced his crew on Thursday at Slottsplassen in Oslo.
Clearly moved, he recalled that two of his ministers survived the terrorist attack in Utøya on July 22, 2011.
– I am proud that they, and many with them, continued with politics. They use all their power to contribute to a better society and today they take on the greatest political responsibility that can be assumed in Norway. Ten years later we can say; democracy won, Støre said. The statement was greeted with applause from the many who had turned up to see the new government.
– Motivates
The two survivors from Utøya are Tonje Brenna and Jan Christian Vestre. He enters the government as Minister of Education and Minister of Commerce and Industry, respectively.
– When the Prime Minister said this today, I especially thought of all of us who lost. This is something we are still thinking about and living with. It motivates me to further advocate for democracy and everything we believed in then, and what we believe in now, Jan Christian Vestre tells Aftenposten later that day.
Tonje Brenna says she thinks the Prime Minister's statement was a good summary.
– We managed to get here. At the same time, there are many who could not bear it. It is also understandable. Surviving terrorism is stressful in itself, but continuing to work and express yourself about the things that may have caused you to be attacked in the first place can also be stressful, she says.
Political talents
The two politicians of the Utøya generation are seen as political talents.
Brenna comes straight from the position of Labor Party County Council Leader in Viken. When the terrorist attack occurred, she was secretary general of the AUF.
She believes that Utøya's experience is something that affects them as politicians as well.
– I have been involved in politics for ten years. In a way, it has affected us. But what I feel has not changed is the core values ​​of community, diversity and equality. It's as strong as July 22, maybe stronger, says Brenna.
Vestre now comes from the business fabric, where he has led the family business, the furniture manufacturer Vestre AS. He also has political experience from AUF. In addition, he has been chairman of the board for the reconstruction of Utøya, an advisor to the then Minister of Commerce and Industry Trond Giske and the parliamentary group of the Labor Party, among other things.
– Fear of the Kongsberg massacres
The first day of the new government was also marked by the Kongsberg tragedy, where five people were killed and two injured on Wednesday. Brenna believes the incident shocked everyone.
– I think many were scared when the news of this arrived yesterday. My family is from Kongsberg. I spoke to my grandfather earlier today. He moved from Kongsberg ten years ago, but now he feels that it is his city that is under attack. I think it is quite universal for Norwegians. We are a small country and we care about each other, he says.
The recent Education Minister says the incident of violence affects her and believes it applies to most people.
– My thoughts go first and foremost to those most affected in Kongsberg and to the local community there. So I hope this doesn't make us fear each other more, scold each other, fear each other more. I hope that we rather think that now we must unite. Together we are safer, he says.
Vestre is concerned that democracy is fragile, but says he knows too little about the Kongsberg incident to comment on it.
– When tragic events happen, it is a reminder that things are vulnerable and that we cannot take anything for granted, he says.

www.aftenposten.no