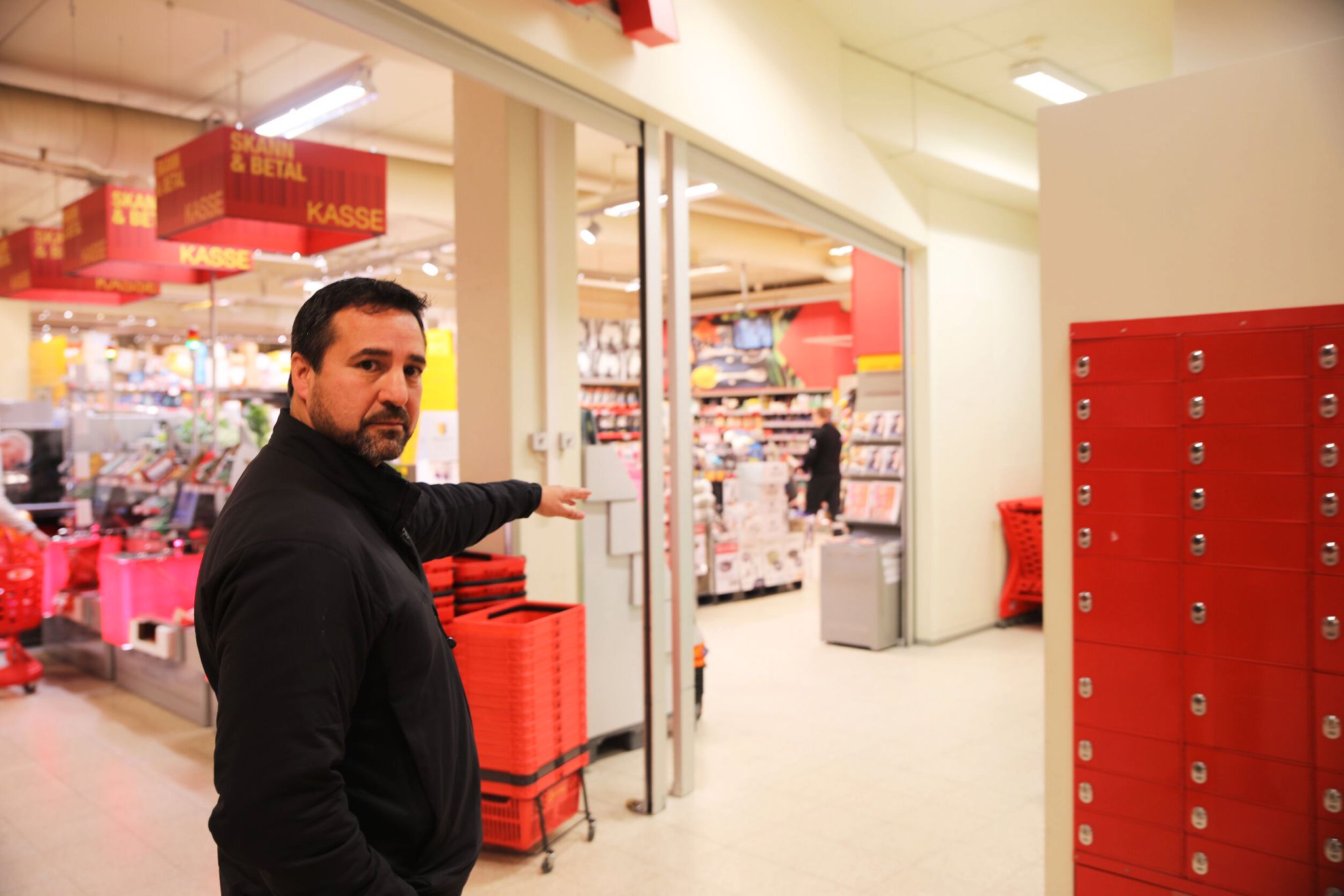 Kongsberg policeman Rigoberto Villarroel (48) rescued an injured customer and returned to the store where Espen Andersen Bråthen shot customers and employees with a bow and arrow. He tells Politiforum.
The officer, who was not on duty, kept in constant contact with the police operations center on his way to the Extra store. He was then hit by an arrow in the back.
Rigoberto Villarroel manages to enter the fruit department to look for the perpetrator. Then they shoot him in the back, says the policeman Politiforum.
– There he stands with a bow in his hand and stares at me. I look back and have to look three times, because I have an arrow in my back. I'm still on the phone with the patrol and I say, 'He hit me.' She asks me what I am saying. I reply: "He shot me with a bow and arrow. Now I am standing with an arrow in my back. "Then I hear her launch herself into the connection and say" police shot with a bow and arrow in the back, "says Rigoberto Villarroel.
He tells the union newspaper Politiets Fellesforbund about the drama in which he ended on Wednesday night.
The Kongsberg policeman had gone to dinner with his mother with his daughter and mother. The mother lives in the same building as the Coop Extra store. Villarroel notices a woman who seemed stressed. He makes contact and she tells him that a man has shot a bow and arrow inside the store. Their shopping bags were left inside the store.
– I'm a policeman in a small town and I'm going to help. I tell her that I am in my free time, but I ask her if I can help her with something. Then he says that he has been shopping at Coop, but that his suitcases are staying inside, and that he does not dare to pick them up because there is a man there with a bow and arrow. He says he was shot in the back, but I don't see anything in his back. Then I say I'll help her get the shopping bags.
I had to see three times
On the way to the store, Villarroel sees that dangerous arrows have been used. It is 6.15pm. Inside the store, he comes into contact with a man who is injured. The policeman follows the man and re-enters the store. He doesn't see anyone and walks carefully to the fruit department to get a better overview. Then Bråthen came up behind him. He hears a bang and feels a shrug on his shoulder. The 48-year-old man turns around.
– There he stands with a bow in his hand and stares at me. I look back and have to look three times, because I have an arrow in my back.
In an interview with Nettavisen, Drammens Tidende and Laagendalsposten he tells Villaroel about the vision of the arrow coming out of his shoulder:
– I didn't feel anything when they hit me. But when I took cover and turned right, I saw the arrow sticking out of my shoulder. And it was long.
Shortly after, the first police patrol arrived at the scene. Villarroel then leaves the store for people to leave the place.
Soon after, the cops come out of the store and ask "where is he?" writes Politiforum.
For Nettavisen, Drammens Tidende and Laagendalsposten Villarroel says that the police took control of the two exits they knew in the store.
– I am well known in the store and I thought there were only two doors. From the back door, I noticed that the patrol was being shelled and they asked me to leave. When I realized that they were in control of both exits, I withdrew. He had nothing to do there.
The family ended up in the firing line
At this point, he himself is transported in an ambulance. At the same time, Joanne McGregor and their joint daughter come into close contact with the perpetrator. McGregor has walked away while Rigoberto entered the store.
He discovers an injured woman and calls an ambulance, after placing his daughter in the car. Now she is surprised by Espen Andersen Bråthen, who comes out through the emergency exit of the store. He shoots McGregor, who manages to hide behind a car.
– I was just focused on surviving. I just thought: "Now he's going to kill me," he says. VG.
The arrow misses. The author disappears towards Hyttegata in Kongsberg. There he kills five people.
Rigoberto Villarroel is being treated at the Drammen Hospital. He learns that the arrow has not hit any organ. When medics removed the arrow, it was found that it had entered three inches into his back.

www.aftenposten.no