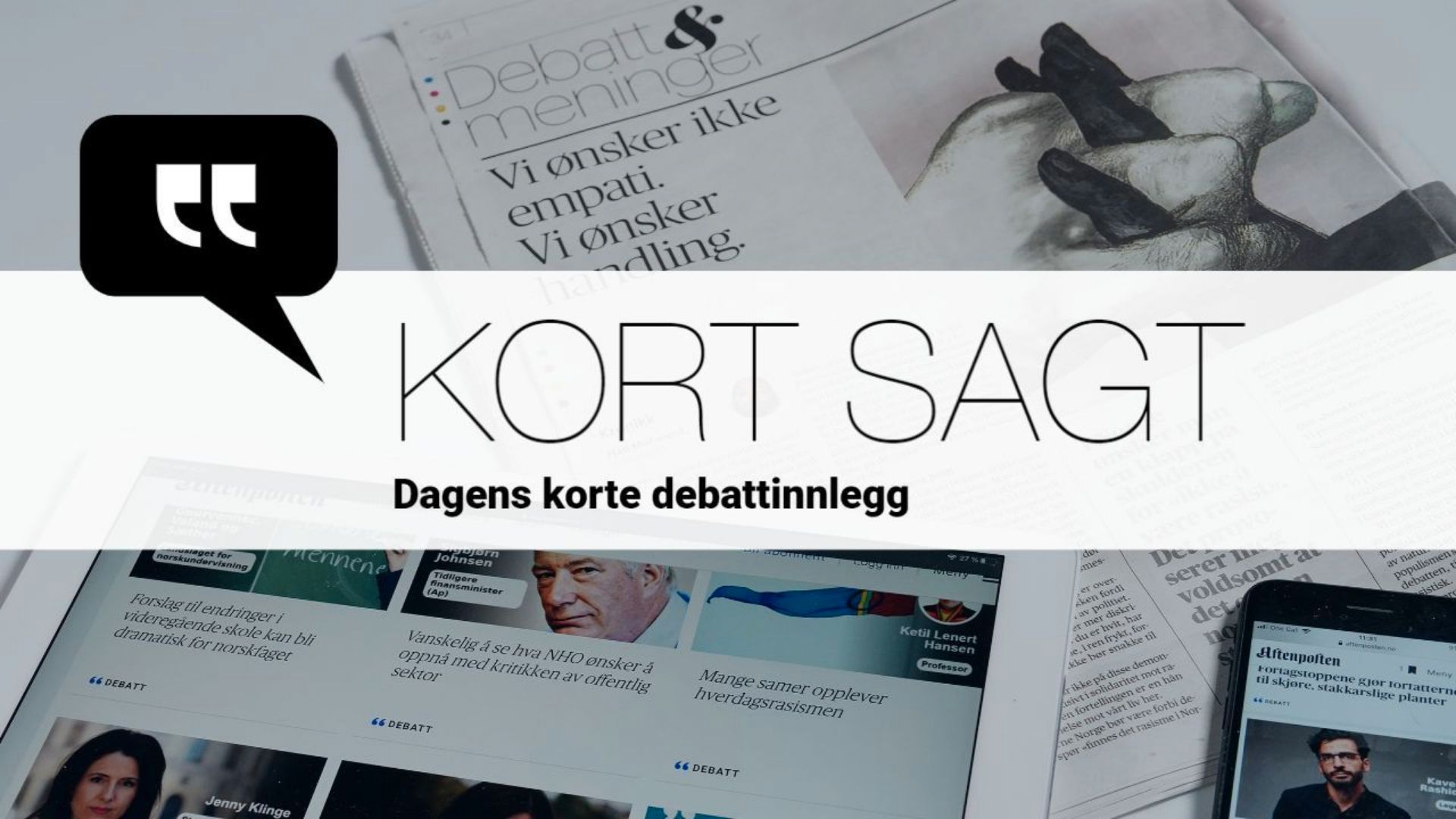 Four requirements, the church, Nesna, and foreign researchers at the academy. Here's today's postcard!
Debate
This is a discussion post. Opinions in the text are the responsibility of the writer.
The four requirement in math filters out people who should be excluded!
The debate over the fourth requirement in mathematics has largely centered on whether one can be a good teacher despite a lack of mathematical skills. At the same time, a key factor has completely fallen. The math grade doesn't just say something about the applicant's math level. It also indicates the general skill level.
The level of general ability predicts better than any other domain and a greater development in working life. Here, science subjects excel in requiring genuine understanding, while in other subjects it can be compensated with diligence and effort, ie "pugging."
The argument for maintaining the all-four requirement should not be to ensure teachers with basic math skills, but to help select students with good potential to become good teachers, in general. Teachers who also manage to keep up to date with the updating requirements that they will face throughout a long career.
The four requirements are a good start in the direction of an admission plan that contributes to the admission of those who are best prepared for the future profession.
Rudi Myrvang, psychologist specializing in occupational and organizational psychology
---
Religion and politics
Inge Eidsvåg is not a member of the Church of Norway and shows touching attention to the theological and values ​​commitment of the church.
Of course, the gospel of the church has political consequences, since politics is about everyday life and the everyday life of people. Jesus' message was very clear in two directions: He was in constant rebellion against abuses of power against the people, whether they were religious or political leaders. And he pointed to mercy and love as an alternative to power and violence.
The role and message of the Church is to point out these core values ​​that can give people courage, hope, and faith in the future. But how these values ​​are to be interpreted and understood in our time, yes, there are many opinions about it in the church.
What I react to is that the church often comes up with only one answer in today's political discussion, and that the church's answer essentially matches the views of the political left on many questions.
Church leaders now increasingly act like politicians who think they know the answer to all the complex questions in the world. But the church is much more than a "SV with sacraments."
Einar Gelius, priest and author
---
Nesna in Aftenposten
Aftenposten is concerned about the quality of the Nesna Nord University. I am concerned about the newspaper's sources of resources and its ability to treat people equally. An investigation is required. This was also done in Nordland prior to closing in 2019. I don't recall Aftenposten supporting this lawsuit at the time.
Suspended for poor quality? Nobody in Nordland believes in this, not even the conservatives. Why not check out what a unanimous city council has repeatedly demanded regarding Nesna? The business community doesn't believe the allegations either. Why not ask, for example, Aino Olaisen, owner of Nova Sea and initiator of the Framtidens Distriktskole development project? They understand that the closures are primarily to strengthen Bodø and Levanger's university status.
Aftenposten has used the insult "bathroom studios" on Nesna. Now group teaching is wrong. Why else is it asked that education should be available to people at different stages of life? Could it be that Aftenposten has made Nesna a symbol, long before the Labor Party and the Center Party?
Raymond Lillevik, Associate Professor (PhD), Nordland Christian Upper Secondary School
---
Foreign researchers: the jobs Norwegians don't want
Researcher Cecilie Hellestveit has been widely criticized for questioning whether a high proportion of foreigners in Norwegian academia can be problematic. The debaters argue based on their own disciplines. In IT (computing), a low proportion of Norwegians have become a problem.
20 years ago, it was an enrichment to have more fellows and foreign scientific staff. The investigation became more international. But now there are almost no Norwegians among the PhD students. Very few Norwegians are employed in scientific positions.
The reason is not that foreigners outgrow them, but rather that they don't apply.
Recently, an associate professor position received only one Norwegian candidate out of a total of 13. For another similar position, one in five candidates was Norwegian.
Norwegians don't apply because there are so many cool IT jobs with high salaries. Few Norwegian models also make it unattractive for master's candidates to apply for a PhD position.
It is problematic when Norwegians disappear because:
The academy loses qualified candidates for research and teaching.

It is worrying that Norwegians are not active in the field of international investigation. Additionally, research in an applied topic such as IT often requires collaboration with industry, business, and management. Lack of Norwegian knowledge and understanding of Norwegian culture makes research in Norway difficult.

Teaching also at the undergraduate level is dominated by English. Although newly hired foreigners must learn Norwegian or Scandinavian in two years, it is rare for them to reach a level where they can teach Norwegian.

The need for skills in work life is huge. You are not overqualified with a PhD.
IT studios are filled with a large number of talented students. We must discuss what measures are necessary for a certain proportion of them to access doctorates and scientific positions.
But first we must recognize the problem that there are almost no Norwegian candidates for academia in a field that is totally crucial for development and security in all socially critical roles.
Dag Sjøberg, Professor of Informatics, University of Oslo



www.aftenposten.no