Right now, there are between 400 and 500 salmon and sea trout in Akerselva, just opposite Mathallen, according to a fishing expert. This is not entirely uncommon.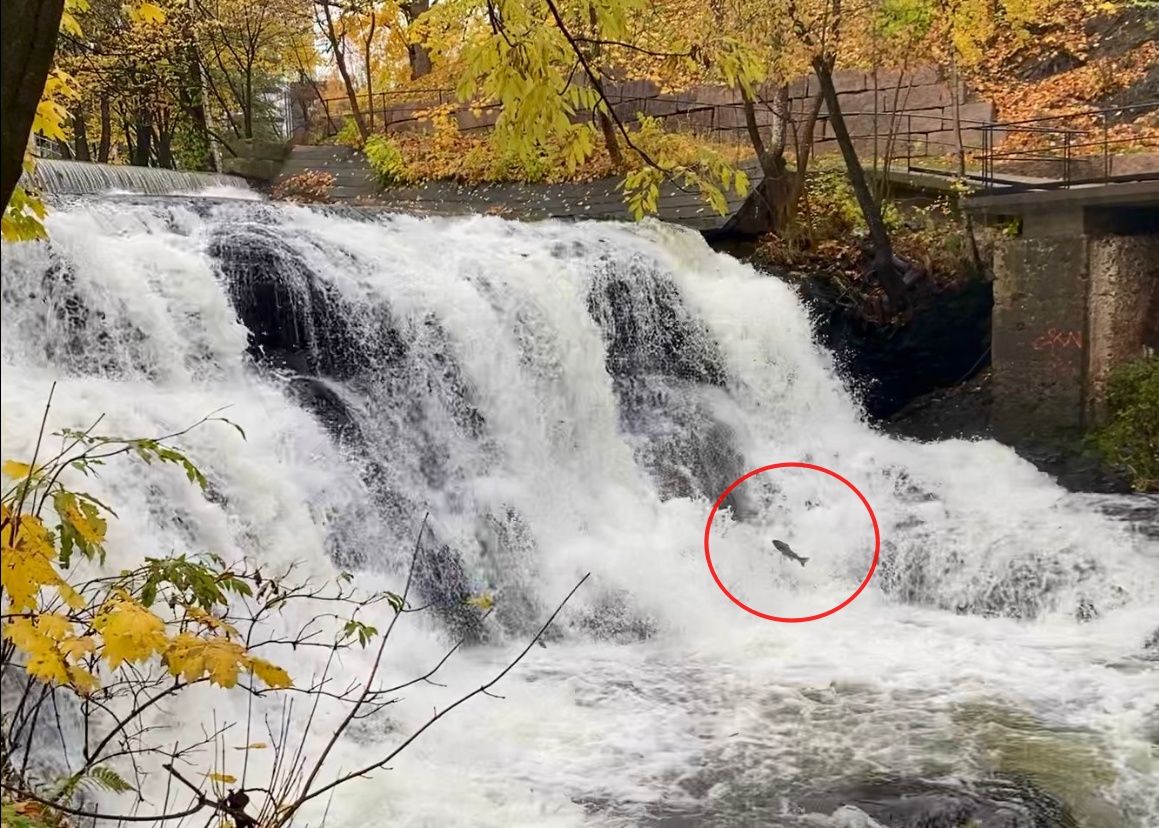 If you are going to take a walk in Akerselva in the next few days, it is very likely that you will see something that you have never seen before: a big fish, right in the center of Oslo. Specifically salmon and sea trout.
On Wednesday morning, salmon and sea trout were found like herring in a barrel below the Oslo Academy of Arts (KHiO), next to the bridge that has been dubbed the "Bridge of Love." The most anxious also tried to jump down the steep waterfall. (See video below on the case)
From what the Aftenposten reporter could see, it was estimated that there were several hundred fish along the bridge. Despite the "exotic" view: Jan Arhaug, author of books on fish and leader of the Akerselva Sport Fishing Association, says that it is quite common to have so many fish in the river right now.
– It was like that both last year and the year before there again. There just aren't many who get it, he says.
However, this has not always been the case.
2011: all life in the river died
In recent decades, active efforts have been made to keep the Akerselva River cool and free from pollution. Then disaster struck in 2011. A 2.5-year-old chlorine pipe burst at the Osset water treatment plant at the top of the Akerselva.
6,000 liters of chlorine flowed into the river and killed all life.
– The whole river died. Since then, a new population of salmon and sea trout has been slowly but surely accumulating, says Arhaug.
In the last five years, there has been a lot of fish again, ie sea trout and salmon, in Akerselva. At this time, the fish has gone up the river to spawn, the same place where it was born. The journey upriver begins around May 17.
Then the fish waits for the "perfect" moment to embark on the arduous journey upriver. There must be enough water in the river. They are waiting for the "fresh water signal," as Arhaug calls it.
also read
Now the salmon monster is invading Akerselva. But it is not relevant to remove it with string or harpoon.
– Great food fish
Although some fish begin the journey through the Akerselva as early as May and June, most do not begin until July and August. It also coincides with the fishing season, which runs from July 1 to September 15.
But this year the fish's journey upriver a little later than usual. A very dry summer meant that there was not enough water in the river until after the fishing season ended, in late September.
For avid fishing enthusiasts in Oslo, it was a disappointing season.
– Last year, the catch was recorded approx. 100 fish in the river. This year, only 18 have been registered in total. Only five of them were salmon. And the sea trout were very small, says Arhaug.
"Akerselva fish, it can't be very good," you might think and snort into your nose. There you are wrong, according to the fishing expert.
– It's a great food fish! I've had several good dinners with salmon and Akerselva sea trout, says Arhaug.
Not a good food fish now
That said, you shouldn't be tempted to sneak away with a net or pole in the hopes of catching a fish for dinner. Fishing in the river is strictly prohibited outside of the fishing season. It is described as an environmental crime and is severely punished.
Both Arhaug and other enthusiasts take turns patrolling along the river. They have yet to catch any "poachers". But during the season, more people started fishing within the protected areas, on the salmon ladder at Nedre Foss Gård and above Kjærlighetsbroen.
Also, the fish is not very good at the moment, according to Arhaug.
The fish stops eating when it leaves the fjord and embarks on a spawning journey upstream. He fasts and has only one goal in mind: reproduction.
Hence, it becomes bony, discolored, and smooth, says Arhaug.
The KHiO waterfall, just above Kjærlighetsbroen, is the last stop for the fish. It does not go further, according to the expert. It remains there until it has completed its dangerous mission. Some fish sail back to the fjord. Some hibernate. Others die.
– Every winter someone calls and reports dead fish by the river and fears the release of poison. But sadly, it is completely normal.
– It can stay there for hours.
Bottom line: it is quite common to see hundreds of salmon and sea trout in Akerselva in autumn. The novelty of this year is that less has been fished because most of it came after the fishing season.
Arhaug estimates it to be approx. 400–500 fish in KHiO. Actual spawning begins in November and December. Some have already made a false start. He himself has seen it with his own eyes.
– The female lies on her side and kicks some sand and gravel to make a hole. There it lays eggs. Then the male fish comes and cums in the hole. The female fish then covers the well with sand and gravel, says Arhaug.
He will encourage everyone to come by and see the fish with their own eyes. He thinks the fish will stay for many more weeks.
– It's completely unique. There are many fish in many Norwegian rivers. But being able to stand like that on a bridge and see so many fish … There are not many places in Norway where you can. I can stay there for hours.

www.aftenposten.no